GFA write to AIFF for postponement of round 12 games in Goa after Duler inspection
937 //
18 Dec 2012, 17:43 IST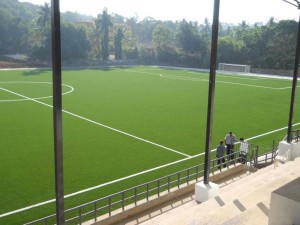 After an inspection of the Duler Ground in Mapusa, north Goa on Tuesday morning, the Goa Football Association (GFA) has written a letter to I-League CEO Sunando Dhar requesting the postponement of the round 12 matches in Goa this weekend.
The inspection was carried out by representatives of three Goan I-League clubs (Salgaocar, Dempo, Sporting Clube) with Churchill Brothers also giving their support over the phone and GFA officials Lavinio Rebello and Adlear D'Cruz.
In their letter to the AIFF, GFA mentioned that some minor maintenance work needs to be carried out at the Duler Stadium and thus it won't be ready until Round 13. As a result, they have proposed the postponement of the Salgaocar vs Sporting Clube de Goa (December 22) and Churchill Brothers vs Air India (December 23) matches. The maintenance work is expected to be completed by December 22.
As reported by Sportskeeda on Monday, the GFA also informed the AIFF that live telecast of the round 13 match between Churchill Brothers and Mohun Bagan on December 29 will not be possible. They added that none of the matches played at the Duler Ground can be telecasted and requested the AIFF to inform the broadcasters about the same.
The Duler Ground is expected to host I-League matches in Goa until January 30, by when Vasco's Tilak Maidan is likely to be ready.
Since there are no floodlights at the Duler Ground, which has an artificial turf, the GFA also informed in the letter that the matches there will have to kick-off between 3:30 and 4pm. They also requested the AIFF to scale down the I-League regulations and allow them to host 14 matches at the Duler Ground.