"Goaaaal" they shall shout someday
1.13K //
28 Dec 2012, 21:25 IST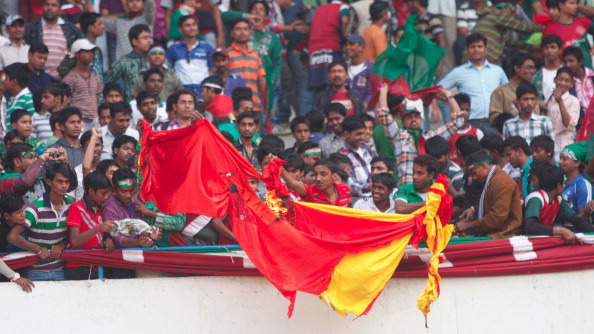 "Women spectators of Indian football" is a kind of shocker in our society. Prejudice or dominance, what is it that admonishes a lady against going to the football stadium? Why do ladies have to think twice before going to witness a live football match? During the IPL matches, numerous female spectators are seen in attendance, but only very few are present at a football stadium.
Since my school days, I have been a fanatical Indian football lover. Fortunately, I was born in a liberal family where no one ever stopped me from doing anything I desired. It was a euphoric experience when I first viewed a live football match, the big Kolkata derby between East Bengal and Mohun Bagan. The aura of the match is completely baffling; it is unexplainable. Someone who has not been a part of the Big Match can never feel the thrill, but can only express anxiousness. That experience gave birth to a very strong fondness in my heart for the game, and since then I never missed a single match at the Yuva Bharati Krirangan. This journey was not very flowery. I was taunted by others, was repeatedly disturbed, and my other female friends treated me like an alien. What I figured out was that going to the stadium for most of the girls was a genuine taboo.  They couldn't even think of going to the stadium, as it was like an crime committed by them. True, the environment is not very healthy or safe, and grungy language is used. Moreover, nowadays the fans do not even hesitate to hurt the players. Who is responsible for this? The common people or the authority? Why are true supporters denuded from a lifetime's experience?
International football followers must have noticed that the ambience of the stadium delineate a different picture. There are enough female spectators throughout the stadium. They rejoice with the team's victory and also express agony when the teams lose. What a refreshing environment is seen! On one occasion, after fans creating trouble at Turkish football club Fenerbahce's ground, they were banned for the next two games. Only women and children were allowed to attend the club's games. On 21st September, to everyone's surprise, 41,000 spectators turned up to see the club play and not a single male spectator was seen among them. Why is this not possible here in our country? Is it because football is still a male domain here?
Many say that women do not follow football, and they are way more interested in cricket, which is why they are commonly seen at cricket stadiums. But after performing a short research what I figured out is that there are plenty of women who have a strong preference for football in India. When East Bengal or Mohun Bagan win a derby match, the homemakers, with tremendous excitement, cook Ilish and Chingri mach (Hilsa and prawns) for their families, but still are not allowed to be there at the stadium during the match.
At times I feel ashamed to be a part of this deceitful society, where we still cannot provide a safe and healthy environment for our mothers and sisters inside a football stadium. It is us who can break these boundaries by taking the initiative, and reassuring women that it is socially accepted as well as safe to be a regular visitor for Indian football games. I hope people dispel of the myth, and let football reach the hearts of every individual indiscriminately. Football in India needs more publicity. We, the common people, need to eliminate such behavioural patterns which hamper the exquisite environment of a football stadium, let the female fans be free, and acquainted with live matches. It is then that I hope that Indian football might advance a bit.