Goal-machine Ranti Martins set for the biggest challenge of his career at East Bengal
2.71K //
02 May 2014, 19:07 IST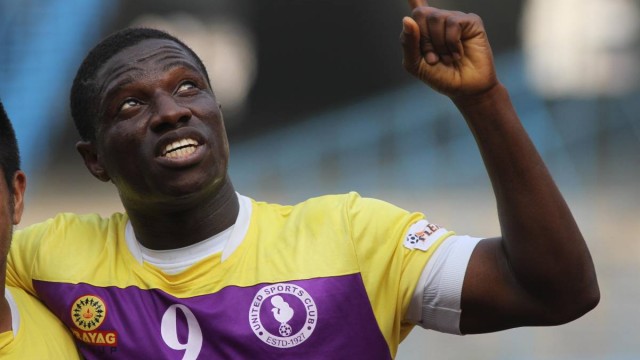 After narrowly missing out on the I-League title for three straight seasons between 2010 and 2013, East Bengal appointed Armando Colaco, the most successful coach in I-League history, midway through the 2013-14 campaign. But even the arrival of Colaco wasn't enough as East Bengal finished runners-up behind newcomers Bengaluru FC.
East Bengal have gone a decade without the league title but are keeping faith in Colaco and now have also signed Ranti Martins, one of Colaco's best-ever signings. Ranti and Colaco won five league titles at Dempo and East Bengal are hoping to see the duo end the club's long wait for an I-League crown.
Ranti is truly a goal machine as he has scored 185 goals in the combined history of the National Football League and I-League and finished top scorer four times. He had been on East Bengal's radar for many years and finally the two parties have come to an agreement with the player penning a two-year deal.
There can be no debate about Ranti's class but the big question is can the Nigerian live up to the expectations?
Ranti has been one of the most lethal strikers in Indian football for a decade now but for the first time in his career he will be under some serious pressure to perform. His last club, Shillong's Rangdajied United did have good turnouts in their home games, but there just cannot be any comparison as to what sort of pressure and expectation levels awaits him at East Bengal.
Now even his performances in training sessions will be scrutinised by the demanding local media in Kolkata and at times his personal life will also be intruded because when you are playing for East Bengal, you are no longer just a footballer but a role model for millions. And Ranti will be the biggest star of the club now and thus will have to fulfil the sky-high expectations day-in-day-out.
Ranti enters an unforgiving environment now where players are even criticised for getting injured and being a striker he will be expected to score in every game. His ten-year experience in Indian football would mean nothing at East Bengal because when he was banging in the goals for Dempo, United SC and Rangdajied there wasn't the added pressure of pleasing an enormous fanbase around the world by both performing individually and delivering trophies.
The daunting prospect for Ranti is that individual performances will not be good enough if the team fails to deliver silverware, especially the most coveted I-League trophy.
After all that there is the added pressure of performing in the big Kolkata derby. All the hard work of a long season will be forgotten if things go wrong against the enemy while on the positive side there is the chance to become an instant fan favourite by scoring a decisive goal against Mohun Bagan.
Ranti was quite composed during his unveiling and stated that he sees the huge expectations as a responsibility and not pressure. But once the numerous local television channels and back pages of the local press starts attacking him either for a poor showing on the pitch or something he said, the going will get tough for the Nigerian. It also doesn't take much for football fans of Kolkata to turn against a player so the challenge for Ranti then will be to bounce back and not get affected by the critisim.
Perhaps the presence of his mentor Colaco will help him settle at East Bengal. He talked about the importance of working together as a family and included the club officials and fans in the 'we' but the senior players at East Bengal will be the first ones to tell him that the collective support is dependent only on two things – performances and results. Ranti also stressed on the fact that he won't be able to deliver success single-handedly but such is the demands of Kolkata football fans and officials, the Nigerian will be expected to win matches and trophies on his own.
East Bengal and Mohun Bagan enjoy the most passionate support in India with very few clubs even in Asia capable of matching it. But at times that support can be conditional and on the extreme as when things go wrong past reputation counts for nothing. Ranti will have to get used to it and the sooner he does the better.
The tumultuous three-year spell of his compatriot Odafa Okolie at Mohun Bagan won't give Ranti much encouragement but perhaps he and East Bengal can learn from the mistakes there.
To his credit, Ranti chose to accept this massive challenge after having won everything in Indian football. There must have been a burning desire of playing for a club where there is a daily pressure to perform after scoring numerous goals in front of empty stands for the majority of his career. It is by far his biggest challenge and passing it will only enhance his legacy in Indian football.