Hope to live up to expectations: Sunil Chhetri
1.03K //
01 Mar 2013, 18:17 IST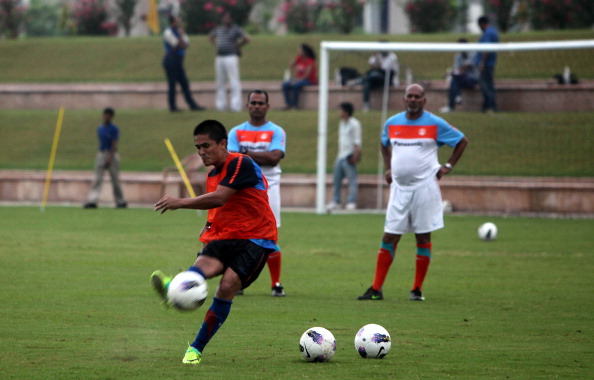 Yangon - India football captain Sunil Chhetri, who struck a hat-trick in the AFC Challenge Cup final win in 2008, said he would like to live up to the expectations once again.
As India gear up for their first match against Chinese Taipei in the Challenge Cup qualifiers here Saturday, the Sporting Lisbon discard said his sole aim is to help the team qualify for the final round.
"I just hope I can live up to the expectations. As a player it never comes to my mind as to which Tournament or match I am playing. I have always had one aim – to do well for my Country. This is a very important Tournament for us and we, as a team, will give everything we have," said Chettri, who has been loaned to I-League club Churchill Brothers.
Asked if the fans back home are becoming impatient, Chettri said: "I'd say it's a normal reaction. Fans expect us to win every match and I don't blame them at all. It's all about the mentality. I try not to be bothered by it and carry on doing my job. Success and failures and the reaction will come and go."
On the 2-4 loss to Palestine in an international friendly, Chettri said: "It was a tale of seven drastic minutes and we have nobody to blame. The positive part stays that we were the better team in the first half. But at this level, there can't be any room for excuses. We need to ensure that such a phase never hits us again. It's past for us but at the same time have taught us a lesson. We are working hard on that."
Chettri is expecting a good fight from hosts Myanmar and Chinese Taipei.
"Chinese Taipei and Myanmar are very good teams especially Myanmar, as they are playing at home. We need to remember they would be backed by a vociferous crowd. But first things first, and at the moment, we are concentrating on our first match against Chinese Taipei. We need to take one match at a time," he said.
On a different note, Chettri said expectations are high from him in the I-League as Churchill Brothers have emerged as title-contenders.
"There will be expectations as we are in contention to win the I-League this season. It's good but at the same time, it's an added pressure. I have played two matches for them and am looking forward to joining them after the campaign in the AFC Challenge Cup 2014," he said.