I-League must have more community-based teams
850 //
07 Nov 2012, 16:25 IST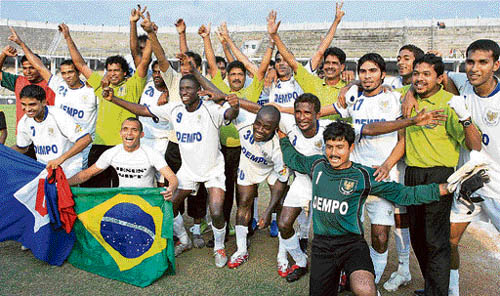 At times, I wonder why Dempo, Salgaocar, ONGC and Air India are allowed to play in the country's top flight I-League since they don't represent a city or community.
Despite their financial difficulties and simmering disputes, Air India's football team is also there. ONGC had done lot of favours to the All India Football Federation (AIFF) in the past as sponsors, so the Federation returned it by including the government institution in the League.
Dempo's unprecedented success in Indian football has kept them in the pack while Salgaocar also continue to be part of the championship due to its impressive record.
Following the trend in Europe, where almost all clubs have city based names, few teams in India have also come up in the similar manner. Barring Mumbai FC, Pune FC to Lajong and Sikkim United in the north-east, India's league doesn't have any real, community based clubs.
Even our neighbouring China has teams from 16 provinces. Last week, Guangzhou FC won the Chinese Super League, which was started in 1994 – two years before our own NFL was kicked-off.
From defence to economy, we compare us with China's growth but what stops us from following their format and increasing the number of clubs in the I-League.
Unlike community-based teams like Mohun Bagan and East Bengal, most clubs also don't have a strong fan base and that also explains why I-League has failed to create a genuine interest in the youth.
Though early this year, Dempo thought of changing their name to something like 'Panjim' where they are headquartered but it didn't get the nod from their owners.
Chances are that you may find Dempo staff outnumber the local fans during their matches in Margao since the club is not from south Goa. Salgaocar, also a north Goa team, too have a similar problem but Churchill Brothers is an exception as they are run by their family of brothers from Verca, a village in south Goa.
I-League is not a pan-Indian event since it doesn't even represent other cities and traditional states which have contributed largely to the growth of the game in the country.
Andhra Pradesh, which has produced record number of Olympians, has gone unrepresented in the League since 1996 since faction rivalry has completely ruined the game in Hyderabad.
Kerala, Tamil Nadu and Punjab are also not represented by any clubs. We also don't see any teams from Jammu & Kashmir or even Uttar Pradesh though both these states have been supplying many young players to the Calcutta, Goa and Mumbai leagues.
I-League, in fact, has lost lustre due to the fact that some of these clubs don't represent cities or communities and the Federation always hesitated to increase the number of teams and seldom encouraged other states to have a genuine community-based clubs.
The erstwhile National Football League (NFL) all of a sudden was reduced to a 10-team event from 12 in 2005-06 season. The decision proved costly as a large part of the stake holders including the media gradually lost interest in the championship. Poor coverage in the national media had a debilitating effect as the sponsors also withdrew. Though the Federation returned to the 12-team format from 2008-09, the league couldn't reignite the passion.