"Indian football has a lot of potential for growth" - Sunil Chettri
9.59K //
11 Mar 2013, 14:14 IST
Sunil Chhetri is one of the best footballers India has ever had. He is India's second highest goal scorer after Bhaichung Bhutia. He is known for his excellent running and great agility. His goal-scoring record for both club and country is exemplary. He is also the first Indian footballer to have played in the United States and Portugal.
Sportskeeda caught up with the footballer for a quick chat. Here are some excerpts from the interview:
Q. What steps do you think should be taken to make football popular among the Indian masses?
To increase the popularity of the sport, we need to do something one the lines of the IPL. Playing football in big stadiums and well-organized tournaments will attract more public and generate greater interest and will benefit everyone. I think corporates should come in and invest more money in football.
Q. Do you think opening of football schools in India will help more people to take up the sport?
The development needs to start from the grassroot level and that is how eventually football will grow in India. More and more proper academies should be set up at all levels. It's important for the kids to get the right kind of training from the beginning, which should include proper techniques, diet and fitness – both mental and physical. Personally, I think Indian football has a lot of potential for growth and with proper planning, it will eventually grow leaps and bounds.
Q. Have you set any goals for 2013 which you would like to achieve by the year end?
I have never set long-term goals for myself. I keep short -term goals as they are more achievable. I am practising with the Indian team in Goa for the upcoming tournament and would like to perform well in that.
Q. You played for Sporting CP in Portugal and Kansas City Wizards in the United States. How are the leagues abroad different from the Indian leagues?
Well the league abroad are highly intense and competitive. All the players are very quick and agile.
Q. You have recently been loaned to Churchill Brothers by Sporting CP. How are things coming along for you with your new team?
I think we are a pretty decent and hard working side. We did well in the Goa league but not so well in the AFC Cup. However, we are determined to perform well in future matches. Our goal is to win the I-League so let's see how things go from here on forward.
Q. How did you get into football?
I think I was pretty lucky as when I passed class 12th, Mohun Bagan picked me up as they liked my skills during the Durand Cup.
Q. Are you enjoying your role as captain of the Indian Football team?
Yes. I am completely enjoying my role as captain. It took me a little time to adjust as now I have a big responsibility and higher expectations, but I am trying to do the best I can. I am glad to have players like Subrata Pal, Gouramangi (Singh) and Mehtab (Hossain) to guide me whenever I need their help.
Q. Do you miss the presence of Bhaichung Bhutia in the team?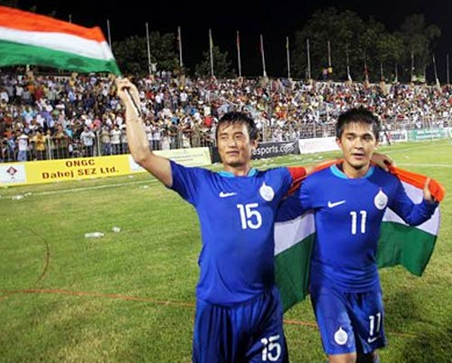 Of course! I miss him a lot. He is like a brother to me and undoubtedly a great man and one of the greatest footballers India has ever had. The things I have learnt from him helps me in my game even today.
Q. Which team do you support generally?
I am a die-hard Barca fan and hope to play for them someday.