Indian Super League's Kolkata franchise named Atletico de Kolkata
14.24K //
07 May 2014, 18:31 IST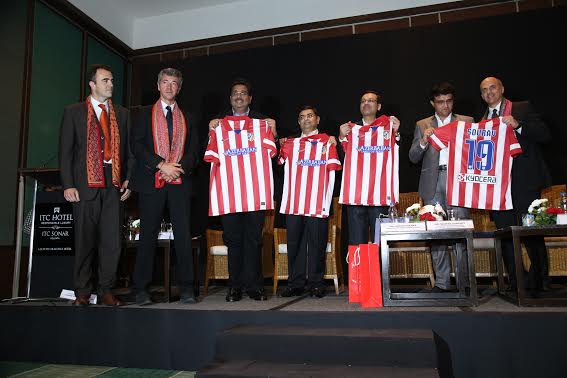 The Kolkata franchise of the Indian Super League confirmed their name as 'Atletico de Kolkata' on Wednesday in the presence of Atletico Madrid officials.
Last month Atletico Madrid was announced to be among the co-owners of the Kolkata franchise along with former India cricket captain Sourav Ganguly and businessmen Sanjiv Goenka, Harshavardhan Neotia and Utsav Parekh. The franchise was formally launched at a press conference on Wednesday.
A six-member delegation of the La Liga club is currently in Kolkata on a two-day visit. They inspected the Salt Lake Stadium and Barasat Stadium on Tuesday and found the facilities of the former satisfactory.
It was announced that the franchise wants their head coach to be someone who has been part of Atletico Madrid and he will be assisted by a coach with Indian football experience. They also intend to loan a few players from Atletico but all that depends on the approval of IMG-Reliance as many of the rules have still not been finalised.
Although all the India co-owners of the franchise was presented the number 19 jersey of Atletico, the kit colours of the Kolkata franchise is yet to be confirmed.
Atletico Madrid could play an exhibition match against the Kolkata francise in Kolkata in August but it was unclear whether their first-team squad would be coming as the club already have plans to play pre-season games in North America.
The Kolkata franchise though will be able to use the infrastructure of Atletico Madrid to prepare for the first season of the ISL.
The Indian Dream
The Atletico Madrid delegation includes club owner Miguel Angel Gil Marin, who is very excited about the tie-up.
"We will try our best to make the Kolkata franchise a great brand. When we heard about the possibility of this tie-up, we saw it as a great opportunity to extend our brand in Asia and for that India is a great market. We will help the franchise to create a competitive team for the ISL and work to improve the game in India and help design a series of sports centric growth models," Miguel Angel stated.
The Atletico Madrid owner stressed on the importance of providing the right football education to the youngsters in India and talked about his Indian dream.
"Besides making the franchise a strong brand, we want to develop the kids here. Through our academy expertise we would look to give them the proper practice and maybe take some of the kids to Spain to train there. Ultimately the dream is to have an Indian playing professionally in the Atletico first-team squad or somewhere else in Europe," he said.