Interview with Ranti Martins: India deserves to be ranked within 100-110 range
1.30K //
03 Dec 2012, 19:34 IST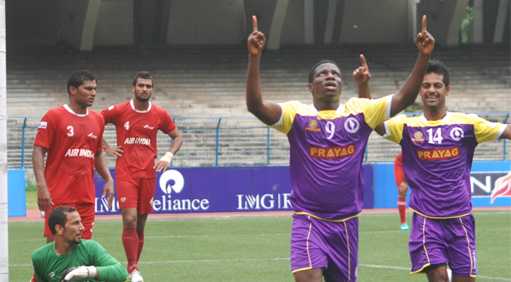 Any discussion on the lethal strikers of the I-League cannot miss the name of Ranti Martins Suleye. That's the kind of deep imprint he has left on the Indian football league with his goal-poaching ways, invariably leaving defenders in the opposition citadel groping for answers.
The 26-year-old Nigerian has indeed set goal-scoring benchmarks for other strikers in the I-league. The Lagos-born hitman rode a wave of prolific form last season, not only propelling Dempo Sports Club to the I-League title but also emerging from the tournament as the highest goal scorer (32 goals).
Martins spent eight seasons at Dempo before signing up for Prayag United. It's as if he has brought his goal-scoring boots from Goa to Kolkata. He slammed the first hat-trick of the 2012-13 I-League season against Air India to serve a stern warning to his opponents.
The stint with Prayag is giving him an opportunity to enhance his goal-scoring reputation he built in Goa while playing for Dempo. "I had a great time at Dempo. The fact that I was able to serve the team's needs gave me a huge amount of satisfaction. At Prayag, I have settled down nicely. In Goa, the crowds were less noisy, while Kolkata it's a lot more boisterous; Kolkatans love their football, not to say Goans don't," Martins told Sportskeeda in an exclusive interview.
Prayag would be hoping that the Midas touch Martins lent to Dempo's fortunes in last season's I-league would be replicated for the Kolkata-based club. "We have a strong outfit. We are fourth in the points table. Although any team can win on any given day, I'm upbeat about our I-League-winning chances. Not just Prayag, East Bengal, Dempo, Churchill Brothers and Mohun Bagan are all strong title contenders," he pours out his thoughts.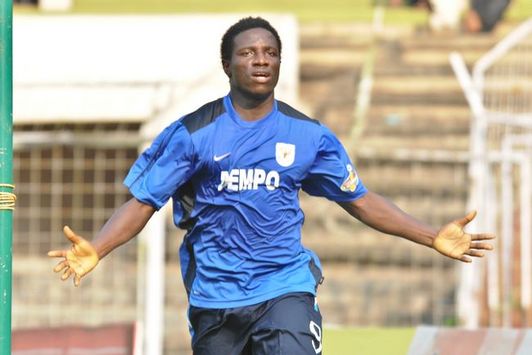 Martins has an uncanny knack of setting up big wins for his team. This season, he pumped in seven goals in Prayag's 10-1 win over United Sikkim Football Club this season. Last season, he struck seven goals in Dempo's 14-0 win over Air India, which, till date remains the highest winning margin in I-League. Quiz him about his goal-scoring prowess and pat comes a humble response. "It's all about teamwork. I don't think I would have succeeded in scoring without the support of my teammates."
The deadly striker, however, has fond memories of the recent big win over United Sikkim. "I don't think any team can surpass that winning margin. Take it from me," he says confidently, flashing a grin.
There is a growing perception that the presence of foreign players, especially substandard ones save for a few, hasn't really helped in improving the standard of Indian football. But Martins begs to differ. "I don't think so. The quality of Indian football when I first played here in the 2004-05 season was not that great. But that is not the case now as Indian football has shown marked improvement. Look at guys like Manandeep Singh and Joaquim Abranches, they are promising guys, which shows local talent is definitely coming up," he quips.
The Nigerian believes the current national football team is better than its current FIFA ranking suggests. "There are a lot of countries where the standard of football is lower than that of India and yet they are ahead of India because they regularly play international friendlies on FIFA match days," he reasons.
Martins has no doubts that India deserves a much higher FIFA ranking. "They must play as many international friendlies as possible on FIFA match days. In my book, India should be ranked in the 100-110 range," he remarked.
Martins has achieved so much in India as far as club football is concerned. What about a desire to wear the Nigerian national jersey? "I really want to play for Nigeria. I would be delighted to perform wearing the green jersey," he says, swelling with pride.
Martins agrees that a Nigerian national call-up would be a difficult proposition for him given the fact that he plays club football in India. "The standard of Indian football is improving all the time. But if the powers-that-be are going to set that (playing in India) as a yardstick for not picking me in the national side, then I really don't have to say anything."
Martins is keeping his options open about plying his football skills in Europe. "I'm happy playing for Prayag for now. If at all I want to move to Europe it has to be a big club, otherwise there is no point making a switch," he observed.
Last and the not leash, there is one thing Martins hasn't picked up despite his pretty long stay in India. It is his Hindi."Mate, haven't picked up much. thoda thoda (little little)," he fired a parting shot.