Kolkata Derby - It happens only in India
1.39K //
09 Dec 2012, 18:51 IST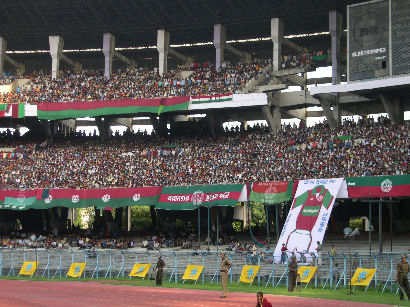 There goes a saying, 'It happens only in India.' This was actually witnessed at the the Kolkata Derby today as fans of both the clubs went mad and hauled stones at the players as well as the cops.
Unfortunately, Syed Nabi became a victim as he was powerfully hit by a stone on his head and started bleeding badly. An ambulance was brought in and the player was stretchered away. Before this happened, there was an ugly altercation between Bagan's Odafa Onyeka Okolie and the match referee regarding the decision of a free kick and Odafa was given a needless red card.
Nabi was bleeding, as if he was hit by a rock on his head and the argument went on, almost neglecting poor Nabi. And the sad part is that his condition is unknown and none of the fans remembered to give a thought to it. They simply forgot that it was just a sporting event and they didn't even spare the cops.
The world on Twitter went mad as the fans clashed over the Internet; it was reported that stones were thrown on buses outside the Salt Lake stadium. Even India-Pakistan could not have witnessed such a mad mob as today. The irony of all these incidents is the fact that both the clubs belong to the same city.
The outrage was so intense that the match was called off but the AIFF officials after Mohun Bagan refused to enter the field, citing law and order problems.
All this for a club game. The Manchester Derby starts tonight with the same tension, but you could never expect the fans to be this mad. That's why they say, 'It happens only in India.'