Kolkata Derby report to be opened at I-League core committee meeting
775 //
27 Dec 2012, 17:22 IST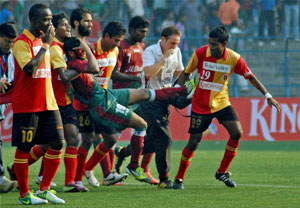 The report of retired Judge AK Ganguly regarding the events of the December 9 Kolkata derby between East Bengal and Mohun Bagan will be opened only the I-League core committee meeting on Saturday, as the fate of the green-and-maroon brigade continues to hang in the balance.
On Wednesday it was learnt that AIFF president Praful Patel would most likely give a verdict on Thursday, but in the latest development,  the AIFF have confirmed that the matter will now be referred to the I-League core committee which includes representatives of four I-League clubs – Dempo, Pune, Shillong Lajong and East Bengal.
There is a possibility that the issue could further be referred to the AIFF executive committee, but it was learnt that according to rules the decision of the I-League core committee could also stand final subject to an appeal.
Due to such developments, Mohun Bagan's match against Churchill Brothers this weekend has been deferred. This is the third I-League match of Mohun Bagan's that has been deferred since their derby clash against East Bengal.
The verdict is anybody's guess at the moment with Mohun Bagan in danger of facing a two-year ban from the I-League, although following the hearing on Monday, the club's senior officials and legal representatives are confident of getting a favourable decision, which they hope will be a replay of the match.