KOOH opens first Football Development Centre in Delhi
1.65K //
18 Jul 2013, 19:53 IST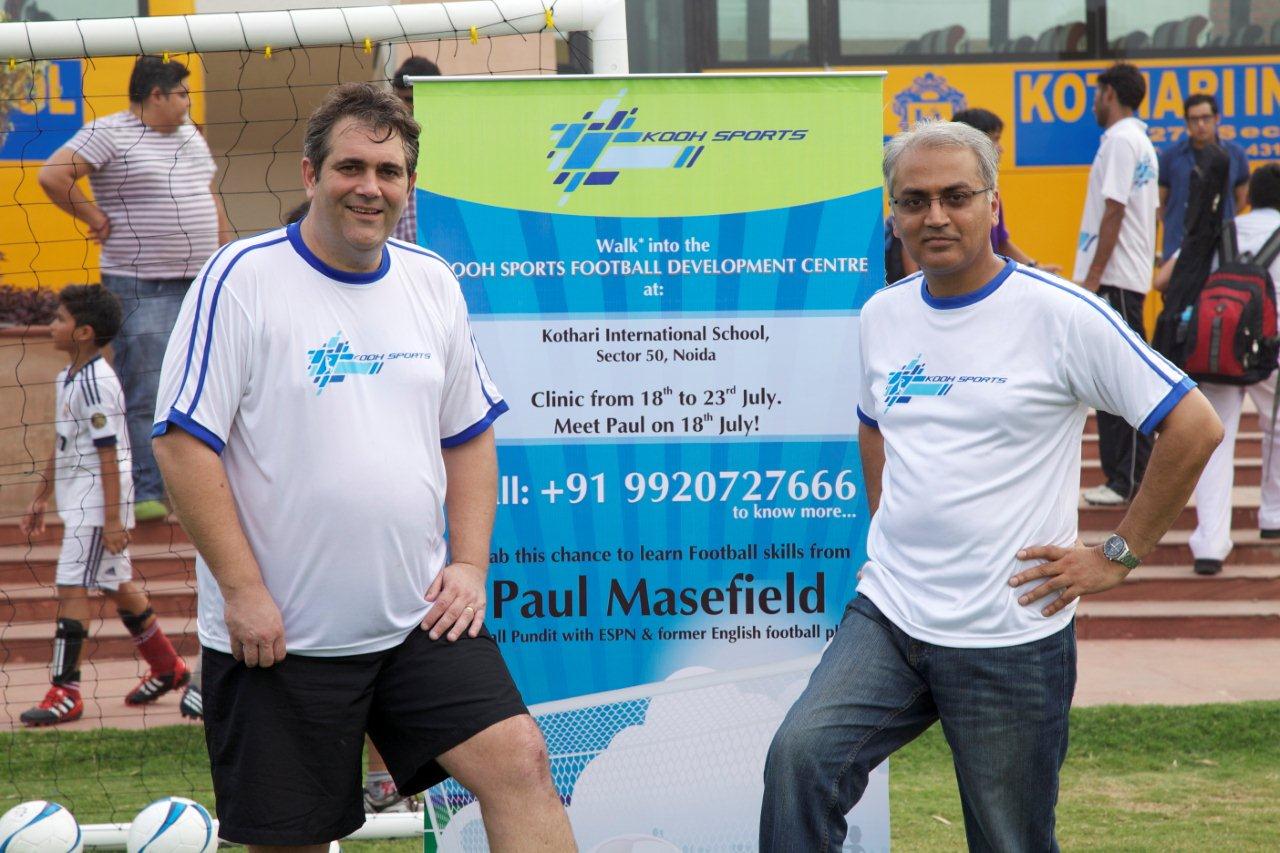 KOOH Sports, a Sports Education and Training firm launched its first "KOOH Sports Football Development Centre" in Kothari International School, Noida on 18th July 2013. The firm has underlined its commitment to the development of country's talent by associating with ex-English Footballer and a celebrated TV Pundit Paul Masefield. Paul will be assisting KOOH Sports football experts in complete deployment of the football program across the country.
As a part of launch, KOOH Sports hosted a football skill clinic with Paul Masefield, where kids got an opportunity to directly interact with him and learn the intricacies of the game. The clinics will also be held in JBM School-Delhi on 23rd July.
Paul Masefield, the newly appointed Technical Director, KOOH Sports remarked, "Football is a way of life; it connects people like no other sport. I can see such tremendous potential in this country. It would have been unjust for the kids to not have a fair chance at receiving such training that can sculpt them into professional players fit for the international arena. There is a huge disconnect in the sports ethos and the KOOH Sports Development Centres is the step in the right direction. At "KOOH Sports Football Development Centres", we will be targeting students from an age group of 6 – 17 years. The KOOH Sports model allows easy access to a football curriculum of international standard."
"The passion and commitment for the sport in India is incredible. It's time proper technical training reaches our kids and we start churning out international level footballers from our country. We have been diligently working to create impact at a grass root level and introduction of our Football Development Centres are aligned with the same mission." remarked Prabhu Srinivasan, CEO, KOOH Sports.
About KOOH Sports Football Development Centres
KOOH Sports Football Development Centres stress on small sided games to develop and enhance Soccer Intelligence. It helps stimulate players technically, tactically, physically and mentally in equal measure. The method affects the perception; decision making and execution on the field; rendering long term impact.
Keeping in mind the egocentric traits or sensitivity in children; the methodology seamlessly works to add value to their personal growth. It also helps players to add different on-ground solutions to their repertoire with the optimal repetition.
Underpinned by international soccer experts, the program provides cutting-edge scientific player development.

The highlights of the program are –
4 unique levels designed for each age specific group
State-of-the-Art Playing Equipment and innovative training plans
World class coaching through experienced and specialized coaches
Performance analysis & personalized feedback
Skill development in sport based situations
Fitness and athletic development
Individualised session formats
High ball contact time
Age progressive training systems
KOOH Sports Program Philosophy
KOOH Sports' program philosophy - GRITTM is driven with a focus on a child's physical and emotional needs. It allows children to achieve a holistic understanding of the game and it is aligned to his/her personal growth. It stands for Game Intelligence, Repetition (High Ball Contact Time), Innovative Skill Development and Talent Management.
All the sports curriculum developed at KOOH Sports adopts the GRITTM framework. "GRITTM will enable KOOH Sports to uniquely position its sports education and training programs and create sustainable child development" added Chirag Patel, Chief Strategy Officer, KOOH Sports.
About KOOH Sports
KOOH Sports was set up in June 2010 and was started by a set of experienced individuals drawn from various industries and backed by India's leading corporate houses TCS and HDFC. The objective of KOOH Sports is to improve the sporting outcomes in the country.
KOOH Sports delivers professional sports training and coaching programs of international standards to schools, making sports a viable career option. It has a panel of in-house experts who design, conceptualise and execute age appropriate physical education programs along with state-of-the-art equipments & infrastructure and physical assessment reports. It also offers unique fun-activities to draw people to the field of play with their colleagues, peers, friends and family.
Having steadily grown since its inception in June 2010, KOOH Sports through multitude of programs has currently reached out to 50,000 children throughout the country and plans to add over 2,00,000 children over the next three years.
Paul Masefield, Technical Director, Football Development Centres
Paul Masefield is a former football right back and TV pundit @ ESPN Sports from England, who played professional football in England for a number of years before moving to Asia and playing in local Asian leagues.
Paul with his enormous expertise in the game is currently helping KOOH Sports set up the Football program. He is actively involved in the ideation and deployment of the program across the centres.
Coaching History
Based out of Singapore, Paul has coached for -Singapore Coaching School, Sing Tao Club Hongkong, Limerick Town Football Club, Preston North End, Stockport County, Birmingham City.
Qualifications
He has been qualified in English Football Association Professional Football Management course and been awarded the English Football Association Advanced coaching award and holds a full license. He has played with – Birmingham City F.C, Eire Preston North End F.C, Limerick Town F.C, Sing Tao Sports Club, Clementi Khalsa F.C.
He is currently handling multiple projects in Malaysia. As the Managing Director of Little League Soccer and Mustang Football Club at Turf City, he is handling both the companies. He co-founded The Premier Pitch and is conceptualising a Turf City Junior Soccer League again in Malaysia.