Mamata clean chit to police on derby violence
715 //
13 Dec 2012, 19:51 IST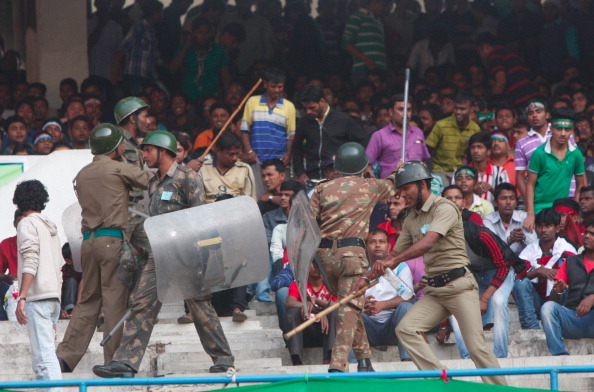 Kolkata - West Bengal Chief Minister Mamata Banerjee Thursday defended her police in the wake of crowd violence during an I-League football match Dec 9, which left a player seriously injured, and blamed it on the "embarrassingly low" strength of the force.
"The police are being blamed for the fracas where over a lakh spectators were present. What do people expect the police to do? Do they want a lakh of policemen for a lakh of spectators," said Banerjee at a city police function here.
"The strength of the police when compared to the ten crore population of the state is embarrassingly low. It is not possible for the police to provide security to each and every house," she said.
The marquee I-League clash between East Bengal and Mohun Bagan had to be called off Sunday after the crowd present at the Salt Lake stadium went out of control and threw missiles into the ground seriously injuring a Bagan player.
Down 0-1, Mohun Bagan midfielder Syed Rahim Nabi had to be hospitalised in the half time after being hit on the face by a missile, forcing the team management to order players to come off the field in the second half.
Questions are being raised about the security in the stadium as heaps of wine bottles, chunks of concrete and pieces of brick were found inside after the troubled match.
However, Banerjee stood by her policemen.
"People do get emotionally charged during games and one or two may create trouble. But then those should be amicable settled instead by the police. You just cannot blame the police for everything that goes wrong," added Banerjee.