Match Report: Swansea 1-1 Manchester United
822 //
24 Dec 2012, 12:51 IST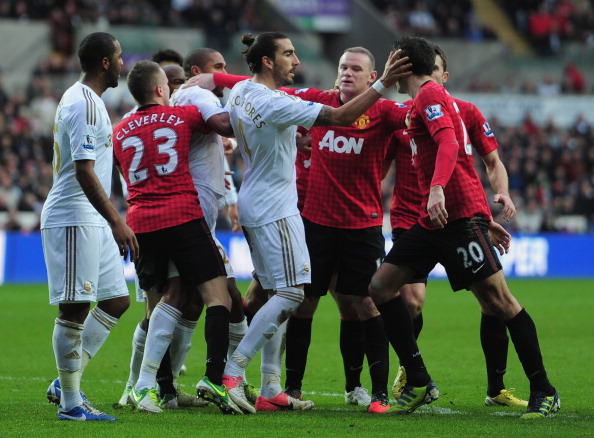 Manchester United's gap at the top was reduced to 4 points after they failed to win against Swansea City on Sunday. Sir Alex Ferguson will be disappointed that his side could not restore their lead at the top despite a good 2nd half display from his players. On the other hand, the Swans will be delighted with a point to keep their hopes of finishing in the top 5 alive. Manchester United had their Captain Nemanja Vidic back in the starting line up after a 3-month long absence due to an injury. Michel Vorm, who also was out with an injury, was making a comeback after 1o games.
Ashley Young had his shot saved by Michel Vorm after a beautiful pass from Michael Carrick. Patrice Evra, with his 3rd goal of the season, gave his team an early lead in the 16th minute of the game with his header going past Leon Britton and into the far corner. This has been Patrice Evra's best season so far in terms of goals-to-games ratio, the highest he has had in all of the seasons he has played. Michu cancelled out Evra's opener in the 29th minute. Evra was caught out by De Guzman's clever run and De Gea could only deflect the angled shot  which fell to Michu.
The goal gave confidence to the home side and it was evident from the manner they were playing. Swansea had the better of the remainder of the 1st half. Both managers would have had different things to say to their respective teams regarding their 1st half performances. Sir Alex Ferguson was clearly unhappy that Van Persie was not awarded a free kick when he and Chico Flores went to the ground just before the equalizer.
The second half began in pretty much the same manner as the first half ended. The home side got the better chances in the opening minutes with Michu's header going over and a shot from Routledge being stopped by David De Gea.
Wayne Rooney disappointed throughout the game with his performance. He lost possession on too many occasions and also his passing was not up to the mark. Although he had a few strikes on goal, overall it was an ordinary game for him. Manchester United finally started piling on the pressure on the home side with Van Persie coming agonizingly close to scoring a goal with his effort hitting the cross bar.
There was a moment of controversy as well, when defender Ashley Williams smashed the ball which hit Robin Van Persie on his back of his head. Tempers flared and both the players were booked for their gesture. Swansea were then kept under immense pressure by United, but their resilient defending ensured they came off the pitch with a point.