Mohun Bagan desperate to continue their winning run
640 //
08 Nov 2012, 17:35 IST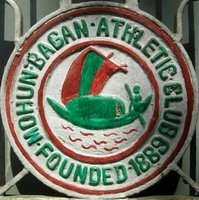 Finally, Kolkata giants Mohun Bagan are gaining their lost confidence slowly. After winning their last two matches, they are looking  to maintain their winning run in their match against ONGC tomorrow at the Jawaharlal Nehru stadium in Delhi. Because of cultural activity regarding Jawaharlal Nehru's birthday on November 14, Ambedkar stadium is unavailable. That's why the match is going to held at the Nehru Stadium.
Since their defeat against Churchill Brothers by 1-3 in September 2009, Mohun Bagan have not played a single match in Delhi. Interestingly Odafa Okolie, who was then with Churchill, smashed the Mariners and scored a hat-trick for Churchill in that match. It will be interesting to see what he will do for Mohun Bagan, wearing the captain's arm-band.
Meanwhile, Mohun Bagan's captain Odafa is in good form as he scored a hat-trick in their last I-League match against Sporting Clube de Goa. Since Mridul Banerjee has taken charge as interim coach after former coach Santosh Kashyap resigned from his post last month, Mohun Bagan have been playing some quality football and their fans also seems very happy with their favourite club's performance. Mohun Bagan are now on 6 points from 4 matches.
Meanwhile, ONGC will try to make the best of their home advantage against the Kolkata giants. As they have only gained a single point from their 4 matches, they will surely try to restrict the Mariners and try to get at least a point from tomorrow's match.
Here is the full 18-member squad of Mohun Bagan:
 Shilton Paul
Nirmal Chettri
Celestine Anyichie Echezona
Aiborlang Khongjee
Biswajit Saha
Lalrin Fela
Denson Devadas
Syed Rahim Nabi
Cyprian Stanley Okoroigwe
Odafa Okolie
Sudipta Banerjee
Mehrajuddin Wadoo
Lalrozama Fanai
Sk. Jewel Raja
Manish Bhargav
Rakesh Masih
Sabeeth Sathayan