My father, the footballer
3.05K //
20 Dec 2012, 18:15 IST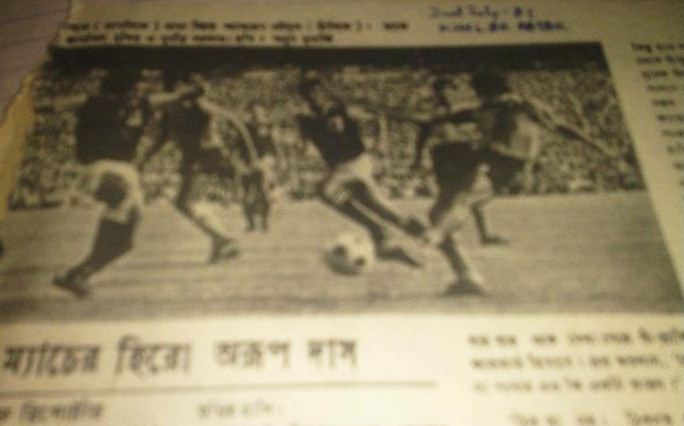 His little footsteps fell on the field for the first time when he went to cheer for his brother, who was playing football for his state. Among his other ten siblings, his eyes always caught the sight of his second brother, who was a tremendously talented player in the mid 70s. It always amazed him how his brother had managed to represent their state Assam in his favourite sport. Thousands of spectators, heightened expectations, applause, sentiments and so much more were attached to this sport. It was like an addiction to those who played the game and also for the ones they played for. He began his journey when he decided to follow his brother's footsteps.
I am talking about my father, Arup Das. He was born in a very small town called Karimgunj in the interiors of Silchar, and belonged to a necessitous family which consisted of thirteen members: parents, nine sons and two daughters. Doing anything apart from studies was a luxury for his people. Visions still flow in the mirror of his mind of how his sisters stitched their sarees to make dresses for their brothers and his parents strived against all odds. Playing football, and furthermore choosing it as a career, was considered a serious taboo. Still, he somehow followed the same instincts which brought him to the field, and those made him the talk of the town in the late 70s. He practised everyday even before sunrise, in order to keep it a secret from his father, and his rigorous hard work and determination didn't let him down. He started his career with Guwahati Maharana Club in 1977, and in 1978 he played for the Guwahati Town Club.
Due to some intimate reasons, Ajay Das, my uncle and my father's first inspiration, couldn't come down to Kolkata to pursue football. Instead, my father emigrated to Kolkata in 1979 and tried his luck. He promised my grandfather that he would earn his living through football without fail, and Railways FC gave him the first break of his life. His initial days in the new city were distasteful. After practising three times a day, there was no stamina left in him at the end of the day because he couldn't even afford proper meals. He started his journey from Sealdah, where he adjusted himself in one corner of a tiny mess. My father never fails to mention his eldest brother, Arun Das, whenever we talk about his struggling days. He always says, "'Dada' supported me the most; I have learned a lot from him."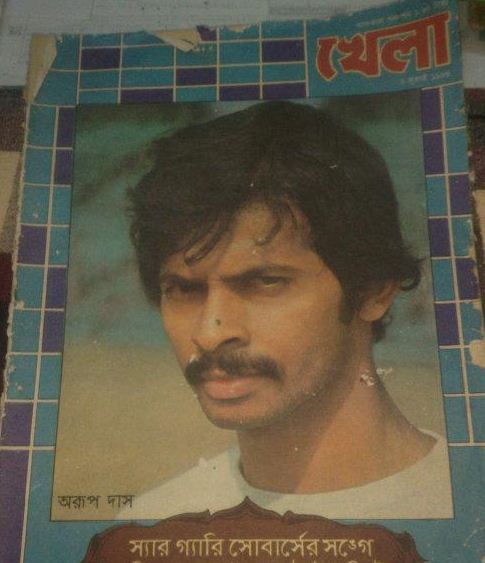 Soon, he established himself as a better footballer, a very dependable and able striker. His team Railways FC was then playing under coach PK Banerjee. My father's favourite coach till date remains Banerjee, and he never fails to express his gratitude for his teachings.
In 1980, Railways FC defeated Bengal in the semi finals of Santosh Trophy and my father performed brilliantly. The following years made his dreams come true.
In 1981, he was summoned by Mohun Bagan, where he played for a year. It was his goal against East Bengal in the IFA Shield final that helped his team win the trophy. He was in top form when he played for East Bengal for the next two years as well. The year 1981 was the most distinguished for him, because he was selected in the national side, and had the opportunity to go for India's tour to UAE. In 1984, when he played the Nehru Gold Cup, the national team coach Milovan Ciric changed his position from striker to left-half, which gave him more success.
He still feels proud to have shared the field with players like Manoranjan Bhattacharya, Bhaskar Ganguly, Prasanta Banerjee and Krishanu Dey, among others. After playing for 10 years at a stretch, he spent the last days of his career in Mohammeden Sporting. "I could have played more. Maybe If I would have got proper nutrition and food in my childhood," he shares wistfully.
When I asked him about the best moments of his football career, he answered: "When I met Indira Gandhi and Bobby Moore in the Nehru Gold Cup. I met and spent some time with Asha Bhosle and RD Burman Sahab, and no doubt that was one of the best moments of my life."
I saw the excitement fil his heart while he answered the question, because I knew he had always been a huge music lover and a fantastic singer. My mornings started with the old Hindi Kishore songs that he sung everyday. He also added: "I can't forget the day when I scored goals in the Eden Gardens, and after the match I reached my club without even putting a single step on the ground." He paused with a smile and continued after a moment: "I was carried by the supporters on their shoulders."
I still see him going out for his walk early in the morning every day, without fail. He always shares his experiences and struggles with us, which has motivated us and taught us something new everyday. He has never wanted us to become extraordinary, but has always wanted us to give our best in every step of life.
I have learned to love sports because of him, and I am a proud daughter of my footballer father.