Nabi operation successful; Bagan demand compensation from EB
1.16K //
10 Dec 2012, 16:49 IST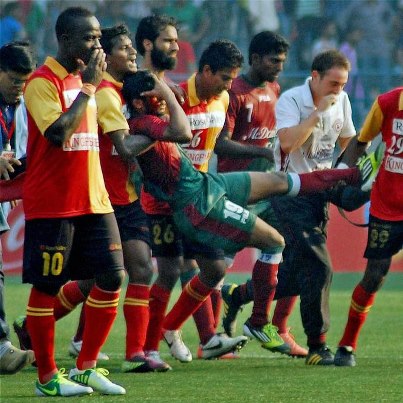 India and Mohun Bagan player Syed Rahim Nabi was operated successfully in a private hospital in Kolkata on Monday afternoon for the injury he suffered after being hit by a missile in Sunday's Big Kolkata Derby.
Nabi, who had suffered a deep cut on right his cheek bone, is believed to have a broken jaw and thus, a titanium plate was needed for the treatment.
India's Mr Versatile is now ruled out for up to six weeks and was quoted saying in a Bengali daily that he is contemplating retirement following Sunday's horror show from the crowd.
His club Mohun Bagan, who had a meeting at the club tent on Monday afternoon, addressed the media and stated that they want compensation from arch-rivals East Bengal for the player's unfortunate injury.
"We want compensation from the home team (East Bengal) for Nabi's serious injury. They (East Bengal) were hosting their match and so it was their responsibility to provide us proper security. It's not proved that the missile came from a Mohun Bagan. We are not saying it came from a East Bengal also, in truth whoever threw the missile is not a football fan.
"We have also hosted matches in the past but there has never been such an ugly incident," Mohun Bagan general secretary Anjan Mitra told the media although he completely forgot that India international Subhashish Roychowdhury was hit by a stone while playing for Mahindra United against Mohun Bagan at the Mohun Bagan ground in 2009.
I-League CEO Sunando Dhar had talked about the possibility of Mohun Bagan getting banned from the I-League and questioned their decision of playing on for a minute in the first half but then refusing to turn up for the second half.
Mohun Bagan assistant general secretary Srinjoy Bose responded by saying, "We played on in the first half because our intention was always to play the match. But at halftime on hearing Nabi's serious condition and the law and order situation in the stadium we decided we can't risk the safety of other players. We were never assured of our safety by the home team.
"He (Sunando Dhar) has made an incomplete statement yesterday by saying that we could be banned. Everyone has to understand the reason for our withdrawal, it was under special and serious circumstances. If needed, we will go to FIFA and sort the situation."
Bose also attacked the AIFF for not paying a visit to Nabi, who has undoubtedly been India's most consistent player in the last 18 months.
"It is unbelievable that neither Mr.Dhar nor anyone from the AIFF came to visit Nabi, who is a national team player. How can they do that? And then they say that we could get banned from the I-League for two years."