Video: Indian Atletico Madrid fan's dream comes true, watches Madrid derby live and meets Torres
3.00K //
08 Feb 2015, 16:51 IST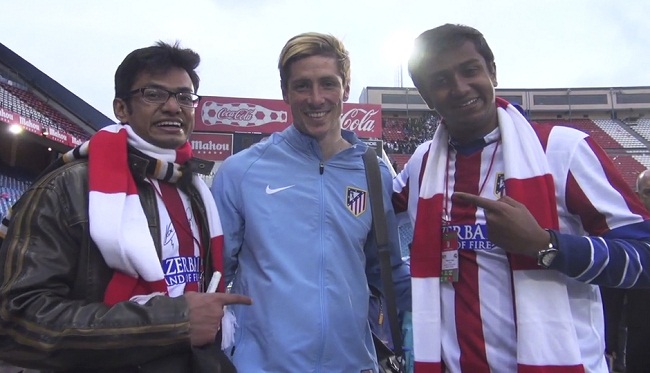 The high voltage derby clash between the Liga giants Atletico Madrid and Real Madrid last night proved to be the most memorable night of his life for Dhananjay Yadav, a childhood Atletico fan from India and the winner of Atletico's Facebook contest for the best Atletico Indian fan. Atletico Madrid thrashed Real 4-0 in a sensational match at Estadio Vicente Calderón, thanks to goals from Tiago, Saúl, Antoine Griezmann and Mario Mandžuki?.
It was Dhananjay's life-long dream to watch an Atletico Madrid match live at the Vicente Calderón. And he couldn't have asked for a better result!
A few weeks ago, the club launched a contest to find the best fan in India via Facebook. Thousands of participants entered the contest and Dhananjay Yadav was chosen the winner. He got to travel to Madrid and visit Atleti's museum, meet the club's director and meet El Niño Fernando Torres!
Quoting his exact words: "I vaguely remember, it was 2002 and a player wearing the no.9 jersey was ripping through the defence, scoring unbelievable goals considering that he was only 18. Since then, I became the fan of Fernando Torres and Atleti.
"Such was the madness, that as I couldn't get Atlético's no.9 jersey in India, I ordered it from the UK. I still have that no.9 jersey as one of my most prized possessions. It wasn't only Torres that made me a hardcore Atleti supporter, it was about the character of the club. While Barça had style-of-play, Madrid had stars, Atleti had willpower and hard work to fight against biggest teams in Europe.
"It is this character that helped them winning the season last year against all odds. In a way, I have grown up with the club, it taught me that hard work and commitment, along with constant endeavour, will enable to achieve greatness no matter how difficult the obstacles are, and today I am a successful marathoner, pushing myself every day."