Violence at Kolkata derby - Not a good advertisement for Indian football
1.83K //
11 Dec 2012, 22:30 IST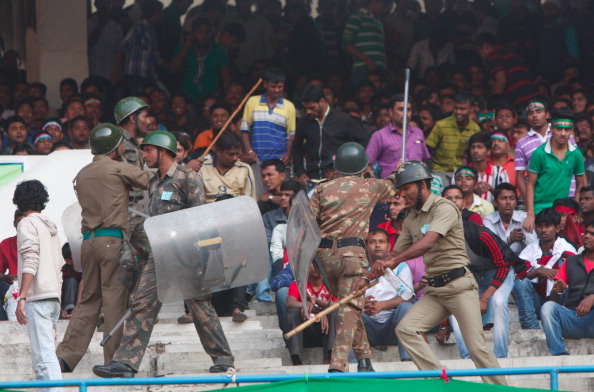 Bengal's regional media is divided into two separate class — ghoti and bangaals. English newspapers are a shade better as they refrain from taking a side of either of these two top clubs.
The crowd problem during Bagan-East Bengal matches is an age-old problem which has always been overlooked by the Indian Football Association (IFA), AIFF and the security agencies.
I've never written on a Mohun Bagan-East Bengal match based on emotions. Though my roots allow me to twist comments in favour of the Mariners, I had never done that in my career as a football writer. I call such efforts unethical.
After last Sunday's I-League match was called off, Bagan fans have been defending themselves and blamed the security lapse while East Bengal are throwing scornful looks at their city rivals. The 'fight' between the two traditional teams won't end quickly as AIFF is readying itself to punish the erring club.
But I'm saddened with one thought. Has anybody cared about Syed Rahim Nabi, whose broken jaw has put him out of action for six weeks? Nabi had been East Bengal's favourite player for seven seasons before he changed his club last year. Does that make him more vulnerable to the attack? We must not forget that the stone which hit him, was from the stands which had lot of Bagan fans who were protesting against the red card to Odafa Okolie.
As a 10-year-old, I had read about the gruesome incident at Eden Gardens when 16 football fans died. I still have some of those old magazines with me. A cursory glance into the pictures of that ill-fated day will create fear in our minds. Those who breathed their last were football fans and we shouldn't categorise them as East Bengal or Bagan supporters.
After the incident on Sunday, some 'literate' Bagan and East Bengal fans on the social networking sites have been busy in the mud slinging but nobody is talking about Nabi's injury. In one post, a Bagan 'staff' allegedly called the I-League CEO as East Bengal's 'dalal' (broker). More than the behaviour of the rowdy fans of both these clubs, it's the 'irresponsible' comments by some of their officials which shock us.
Calcutta is one of the proposed venues for the FIFA U-17 World Cup which India is bidding to host in 2017. The crowd interference and Bagan's refusal to play the second half, which was widely reported in the international media, were definitely not a good advertisement for Indian football.