We refused to play because of our players' safety – Mohun Bagan coach Karim Bencherifa
1.02K //
09 Dec 2012, 19:24 IST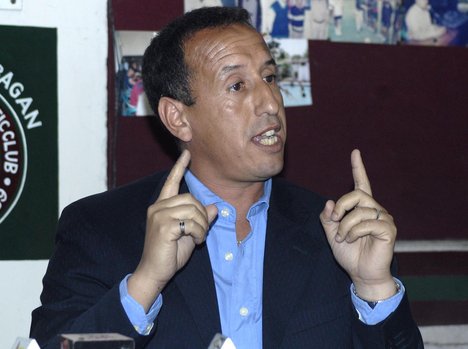 The Mohun Bagan squad remained inside the dressing room for more than an hour after the halftime break, during which they decided not to play the second half of their 302nd meeting against arch-rivals East Bengal.
Coach Karim Bencherifa eventually came out and addressed the media in a press conference, where he explained the club's decision.
"When we were going inside the dressing room at halftime, we were told that the situation in the stadium was out of control as the fans and police were clashing. We also got news that Nabi was unconscious in the hospital as he had suffered a deep cut below his right ear. As a result, all the players were upset (for Nabi) and since there was a serious security concern, we had to give priority to the players' safety and that is why we refused to take the field. It was a club decision entirely," Bencherifa stated.
Quite clearly, the missile that injured India international Syed Rahim Nabi came from the Mohun Bagan stands but Bencherfia refused to accept it.
"We don't know (from where the missile was thrown). We were the away side today," the Moroccan said.
The former Churchill Brothers and Salgaocar coach was highly critical of the refereeing and opined that his skipper Odafa Okolie didn't deserve a red card.
"From the very first minute he (referee Vishnu Chauhan) was trying to officiate as per the rule book. When you have 100,000 people inside the stadium and it's a derby, you have to use your common sense. I feel sorry for him and I admit it wasn't an easy task but he kept giving strange decisions against us. On every second ball he was giving a freekick against us and even one corner was wrongly given. Then towards the end of the half, when our wall blocks a freekick, he gives another freekick from where we concede. He booked four of our players.
"I trust my players so I believe Odafa and I believe those who watched on TV when they say that Odafa didn't even touch him. We had just conceded and were upset and then the referee gives a foul against us on a 50-50 challenge. Naturally Odafa was upset but he never touched the referee. If you send him off for showing unhappiness at a decision, you have to do that in every game of the I-League," Bencherifa said.
I-League CEO Sunando Dhar pointed out the possible punishments for Mohun Bagan, including complete suspension from the I-League but Bencherifa refused to comment about it.