Why Raghu Nandy's Aryan side are Trevor Morgan's bogey team
1.13K //
13 Dec 2012, 19:43 IST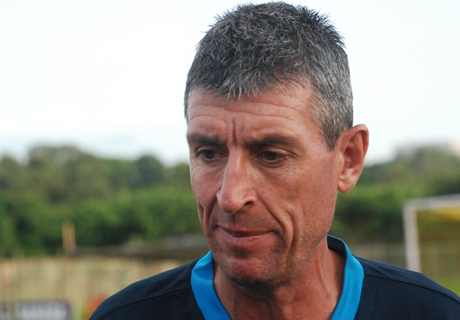 Trevor Morgan has enjoyed plenty of success in Indian football since becoming East Bengal coach in the summer of 2010 and was adjudged 'FPAI Coach of the Year' earlier this year. Morgan has enjoyed a good head-to-head record against most coaches, but there is one name that has a 100 percent winning record against him and that coach made it three wins in a row on Thursday.
The coach in question is Raghu Nandy, a well-known coach in the Kolkata Maidan who is renowned for doing miracles with the so-called smaller teams. Nandy's Aryan side registered their third straight win against Morgan's East Bengal on Thursday, beating them 2-1 at the East Bengal ground in the Calcutta Football League (CFL).
It brought an end to East Bengal's unbeaten start to the season, as the red-and-gold brigade were unbeaten in 21 matches in all competitions and hadn't suffered a defeat for 33 straight domestic matches. The two goals that they conceded were the first that they had let in after six straight clean sheets in the CFL.
All those statistics make Aryan's achievement even greater, although East Bengal fans might argue that they weren't playing their full strength side. It's true that Morgan fielded a weaker side, like he has been in the CFL, as none of the foreigners were in action. But East Bengal's starting lineup still had five India internationals while current India striker Manandeep Singh came on in the second half along with former internationals like Sushant Matthew and Alvito D'Cunha.
East Bengal, who are considered to have the best squad in the I-League, had enough quality to beat an Aryan side who had just one player with significant I-League experience in Michael Tayo, former Air India and Sporting Clube de Goa player.
Both of Aryan's goal scorers were local players –Gopal Debnath and Pankaj Moula – and the result cannot be considered as some fluke because clearly Raghu Nandy has a gameplan to play against Morgan's side and it has worked to perfection for three times now.
Nandy's Aryan side first beat Morgan's East Bengal in December 2010 when the red-and-gold brigade were already crowned CFL champions. Morgan field a second string side and they were outplayed by Aryan with Snehashish Dutta scoring a brace in 2-1 victory. The result handed Morgan his first defeat in Kolkata and ensured an unbeaten CFL campaign for third-placed Aryan.
Nandy and Morgan next met on January 10 2012, the same date when Bhaichung Bhutia played his farewell match for the Indian national team against Bayern Munich in New Delhi. For once the national media attention was on football as the Indian football icon was going to don the national jersey one last time, but back in Kolkata some ugly scenes at the East Bengal ground also caught the media's attention.
East Bengal had come into the game on the back of 0-2 defeat to arch-rivals Mohun Bagan but led 1-0 at the break with Morgan fielding a team of first team regulars and fringe players. Morgan took off Penn and never imagined what awaited him in the second half as Aryan's Nigerian striker Charles outmuscled his make-shift defence to bag a second half hat-trick.
Aryan won the game 4-1 in what turned out to be a humiliating result for Morgan's side and the East Bengal fans vented their frustration by blocking the exit gates of the ground. The East Bengal players and coach Morgan were stranded for half an hour inside the ground, with one supporter even apparently spitting on the English coach.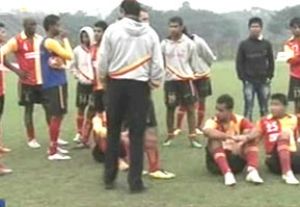 Police eventually intervened but Morgan later stated, "these have been the worst four days as East Bengal coach."
On Thursday, Morgan was actually taking positives from the defeat, saying, "Losing to Aryan is like a good omen for us because having lost to them in the last two seasons, overall the campaign ended well for us."
Nandy is delighted with the statistic of winning each of his three games against one of the most successful coaches of Indian football in recent times.
But which victory does he rate his best? "Today's win is the best because East Bengal were on an unbeaten run. Whatever team they were fielding, they were getting results but we have stopped that run by playing some quality football. 4-1 was special but now I feel East Bengal are a much better side. This is the best result of my coaching career," an ecstatic Nandy told Sportskeeda.
Nandy truly deserves his moment in the spotlight and his side can also claim to be Morgan's bogey team.