The sole purpose of a Free Fire player is to survive the battle against their opponents. To do so, they must take down enemies. Here comes the role of guns.
Guns have distinctly damaging capabilities, due to which some are good enough to take down a foe even with body shots, while a few are not. But headshots can be a one-shot killer.
In combat situations, headshots play a very dominant role. A perfect headshot is adequate to finish the enemy. However, offering headshots is not an easy task at all. Grinding hard with a perfect sensitivity setting is the best exercise they can do.
The improved version of the title, Free Fire MAX, needs more critical sensitivity settings as it uses more resources on the device. This article will guide users to the proper settings that they should have to make easy headshots.
Note: Free Fire sensitivity settings are subjective. This article solely reflects the author's opinion. Also, Free Fire is banned in India, readers from the region are advised to avoid playing it.
---
Garena Free Fire sensitivity settings for headshots on the MAX version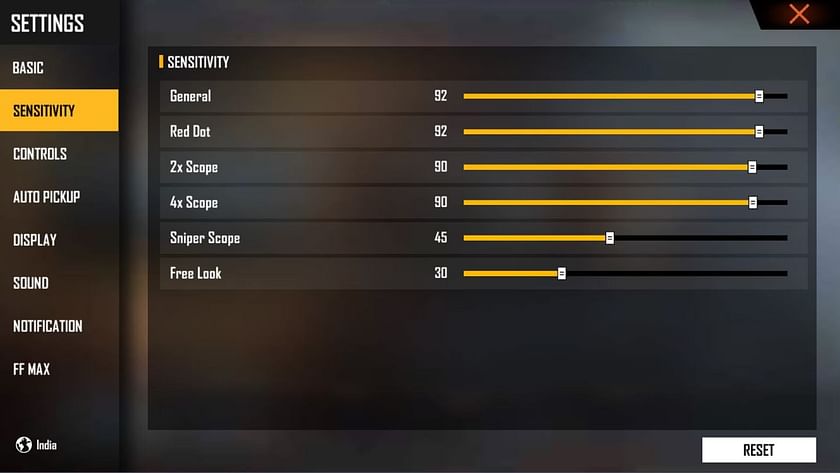 Settings differ from device to device as not all phones are of the same capability. The RAM of the phone can be considered to differentiate the performance level.
The Free Fire sensitivity settings for the MAX version described below will be based on three types of devices: Low-end (2GB, 3GB, 4GB RAM), average (6GB RAM), and high-end (8GB, 12GB RAM).
---
General
General sensitivity is a key setting responsible for the movement of the camera angle and character. A fitting number for it can increase the feasibility of hitting drag-headshots.
Low-end device: 100
Average device: 90-100
High-end device: 85-90
---
Red Dot
Red Dot sensitivity determines the pace in movement of the aim. Keeping it too high is not a good idea as it almost locks the aim, which creates difficulty while dragging the fire button.
Low-end device: 95-100
Average device: 85-90
High-end device: 70-80
---
2x and 4x Scope
The 2x and 4x scope sensitivity determines the pace in the movement of the aim to the enemy while scoped in. A perfect number for these settings will help players hit headshots using Marksmanrifles like AC80, Woodpecker, etc. Both the settings can be kept the same.
Low-end device: 95-100
Average device: 90-95
High-end device: 70-80
---
Sniper Scope
Players acknowledge that snipers are one of the toughest weapons to handle. Keeping sniper scope sensitivity too high will direct them to an unstable aim. It needs to be perfect for a sniper player.
Low-end device: 90-100
Average device: 40-60
High-end device: 30-50
---
Free Look
The Free Look option is not used by the majority of players. But for those who use it can keep the following Free Look sensitivity settings:
Low-end device: 40-50
Average device: 30-40
High-end device: 10-25
Check out the latest Free Fire MAX redeem codes here.
Edited by Rupak Kumar Jha