Five reasons why I love Andres Iniesta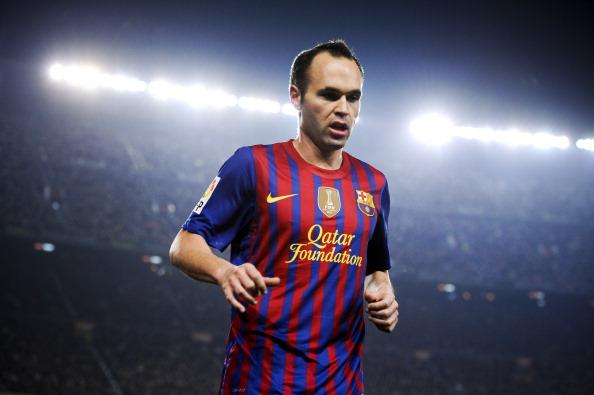 When one watches FC Barcelona in action, one just cannot help but admire the football on  display…clean, beautiful and breathtaking! Even the harshest and most arrogant rival fans (special mention to Manchester United and Real Madrid) admit that the tiki-taka brand of football is without a doubt eye-catching and attractive. This form of play demands tremendous fitness, technical efficiency and a smart footballing brain. Barcelona's traditional farmhouse "La Masia" has produced terrific talents to execute this beautiful style of play. Barca coach Pep Guardiola, Lionel Messi, Xavi Hernandez, Cesc Fabregas, Carlos Puyol, Gerard Pique, Sergio Busquets and the list goes on. Although the finest exponent of the fabled Masia, according to me, with due respect to all the names mentioned above and many more whose names are not mentioned above, is Andres Iniesta. Following are five reasons why I love Andres Iniesta.
1. Supreme technical ability
There is no doubt that Iniesta along with Xavi is definitely one of  the most superior technical football players alive on this planet at the moment. Terrific passing ability, sublime touch, fantastic vision, excellent ball control are just some of the adjectives that can be associated with this footballing genius. He is every coach's delight, every manager's prized possession and every other manager's envy. He is gifted with magical feet that can treat the football like a ball of jaggery. It is a treat to watch him in  action, every purist and pundit would agree!
2. Stylish
The beautiful game has been blessed with some men with beautiful feet. The Premier League currently possesses some really stylish players in Luka Modric, David Silva, Tomas Rosicky, etc. Similarly, La Liga undeniably produces the greatest lot of stylish football players as Spaniards naturally tend to let their feet talk instead of their brutal strength and tackles. And when it comes to style, Andres Iniesta is the man who can turn the style on. His dribbles and multiple runs through opposition defences leaves the viewer mesmerized.
http://www.youtube.com/watch?feature=player_detailpage&v=Q4UipWBzuqY
3. Gentleman
Surely he has to be in the top bracket of real gentlemen among the current crop of football players in the world today. Iniesta was never guilty of brawling on the field and is adored not just by his own fans but also fans from other clubs. The best exhibition of his gentlemanly spirit was in the 2010 World Cup final where he paid tribute to late Espanyol defender Dani Jarque after scoring the winner. This evoked a standing ovation from the Espanyol fans for Iniesta the following season when Barca travelled to their groud for a Liga fixture.
4. Throughball specialist
Often lurking under Xavi's shadow, Iniesta is not given the amount of credit he deserves for his play-making ability. He has a street-smart footballing brain and can pick out killer passes through sheer instinct  and set a forward through on goal. Last season, he had the second most number of assists in La Liga after Messi which speaks volumes about his precision in the art of sending through balls.
5. Picks his moments 
The man sure does know how to pick his moments when it comes to scoring goals. Be it that stunning stoppage time equalizer for Barca against Chelsea in the  controversial 2008/09 Champions League semi-final second leg or the 2010 World Cup winning goal in the final that made him a national hero or countless other game saving goals…he is the man to look towards in times of crisis and he WILL deliver.
http://www.youtube.com/watch?feature=player_detailpage&v=P5yE9YWc9TU