Pressure builds for premier league title run-in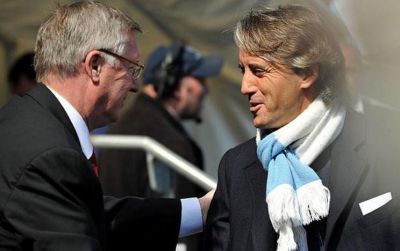 Manchester United would look to clinch their 20th Premier League title this season while a buoyant City will not let the chance to end their league title drought slip away so easily. This season's title run-in appears to be heading to the wire with nine matches to go in the Barclays Premier league. United had toppled City off the perch last weekend by thrashing relegation threatened side, Wolves and City went down to a promoted Swansea side. Manchester United hold a one point lead over City after they came from behind to to win 2-1 against Chelsea in the final 10 minutes.
In England the joy lies in Manchester as both the clubs are looking forward to win the Epl this season leaving the other contenders way behind. Both the Manchester clubs have bowed out of Europe –  first in the Champions League group stages and recently from the Europa league – and the Premier league is their only hope of silverware. The season could end on a high after all the injury issues United had all season long. On the other hand, City too fissured out from the other tournaments and after a promising start to the league campaign they would love to win the league after a period of 44 years.
Patrick Viera recently said that United would not love to see the league trophy go to City as much as they lost the league to Arsenal previously. The derby on 30th of April will make all the difference on which team will win the title hoping both don't drop points in the remaining matches. City had boost in their morale with the return of the exiled strike force Carlos Tevez and his presence will define a potent force that he is. United on the other hand has a number of easy draws in the next few matches and their present form should take them past the finish line. No matter what happens, United still holds the edge against City because of their experience and their form every year during the fad end of the season. But the title is definitely staying in Manchester no matter who wins the match on 30th April.