Top 5 Spaniards in the EPL!
The EPL has been host to some wondrous foreign talents in recent times, especially Spanish players. Right from Fabregas to Xabi Alonso to David Silva, the Spaniards have been an integral part in the scheme of things of various English clubs. In yet another entertaining season of English football, lets take a look at 5 of the best Spanish players currently plying their trade on English soil…
5. Pepe Reina
Yet another outstanding product of FC Barcelona's fabled 'La Masia', Pepe Reina has surely become a household name in Liverpool thanks to his excellent shot-stopping abilities and assuredness with the ball at his feet. He has been an anchor at the back for the Merseysiders for a long time and has always lived up to the fans' expectations. Once again, he has played a pivotal part for Liverpool in the 2011/12 season, pulling out a number of brilliant saves in crucial moments for the Reds' as they continue to chase that elusive Champions League qualification spot. Liverpool have managed to keep 11 clean sheets this season and the veteran Spaniard deserves most of the credit for the feat having pulled out 74 saves in 29 league appearances so far this season.
4. Mikel Arteta
Arsenal bought the experienced midfielder from Everton on the last day of the summer transfer window from Everton in order to fill the void left by Cesc Fabregas following his much talked about transfer to FC Barcelona. Arteta may not be as brilliant as Fabregas but he has done a fairly impressive job for the Gunners this season. While he hasn't provided many direct assists at Arsenal, he surely has been the engine of the Arsenal midfield. He has been excellent in maintaining as well as retaining possession for the Gunners and has been an unsung hero for Wenger's men this season as they finally surged to 3rd spot after a crisis situation in the early stages of the league where they were languishing at 15th spot at one point.
3. Juan Mata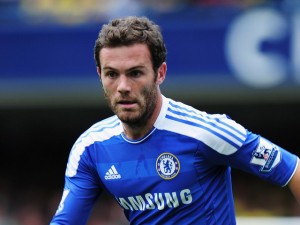 The ex-Valencia midfielder was bought for 23.5 million pounds to Chelsea by former Blues manager Andres Villas Boas at the beginning of the season to solve the Fernando Torres conundrum. Right from the time of his arrival at Stamford Bridge, Mata has been a vital cog in the wheel for Chelsea and is one of the best buys of the summer transfer window. He may not have helped Torres find his goal-scoring boots,but he surely has formed a formidable and destructive partnership with Daniel Sturridge on the right wing,sending countless through-balls and inch-perfect crosses. The wily Spaniard has scored 5 goals and provided 10 assists for Chelsea this season which goes to show how important he is to the team.His stats have been highly impressive given that this is just his first season in England.
2. David de Gea
The former Atletico Madrid goalkeeper had a nightmare start to his career for Manchester United as the Spaniard kept making blunder after blunder in the initial games, much to the annoyance of the Manchester United faithful. There was immense pressure on his shoulders as he was brought in to replace one of the finest goalkeepers the Premier League has ever seen, Edwin van der Sar. Many questioned his ability to deal with high balls and long range shots and also his confidence level at an age of 21 to handle the intensity of the Premier League. Yet, Sir Alex Ferguson, like he has done so many times, backed the youngster. Gradually, De Gea grew in confidence and started defying his critics with much improved performances at the back. He started peaking into form by the end of 2011 and was back  to his best by the start of 2012. He made countless astonishing game-changing saves, most notably in the games against Norwich City, Chelsea, Liverpool, Arsenal, etc. De Gea has pulled out a staggering 79 saves in just 20 league appearances maintaining 7 clean sheets. Finally the Red Devils supporters have noticed why Ferguson signed him in the first place.
1. David Silva
Roberto Mancini has made a number of expensive signings (much to the disappointment of Arsene Wenger!) in his managerial reign at Manchester City but none has been as good value for money as David Silva has been. The ex-Valencia play-maker is by far the best midfielder in the Premier League. Some people have gone as far as labeling him in the same bracket as Barca duo Xavi and Iniesta. Silva is a nightmare for many a defender due to his low center of gravity, quick feet, smart positional sense and sharp footballing brain. He is always a step ahead of everyone else on the field and is Man City's main go-to man in times of crisis. His best performance in a City jersey so far has been in the 6-1 hammering of Manchester United at Old Trafford where he scored a goal and provided a mesmerizing assist and also played a vital part in the build-ups to all of City's other 4 goals scored on that historic night. Silva has racked up 12 assists and 5 goals in the Premier league so far. A classy player with high technical ablility coupled with grace and style, he is every other manager's envy.
Honourable mentions-
1. Jose Enrique- The accomplished, yet underrated left-back has enjoyed a very good debut season at Liverpool following his departure from Newcastle United. He is solid in defence and potent in attack in equal measure. It is a pity that he isn't even considered for a spot in the Spanish national side.
2. Fernando Torres-  The former Liverpool striker is suffering what is arguably one of the most famous goal droughts in recent football history at Chelsea FC. How a player who was once one of the 3 best strikers in the world along with Messi and Ronaldo can change so drastically that he scores only 2 goals in the Premier League in one whole year is beyond anybody's comprehension. Since this list is only based on the performances in the 2011/12 EPL season, he doesn't make it in the top 5 for obvious reasons.However, not even mentioning him would be criminal due to the stature that he possesses even to this date thanks to his past exploits at Liverpool.
3. Jordi Gomez- The Wigan Athletic striker has been one of the signings of the club under Roberto Martinez. He is an integral part of the Latics set up and will play a crucial role in helping the Greater Manchester-based club to avoid relegation. The highlight of this season for Gomez was his late equalizer against Chelsea at the DW stadium not so long ago to snatch a valuable point much to the delight of Roberto Martinez. It is tough to believe that he is yet another graduate from Barca's La Masia!