Anirban Lahiri leads by one stroke after third round in King's Cup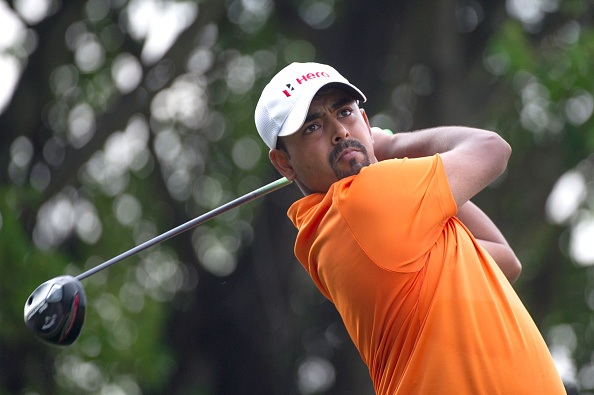 Khon Kaen (Thailand), November 29 Indian golfer Anirban Lahiri fired four-under 68 to enjoy a slender one-shot lead after the third round of the $500,000 King's Cup at the par-72 Singha Park Khon Kaen Golf Club here Saturday.
Lahiri, who led from the opening day, was surprised after returning to find himself back atop the leaderboard at the Asian Tour event. The 27-year-old, who took the lead over Thaworn Wiratchant, made an eagle on the 18th hole and carded four birdies on the fourth, 11th, 12th, 15th against two bogeys on the fifth and 13th.
"I'm actually surprised to find myself in the lead as I didn't play well today especially on the front-nine. It was quite a struggle there. It felt like every step I took, I took two steps back again," said Lahiri, who has a three-day total of 16-under-par 200.
"I knew Thaworn was off to a hot start and I was struggling on the front-nine. I was just trying to catch up and stay ahead. So it was really nice to finish off with an eagle as I really needed that boost.".
Thaworn, a 17-time Asian Tour winner, is ready to deny Lahiri's title ambitions as he carded a flawless 66 to take second place while Australia's Andrew Dodt gatecrashed the home party by sharing third place with Sutijet Kooratanapisan, Panuphol Pittayarat and Jakraphan Premsirigorn.
Thaworn got off to a scorching start with five birdies in his opening six holes. He could not replicate his birdie blitz after the turn, managing only one birdie on 11th but his score was still enough to keep him in contention for his 18th win on the region's premier Tour.
Other Indians in the fray, S.S.P. Chowrasia and Arjun Atwal finished tied 12th and joint 25th, respectively. While Chowrasia carded a two-under 70 to take his total to 10-under 206, Atwal managed 71 to reach a total of six-under 210. He shared the position with 11 others.
Rashid Khan scored 71 to share 37th position with a total of five-under 211, while S. Chikka hit poorly six-over 78 to drop to joint 62nd spot.
Leaderboard:
200: Anirban Lahiri (IND) 65-67-68.
201: Thaworn Wiratchant (THA) 68-67-66.
203: Sutijet Kooratanapisan (THA) 70-68-65, Panuphol Pittayarat (THA) 68-69-66, Jakraphan Premsirigorn (THA) 69-65-69, Andrew Dodt (AUS) 69-65-69.
204: Prom Meesawat (THA) 68-69-67, Paul Peterson (USA) 69-68-67, Danthai Boonma (THA) 66-70-68.
205: Mathiam Keyser (RSA) 68-69-68, Carlos Pigem (ESP) 67-69-69.
206: Rattanon Wannasrichan (THA) 71-68-67, Kalem Richadson (AUS) 66-72-68, Phiphatphong Naewsuk (THA) 66-71-69, S.S.P Chowrasia (IND) 65-71-70.
207: Phachara Khongwatmai (THA) 71-71-65.
208: Chan Kim (USA) 72-66-70, Chinnarat Phadungsil (THA) 70-68-70.
209: Kim Gi-whan (KOR) 70-71-68, Lee Sung (KOR) 70-71-68, Mardan Mamat (SIN) 68-71-70, Stephen Lewton (ENG) 71-68-70, Blair Wilson (AUS) 73-66-70, Sam Cyr (USA) 72-65-72.