There is no dearth of talent in golf and every year we are seeing youngsters showing up stronger. The PGA Tour recently named ten players under 23 years of age to keep an eye on.
Here's a look at the players who could make it big in the future.
1) Tom Kim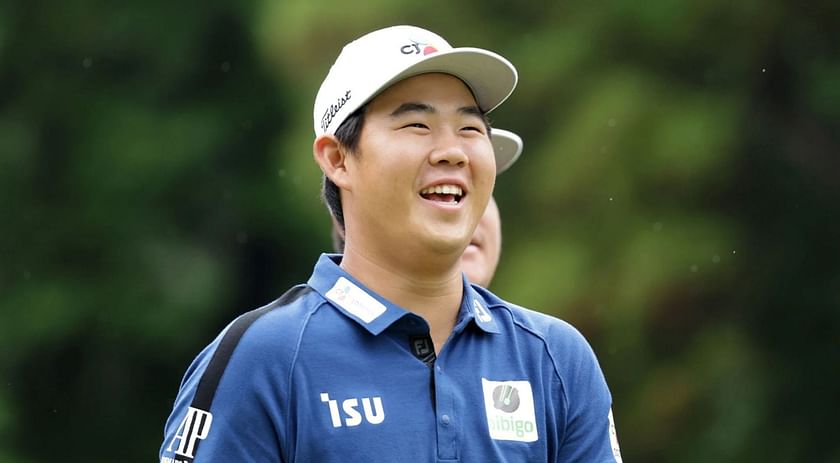 Kim kick-started 2022 ranked 131st in the world but will enter 2023 as among the top 20 players. He qualified for the Genesis Scottish Open in July on the basis of his Korean Tour performance. Kim impressed everyone with a third-place finish followed by a seventh-place finish at the Rocket Mortgage Classic.
A five-stroke margin win at Wyndham earned him a PGA TOUR card and a spot in the Presidents Cup team as well. The 20-year-old didn't stop just there registering a win at the Shriners Children's Open.
---
2) Chris Gotterup
Gotterup had a successful career at Rutgers in New Jersey. He was Big Ten Player of the Year and an All-American in 2020.
Gotterup was awarded the Haskins and Nicklaus award as the top player in college golf in his lone season as the Sooner. He also finished in the top 10 of the Puerto Rico Open, a PGA Tour event. His other top 10 finish came at the John Deere Classic, where he finished T4.
---
3) Pierceson Coody
Last year was Pierceson Coody's first season as a pro after he became the top player in the PGA TOUR University, earning him a Korn Ferry Tour card.
Coody emerged victorious in just his third start on the KFT at the Live and Work in Maine Open. Apart from the win, Coody has a 4th and T10 finish in his 7 starts at the KFT.
Coody comes from a family of golfers as his father has played at KFT level, and grandfather Charles Coody is a 1971 Masters winner.
---
4) Muchael Thorbjonsen
Thorbjornsen made the cut at Pebble Beach before contending at a PGA TOUR event. He won the 2018 U.S. Junior Amateur at Baltusrol, and made the cut at the US Open in 2019.
---
5) Ludvig Aberg
Aberg currently stands at the No. 1 position at PGA TOUR University. If he maintains his position after May's NCAA Championship, he'll earn a PGA Tour card. He also stands at No. 1 in the World Amateur Golf Ranking.
For a 6 feet tall Aberg with a strong physique, his driver is his strongest club and he doesn't shy away from hitting it even in the narrowest fairways. He secured a win at the 2021 Jones Cup Invitational, and also won the 2022 Big 12 Championship.
"His ball-striking is as good as his mental game, and those are top level," Greg Sands, the head coach at Texas Tech, said about Aberg.
---
6) Rasmus Hojgaard
Already a three-time winner on the DP World Tour, Hojgaard has started to make his name. If he continues like this, he could be joining the PGA TOUR soon.
Hojgaard had a great 2022 with nine consecutive top-30 finishes, including four top-10 finishes in his last six starts. He finished 16th in the DP World Tour Rankings last year. Similar results this year could earn him a PGA Tour Card.
---
7) Akshay Bhatia
Bhatia was about to turn 20 when he won the Korn Ferry Tour's season opener in 2022. Jason Day and Sungjae are the only two to do it at a younger age than him.
Apart from that win, Bhatia's rest of the season was full of disappointments. Bhatia has already seen enough up-downs in his short career. He became a professional at the age of 17. Before that, he was the AJGJA Player of the Year, No. 1 junior in the World and No.4 in the Amateur rankings.
His first PGA Tour cut came a year after turning pro in the 2020 Fortinet Championship, where he finished in a tied 2.
Bhatia is in no rush and that reflects on his game and statements as well.
"I've just climbed the mountain slowly and slowly," said Bhatia.
---
8) Gordon Sargent
Last year, Sargent won the NCAA individual title, becoming the ninth freshman to achieve this. He currently stands at No. 3 in the World Amateur Golf Rankings.
Sargent has 10 points in the PGA TOUR U Accelerated, the second most right now. If he earns 20 points before his senior year, he will earn a PGA TOUR membership.
---
9) Cole Hammer
Cole Hammer finished his rookie year as a pro on a good note with a T5 finish at The RSM Classic. This earned him a place at the Sony Open 2023 which will be held in Hawaii.
Hammer finished fifth at PGA Tour University. He also has has conditional Korn Ferry Tour status for 2023 after ending at tied 59th at Final Stage of Korn Ferry Tour Q-School last month.
---
10) Caleb Surratt
Surratt has a good record in his college career with a Junior PGA Championship 2021 and Western Junior at the same year. He also finished runner-up in the 2022 U.S. Junior Amateur.
A win at the Elite Amateur Cup earned him a spot in the Butterfield, awarded to players earning the most points in seven of the most prestigious amateur events in the United States. He was also runner-up at the Pacific Coast Amateur and finished third at the Northeast Amateur.