As far as a medium of spreading a game go, movies based around sport have always been doing a fine job since time immemorial. When a game gets taken up as the central theme for a movie, then it draws fans of the sport to that movie through a very natural connection. There have been movies that showcased cricket, the Goal series had football while recently Rush was based on the rivalry between F1 drivers Nicki Lauda and James Hunt.
Hollywood is replete with movies involving American sport, with basketball, baseball and American football from its own backyard forming the core of quite a few spectacular movies across genres such as drama, comedy and biopic, that have been thoroughly enjoyable.
Here's a look at few of the most popular movies based around American football:
1. Brian's Song (1971)
This was a television movie made in 1971 starring James Caan, who plays the role of Brian Piccolo, a football player with the Wake Forest University who discovers that he has terminal cancer. The movie is about how he deals with his struggles with the help of a few friends and other pros. It is rated amongst the best television films ever made. The film is based on a true story.
Both James Caan and Billy Dee Williams were nominated for Outstanding Single Performance by an Actor in a Leading Role at the Emmy Awards.
2. Friday Night Lights (2004)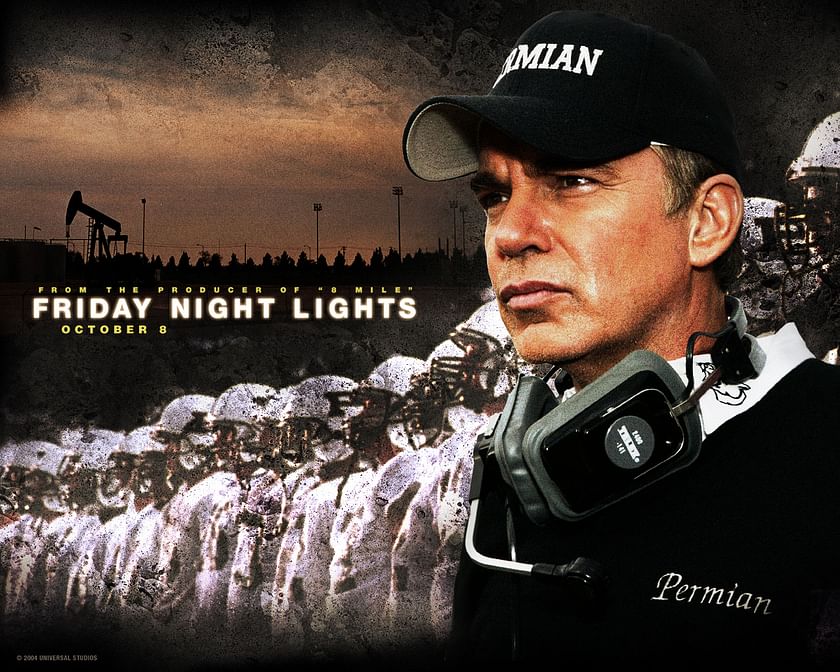 Directed by Peter Berg and starring Billy Bob Thornton, Lucas Black and Garrett Hedlund, Friday Night Lights is a sports drama film that features the story of the coach and players of a high school football team in a small city of Odessa in Texas where folk from the city are just madly obsessed about the team. It is based on the book Friday Night Lights: A Town, a Team, and a Dream.
The movie was received very well with critics lauding it for hitting it big as a drama as well as a sports movie. It won the Best Sports Movie ESPY Award in 2005. It also won the AFI Award for Movie of the Year in 2005.
3. The Express (2008)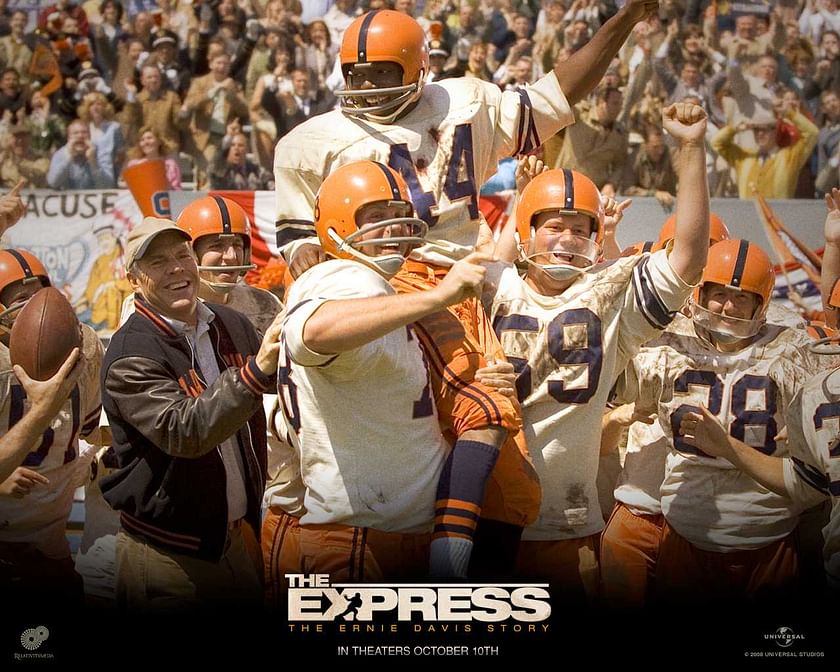 The storyline for the movie was based out of a book called Ernie Davis: The Elmira Express by Robert C Gallagher. The film is about the life of Ernie Davis, a football player at Syracuse University, who became the first African American to win the Heisman Trophy. This award is given to the most outstanding player in college football in the United States. Davis' role was played by Rob Brown and the movie also features Dennis Quaid and Charles S Dutton.
The movie has been touted as one of the most inspiring football movies of all time with much praise being heaped on Brown, who was a relative newcomer at the time.
4. Remember the Titans (2000)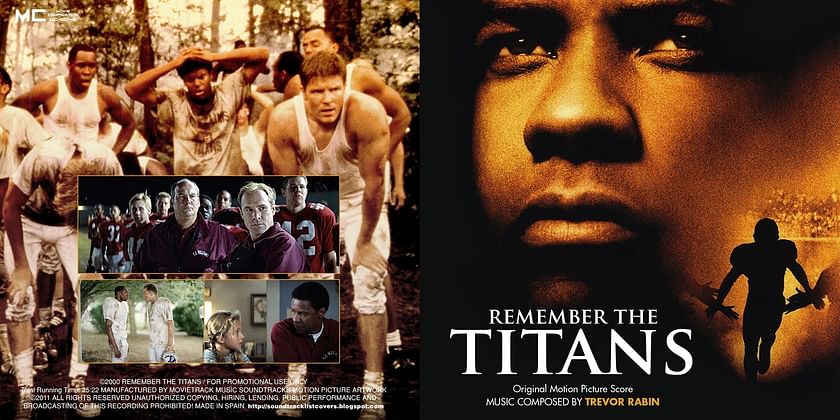 Produced by Jerry Bruckheimer, this 2000 drama film was based on the true story of Herman Boone, an African American coach who brings up a team in a racially charged atmosphere in the early 1970s. The movie earned positive reviews and Denzel Washington's portrayal of the coach Boone was particularly praised as he delivered a typically solid performance.
5. The Blind Side (2009)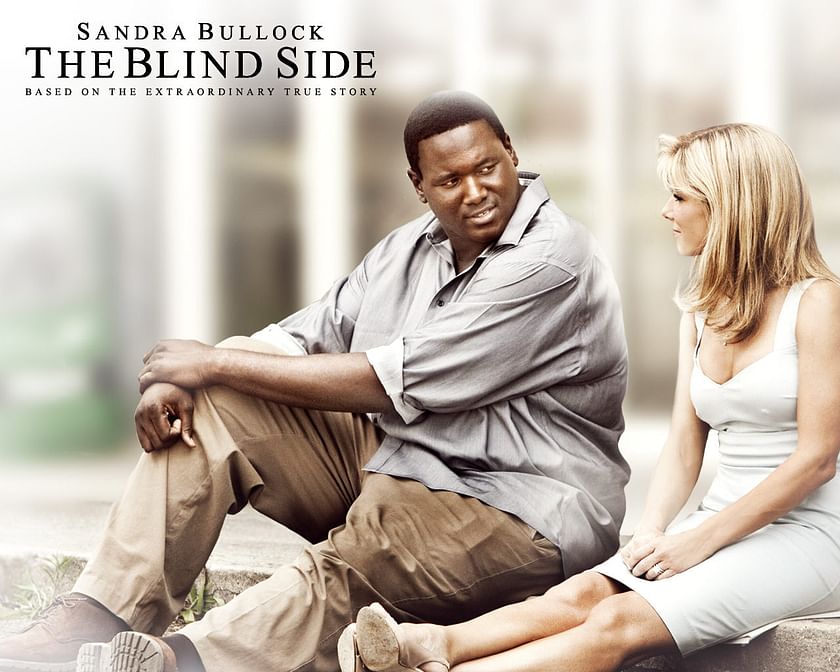 This semi-biographical sports drama film directed by John Lee Hancock is the story of an offensive lineman, Michael Oher, who plays for the NFL franchise the Baltimore Ravens, about his upbringing from his early days where he wasn't rather well endowed to later with his adopted parents who help him rise up the ranks to be one of the most impressive talents in college football.
Sandra Bullock plays Leigh Anne Tuohy, his adopted mom, and her performance was lauded by everyone. The movie was a box office success and it won Bullock a plethora of top acting awards – the Academy Award for Best Actress, the Golden Globe Award for Best Actress and the Screen Actors Guild Award for Outstanding Performance by a Female Actor in a Leading Role.
The movie was also nominated for Best Picture at the Oscars.
6. We Are Marshall (2006)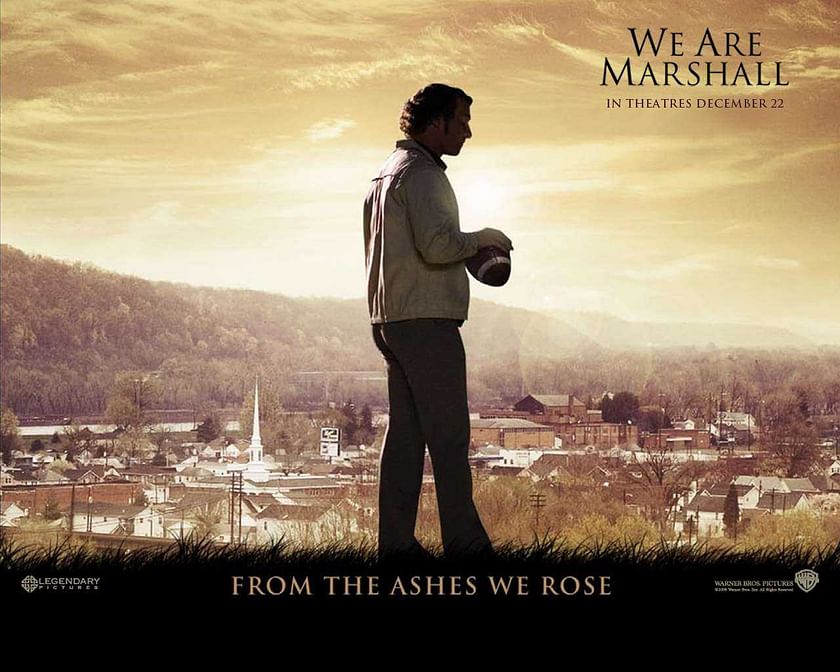 Directed by McG, the film stars Matthew McConaughey as head coach Jack Lengyel of the Marshall University Thundering Herd American football team. McConaughey, as we know, delivers some top class performances in roles such as this, and this was no different as the movie is based on the true story of the team lost 37 players, five coaches, two athletic trainers and the athletic director amongst others in a plane crash in 1970 and how the team rebounds after this loss.
To draw a parallel, it is similar to the Munich air disaster in which English football club Manchester United, lost a large number of their players in the air crash.
McConaughey's performance was highly lauded and it quite literally carried the film from start to finish. It was nominated for Best Sports Movie by ESPY in 2007.
7. Invincible (2006)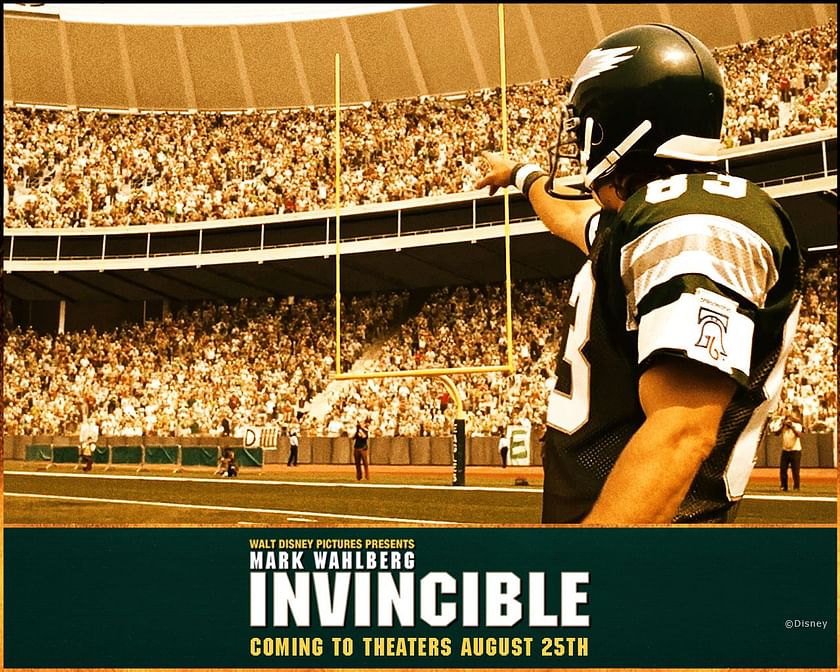 Starring Mark Wahlberg, Invincible is the true story of Vince Papale who played for the Philadelphia Eagles outfit between 1976 and 1978. Wahlberg plays Papale in the movie.
It was well received by the audiences and was nominated for Best Sports Movie by ESPY in 2007 where it competed with We Are Marshall.
8. Any Given Sunday (1999)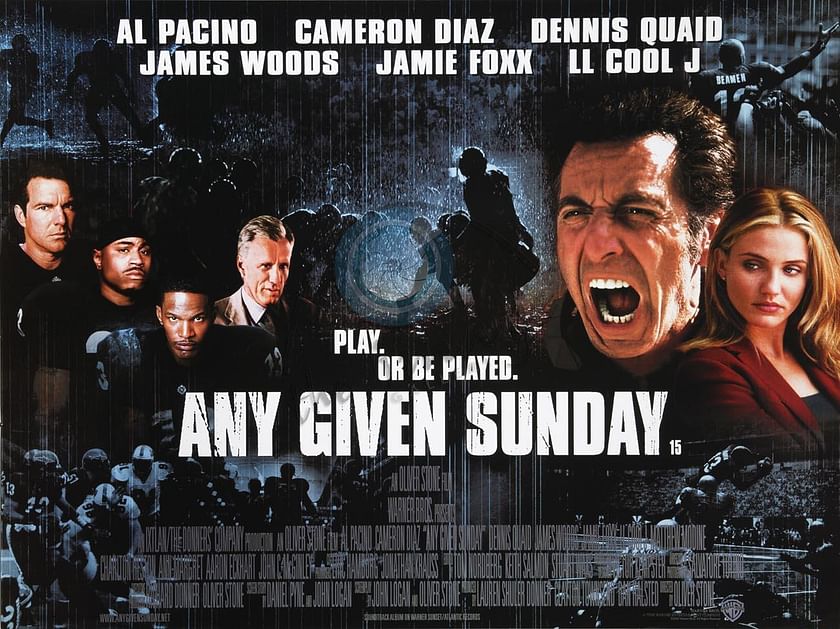 The movie is about a fictional American football team called the Miami Sharks and has a star cast featuring the likes of Al Pacino, Dennis Quaid, Cameron Diaz, Jamie Foxx, Aaron Eckhart and LL Cool J. Many former American football players such as Dick Butkus, Y. A. Tittle, Pat Toomay, Warren Moon, Johnny Unitas, Ricky Watters, Emmitt Smith and Terrell Owens all had cameo roles in the film.
Cameron Diaz won the AMA Award in 2000 for Outstanding Actress in a Feature Film.
9. The Longest Yard (2005)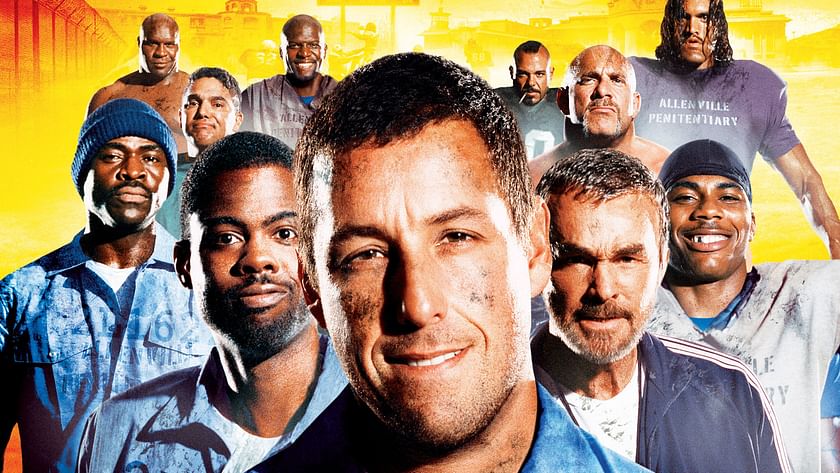 A sports comedy film featuring Adam Sandler, this was a remake of the 1974 film of the same name starring Burt Reynolds. Sandler plays Paul Crewe, a disgraced former pro quarterback who is sent to prison and leads the inmates in a game of gridiron football against the prison guards who they face on a daily basis.
The cast included plenty of real life athletes such as Terry Crews (NFL), Michael Irvin (NFL), Brian Bosworth (NFL), Bill Romanowski (NFL), Bill Goldberg (NFL, WCW/WWE), Bob Sapp (NFL, MMA), Kevin Nash (Euro League Basketball, WCW/WWE), "Stone Cold" Steve Austin (WWE/ECW/WCW, college football at North Texas State University), and Dalip "The Great Khali" Singh Rana (WWE).
10. The Waterboy (1998)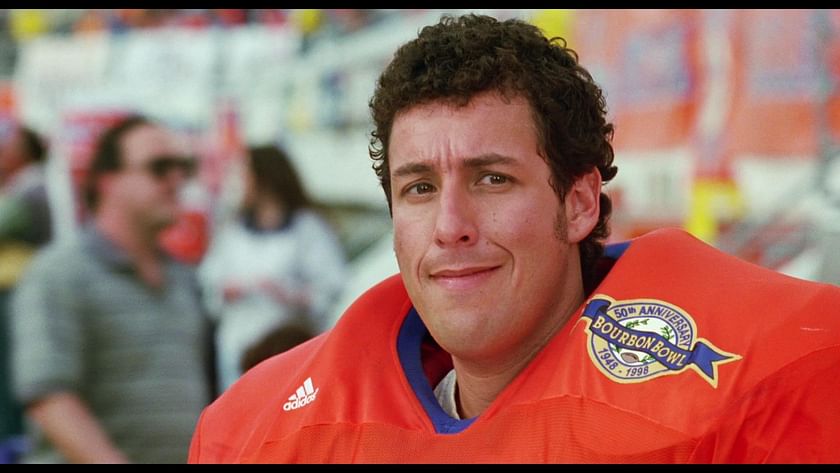 Another Sandler movie to round off the list, The Waterboy is a 1998 sports comedy movie where Sandler's character, Bobby Boucher, a typical Southerner, goes from being the waterboy on a pro football team to actually making the starting lineup.
A very entertaining movie, it was well received by fans worldwide and it crossed $120 million in collections.
Those were the top 10 movies on American football that we could think of; in fact many of the players in the EFLI, including MVP Roshan Lobo have admitted that their initial fascination with the game stemmed from watching these movies, especially Adam Sandler's The Longest Yard and The Waterboy.