USA Gymnastics has unveiled the U.S. women's team featuring Simone Biles to compete at the 2023 World Artistic Gymnastics Championships, which will be held from September 30 to October 8, 2023.
The five-member team, along with a traveling alternate, will compete at Sportpaleis in Antwerp, Belgium. Biles secured her spot on the team during the first day of the 2023 U.S. Women's World Team Selection Event, held between September 19 and 20, 2023, in Katy, Texas. She will be joined by five other gymnasts.
Biles scored an impressive 55.700 in the all-around event, surpassing world silver medalist Shi Jones, who scored 55.300. They will be joined by Skye Blakely, the 2022 team gold medalist, who scored 55.000.
Leanne Wong, the 2021 World all-around silver and floor exercise bronze medalist, secured her spot along with the 2023 U.S. vault champion, Joscelyn Roberson, who will be making her debut at the world championships. Additionally, Kayla DiCello, the 2021 World Championships all-around bronze medalist, will travel as an alternative for the team.
USA Gymnastics also revealed the roster for the upcoming 2023 Pan American Games to be held in Santiago, Chile from October 20 to November 5, 2023. The squad includes Kayla DiCello, Jordan Chiles, Kaliya Lincoln, Zoe Miller, Tiana Sumanasekera, and Katelyn Jong.
Simone Biles is the only U.S. woman to compete at six World Artistic Gymnastics Championships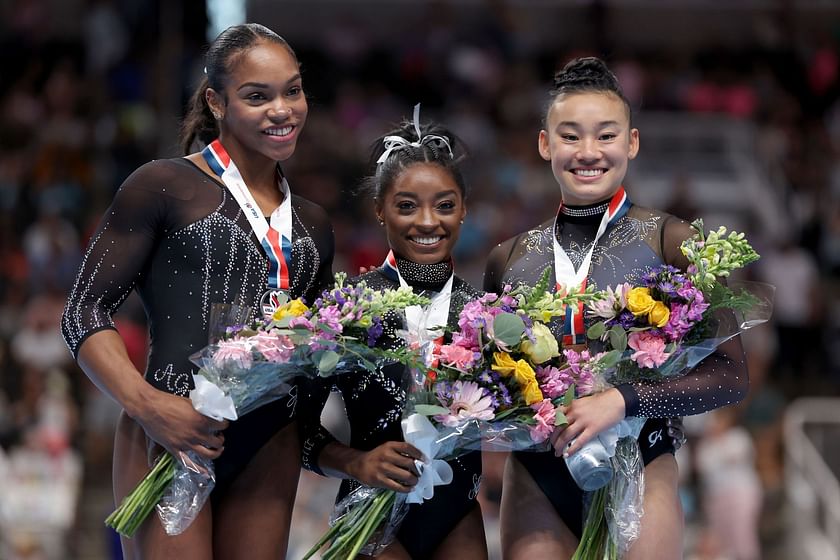 Simone Biles will compete in Antwerp after 10 years. The 25-time world championships medalist last competed in Antwerp at the 2013 World Artistic Gymnastics Championships when she was 16 years old. She won two gold medals, including the All-Around with a score of 60.216 and Floor Exercise.
Biles competed at the 2013 USA Gymnastics National Championships, where she clinched the national all-around champion title and secured silver medals in all four individual events, following which she received an invitation to the qualifying camp for the 2013 World Artistic Gymnastics Championships.
In 2013, at Antwerp, Biles secured the top position in the All-around event, second in the vault, sixth in the Uneven Bars, fifth in the Balance Beam, and first in the Floor Exercise. Her remarkable feat made her the first American woman to qualify for all four events and the all-around finals since Shannon Miller in 1991.
Biles' qualification makes her the only U.S. woman in history qualified to compete at six World Artistic Gymnastics Championships.
Edited by Darla Gopikrishnan