Buffalo Bills safety Damar Hamlin, who suffered a cardiac arrest on January 2 during a National Football League game, is now at home with family and is said to be recovering well.
He also watched his team's home game against the Miami Dolphins at home on Sunday and tweeted a heartfelt note to his teammates.
"My heart is with my guys as they compete today. Supporting from home as I focus on my recovery. Nothing I want more than to be out there with them" - the 24-year-old tweeted ahead of the 1 pm ET kickoff.
---
Damar Hamlin health update: What do we know so far?
After Hamlin collapsed and suffered a cardiac arrest, fans and followers have been waiting to hear about his health update. Fans were incredibly distressed following Hamlin's collapse and have been pouring in love and support through tweets and posts.
On January 7, Damar Hamlin reached out and posted a photo on Instagram to thank his fans for all their love and prayers. He posted on the social media platform:
"When you put real love out into the world, it comes back to you 3x's as much. The Love has been overwhelming, but I'm thankful for every single person that prayed for me and reached out. We bring the world back together behind this. If you know me you know this, only gone make me stronger. On a long road keep praying for me!"
---
What happened to Damar Hamlin?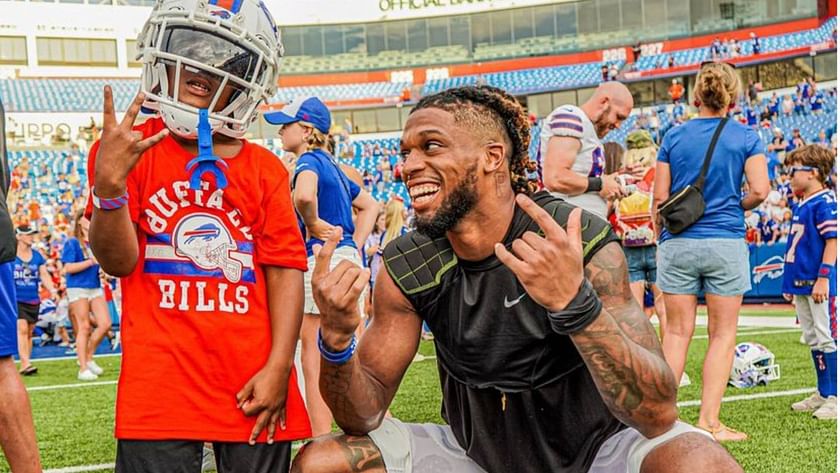 In the first quarter of the Bills' game against the Cincinnati Bengals, the 24-year-old player suffered a cardiac arrest while completing a tackle. He took a hit to the chest and head from Bengals wide receiver Tee Higgins and collapsed on the ground.
The collision was so hard that it temporarily stopped Damar Hamlin's heart, and he was immediately given CPR. He was later rushed to the University of Cincinnati Medical Center, where he remained in critical condition for a few days.
After his condition improved, Hamlin was then transferred to another hospital in Buffalo and was discharged after undergoing a medical evaluation and a series of neurological, cardiac, and vascular testing.
Buffalo Bills tweeted:
"Damar Hamlin has been discharged from Buffalo General Medical Center/Gates Vascular Institute, a Kaleida Health facility in Buffalo, NY."
According to officials at the Buffalo General Medical Center in New York, Hamlin showed signs of accelerated improvement in the days leading up to his discharge. After his discharge from hospital, Hamlin posted on Instagram:
"Headed home to Buffalo today with a lot of love in my heart. Watching the world come together around me on Sunday was truly an amazing feeling. The same love you all have shown me is the same love that I plan to put back into the world and more. Bigger than football."
While the reason behind Hamlin's collapse is still unclear, medical experts believe that he must have experienced a rare condition called commotio cordios, where a sudden impact or blunt force can cause a healthy heart to go into arrhythmia, leading to an instant cardiac arrest.
Damar Hamlin joined the Buffalo Bills during the 2021 NFL draft after a successful football career at the University of Pittsburgh.