Full-body workouts at home are an ideal option for people who are short on time or don't want to invest in expensive gym memberships. These exercises can make a great difference to your workout sessions and help you achieve your desired fitness goal as long as you are consistent and strict not only about your workouts but about your diet too.
Luckily, there are many exercises that you can easily do in your living room without requiring any free weights or other fancy tools. All you need is enough space and a good exercise mat, and you are good to kickstart your full bodyweight workout plan.
Full-body workouts at home: 5 easy exercises to try
Here's a list of the top 5 full-body workouts you can do in your living room using just your body weight and no complicated tools. For each exercise, try to complete at least 2 sets of 10 reps, with a few minutes of rest in between each move.
Practice the following full-body no-equipment workout plan consistently for a few weeks to see the best results:
1. Bodyweight squats
No full-body workout at home is completed without a bodyweight squat as it's a compound exercise that targets several major muscle groups at once. This includes your hip flexors, core, glutes, quads, adductors, hamstrings, and calves. Squats strengthen your major upper and lower body muscles, thereby reducing the risk of injuries and boosting your overall athletic strength and capabilities.
To do bodyweight squats:
Stand straight with your feet positioned at a hip distance and your core muscles engaged.
Slowly push your butt back and bend your knees so your thighs get parallel to the floor. Keep your back straight at all times.
Squat down as lower as you can, then stand back up by squeezing your glutes and pressing through your heels.
Continue the exercise for 10 reps.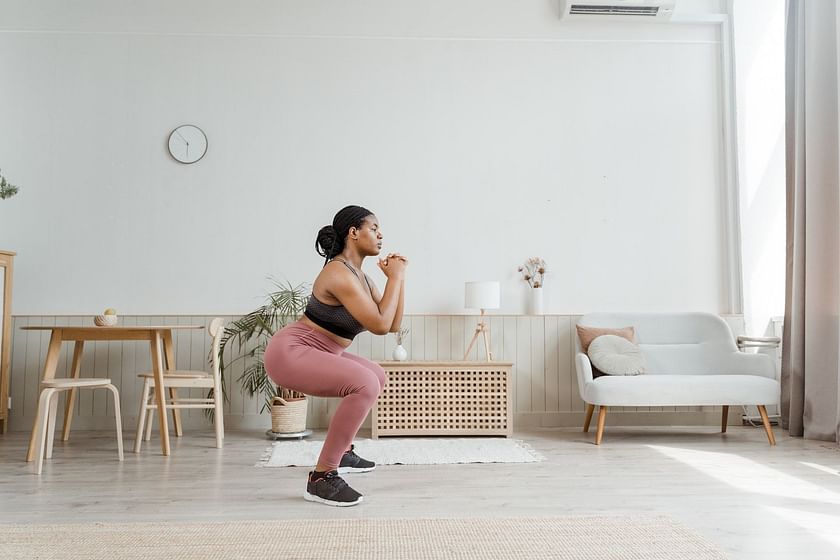 Also read: 6 exercises to improve your squats
If you are an absolute newbie, perform a chair squat instead. For this, stand in front of a chair and lower down until your hips touch the chair.
2. Dead bug
Dead bugs are one of the best exercises to add to your full-body workout at home. This beginner-friendly exercise is an effective way to strengthen your back and core muscles. It will also help correct your posture if you sit all day and ease lower back pain too.
To do the dead bug:
Lie face up on an exercise mat with your arms extended straight towards the ceiling and your legs positioned in a tabletop way. Your knees should be bent at a 90-degree angle and stacked properly over your hips.
Now extend your left leg out straight while bringing your right arm overhead at the same time. Keep your core muscles engaged and your butt squeezed the entire time.
Bring your leg and arm back to their starting position, and repeat the exercise with your right leg and left arm.
Continue the move for 10 reps and switch sides after every rep.
Also read: Exercises to perform if you sit all day
3. Forearm plank
Your full-body workout-at-home plan should definitely include a forearm plank as this core-strengthening exercise offers some impressive full-body benefits. Not only does a plank counteract the negative effects of sitting all day by strengthening and stabilizing the spine, but it also strengthens your shoulders, arms, legs and thighs, all at once.
To do the forearm plank:
Lie face down on a mat or floor with your forearms in front of you and your elbows under your shoulders. Keep your palms straight on the floor.
Engage your core muscles and tighten your abs as you slowly raise on your toes and elbows with your bodyweight evenly spread among your elbows and toes. Press through your fingers for more support.
Maintain this position for as long as you can and ensure that your body is in a straight line from your shoulders to your heels.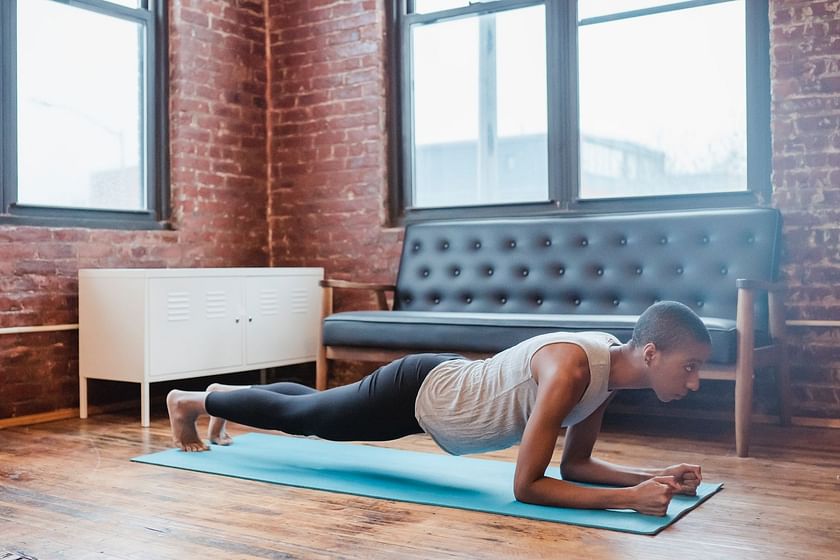 4. Bicycle crunches
Bicycle crunches are considered to be one of the best full-body workouts at home that helps strengthen the midsection and also reduces side fat (love handles). This easy and effective exercise works wonders for improving your body's overall coordination and flexibility as well.
To do bicycle crunches:
Lie on your back on a mat and place your legs in a tabletop position. place your hands behind your head by bending your elbows on the side.
Slowly crunch up to bring your left elbow to your right knee while straightening your left leg at the same time.
Release and go back to the start. Now crunch up and move your right elbow towards your left knee and straighten your right leg.
Repeat the exercise.
5. Glute bridge
Glute bridge is among the most effective full-body workouts at home that helps increase your core stability, strengthen your glutes and build lower body strength so you can perform other advanced exercises easily.
To do the glute bridge:
Lie on your back on the mat with your knees bent, arms extended on the sides, and feet flat on the floor.
Now push through your feet and engage your core as you lift your hips off the floor until your butt get fully extended.
Go as high as you can and squeeze your glutes at the top of the movement.
Return to the start and repeat the exercise.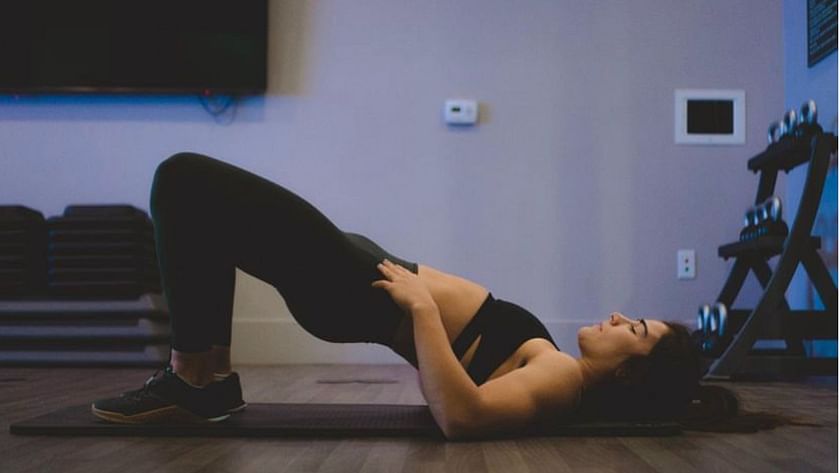 Full-body workouts at home include both, strength and cardio training and are very convenient as you can do them anytime. They are incredibly good for burning calories and offer worthy results from short-duration workouts alone. The best part is you can work your way up gradually, according to your comfort and ease.
Edited by Siddharth Dhananjay