December 20, 2015, the FC Goa vs Chennaiyin FC ISL final.
Most of us remember this match for that crazy last-minute goal by Chennaiyin FC John Stiven Mendoza, who moved on from Chennaiyin FC to New York City FC and Amiens now.
The ones, like us, who crave for controversy remember the picture of former Manchester City star Elano Blumer in a Goan police station following the fracas in that ISL final, which ended 3-2 in Chennaiyin FC's way.
But Raju Gaikwad thinks of it as the one that slipped by.
Gaikwad was ruled out of the ISL final four years ago but with Jamshedpur FC right now, the former ball boy hopes to clinch the title that has eluded all teams apart from ATK and Chennaiyin FC.
"I had a hamstring injury during the semi-finals and unfortunately, I was not able to play the final. It was sad to see our team losing since we really worked very hard.
"My one aim is to win the ISL with Jamshedpur at least now. We do need to get a few wins for the playoff spot. All the players, including our head coach Cesar Ferrando, are working to make that happen.
"We try to be focused and give our 100 per cent - be it in the match, practice ground or the gym."
---
Raju Gaikwad - the throw-in specialist
Wait, did we refer to Gaikwad as a ball boy?
Erm, many many years ago, being a ball boy prompted Gaikwad to take up football professionally.
Gaikwad was anyway inclined towards sport because of the influence of his father, a former national boxing champ and mother, an ex-athlete.
Football then happened to him by chance.
"I belong to a middle-class family. My father Maruti Eknath Gaikwad was born and raised in Lower Parel, Mumbai. My mother, Malti Eknath Gaikwad, on the other hand, was a Catholic lady, born and raised in Anjuna, Goa.
"My father, an international boxer who won the Chatrapati award in 1976, joined Air India and our family shifted into the assigned Air India quarters in Santa Cruz (Mumbai).
"There are two football grounds where tournaments used to take place. So when I was 8 or 9 years old, I use to be a ball boy and I would love to watch the elders play. I would say it was then that I realised I wanted to be a footballer."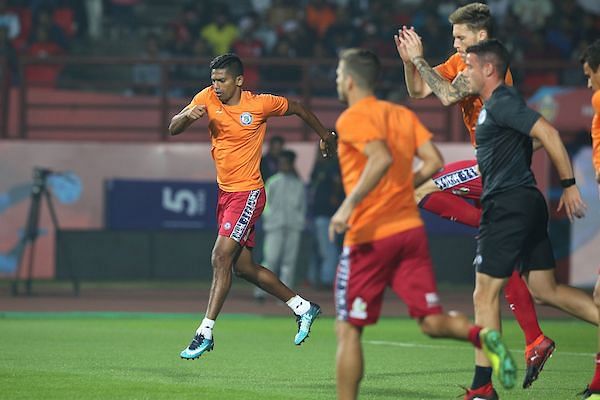 The dream to be an international took Gaikwad to the Tata Football Academy in Jamshedpur. He captained the Pailan Arrows in its inaugural season in the I-League and went on to play for East Bengal and Mohun Bagan.
"During my first year in Tata Football Academy, our coach Ranjan Choudhary sir worked hard on improving my skills and this included practising long throw-ins. It was tough and a lot of hard work went into perfecting that skill."
Currently, Gaikwad is one of the longest throwers of the ball with Rahul Bheke of Bengaluru FC.
---
Raju Gaikwad - Part of all-India victory
However, what added a different dimension to Gaikwad's game was the chance to play alongside the Brazilian Lucio (former FC Goa defender) and Arsenal legend Freddie Ljungberg (in Mumbai City).
"Playing with Lucio, the World Cup-winning Brazilian, is a huge honour for me. He is a good friend, a very dedicated player that I have come across.
"I would say his main strength is his dedication - be it in his professional life or his personal life. I did learn a lot from him.
"I also met Ljungberg during my first season of ISL when I was playing with Mumbai City FC. He is again another fantastic player and I would say I am lucky to be playing with these biggest stars."
Zico, the Brazilian legend, was of course there as a coach to demand more from Gaikwad.
That kinda explains why out of all the moments in the ISL, Gaikwad picks the all-Indian line-up's 2-1 win over NorthEast United as his best moment from ISL 2016.
"He is an amazing coach with leadership skills and knowledge. He motivates his players and knows each and every player personally. That win over NorthEast, under Zico, is the most special moment."
---
Raju Gaikwad target ISL title
With JFC now, Gaikwad has recorded 7 tackles, 9 interceptions, 34 clearances and 5 blocks in 5 appearances.
Jamshedpur need a few more wins to make the ISL playoffs but Gaikwad is optimistic of the Steelers' chances and wants to contribute.
"Every ISL team has a lot of potential. Every team is working hard towards winning which definitely has become tougher on each team.
"We need to be focused entirely on making the playoffs now because a single mistake can have a huge impact.
"We gave our best so far and made it a point to at least take a single point if not the 3 points. Hopefully, henceforth we will be able to take the 3 points for our team and make the playoffs."