Bengaluru FC has started their 2018/19 ISL campaign in winning ways as they defeated Chennaiyin FC at the Sree Kanteerava Stadium on Sunday. Although they didn't have much of the ball, a clinical and ferocious strike from Venezuelan striker Miku gave the Blues a 1-0 lead to which they hung on and picked up the three points.
However, it was not an emphatic victory for the Bengaluru team and certainly not a cruise. Chennaiyin FC was dangerous and attacked with intent. But shocking misses from the likes of Jeje and Raphael Augusto meant that the dominance of Chennaiyin FC was in vain. Here are five takeaways from the second game of the Hero Indian Super League 2018/19.
---
#1 Chennaiyin FC's unbeaten run comes to an end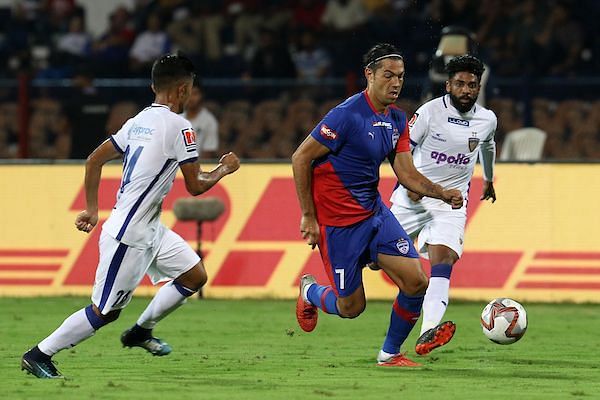 Chennaiyin FC were champions in the 2017/18 season as they beat Bengaluru FC in the finals to life their second ISL trophy. The 'Super Machans' only lost four times last season and an inspirational performance from Maílson Alves in the finals secured the league title for them. This campaign also saw an invincible run towards the end of the season.
John Gregory's men walked into Kanteerava stadium with an 8-match unbeaten streak. They hoped to spoil the opening day for the West Block Blues by extending the streak to 9. However, a few missed chances and a stunning strike from the BFC #7 later, the unbeaten run came to an end. Surely, this was a huge blow to the confidence of the team.
But under a strong-willed manager like John Gregory, and with the quality of the team, Chennaiyin FC will surely brush this defeat aside and look to recover their campaign when they face FC Goa next on Saturday.
#2 Dimas Delgado was a huge miss for Bengaluru FC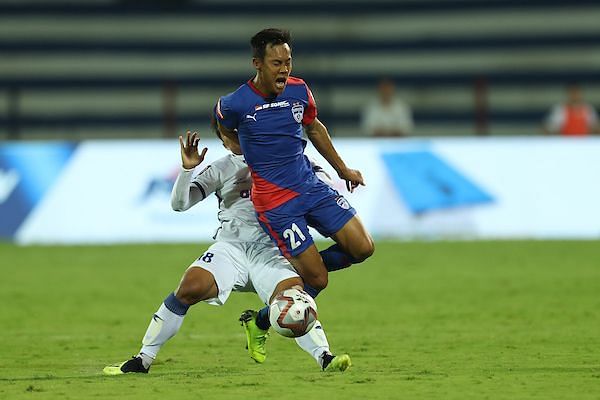 Dimas Delgado was declared unfit to start as he struggled through injury. However, the Spaniard's exclusion from the game was a huge blow to Bengaluru FC as he is usually the one who dictates the pace of the game and releases the likes of Chhetri and Udanta with threaded through balls. The absence of Dimas Delgado meant Harmanjot Khabra would start at his position
However, the full-back was disappointing in midfield and provided no real threat to Chennaiyin FC. Udanta and Chhetri were pretty ineffective through the game and never got much of the ball. With Chennaiyin FC playing a tight game and not giving the Blues any space to work with, the creativity and through balls of Delgado was a huge miss for BFC.
#3 Harmanjot Khabra cannot play in midfield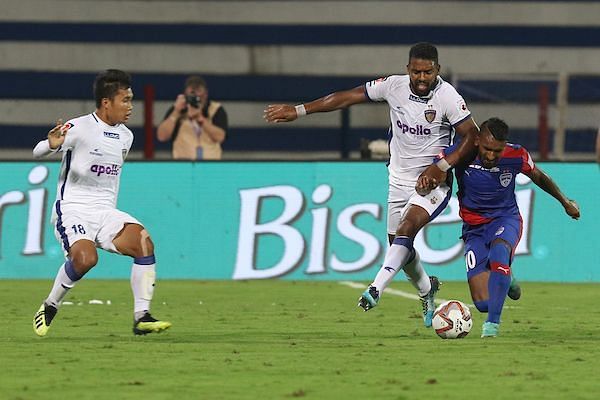 The absence of Dimas Delgado meant Harmajot Khabra would have to fill-in at midfield but he had no real impact to the game. The full-back had a few good moments or touches but never really had any control over the game. He was defensively poor at times and the rough player that he is, he committed plenty of fouls during the game. These fouls could prove costly as Chennaiyin FC got free kicks in dangerous positions.
The likes of Jerry and Raphael Augusto are well-known set-piece takers and could score a goal or create a chance for Chennaiyin FC. Bengaluru FC always looked second in the midfield battle and the possession stat proves just that. Although Harmanjot Khabra might have some defensive capabilities, he lacks creativity and starting him alongside Erik Paartalu meant that all the pressure of rotating play and creating chances fell on Xisco Hernandez.
Starting with a 4-4-2 with Boithang Haokip or Kean Lewis on the left could have proven to be more effective as it would've given more width and Sunil Chhetri would have been more involved in the game.
#4 A repeat of last year's finals is highly likely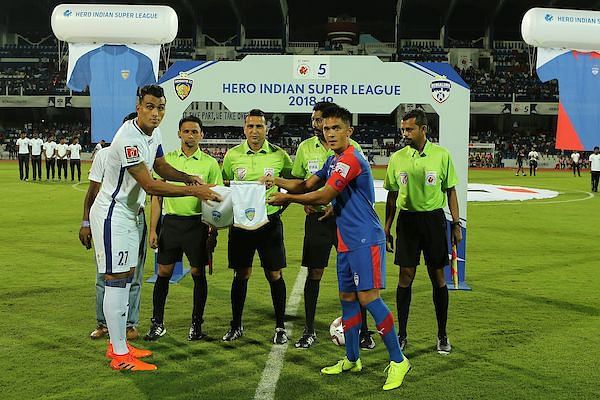 Sree Kanteerava Stadium was in for a treat for the first game as a repeat of last year's finals took place at the very same ground. Although the home team were able to manage a 1-0 victory, Chennaiyin FC fans would certainly claim that they played the better football.
Having 58% possession and completing 428 passes, Chennayin FC hoped to pick up from where they left off. They were hungry, solid and showed sheer quality at times. But a stunning strike from Miku towards the end of the first half proved to be the difference between the teams.
Chennaiyin FC has some of the best midfielders in the league and they proved just that during the game. Gregory Nelson and Raphael Augusto caused all sorts of problems for the Blues. They will take nothing wrong out of their performance and only regret a few missed opportunities. With 17 games still remaining in the league, a top 4 finish is still highly likely for the 'Super Machans'.
On the other hand, Bengaluru FC showed a good performance as well and sheer quality apart from Miku's strike. They will hope to avenge their finals loss and win the whole tournament this year. Carles Cuadrat is a manager who seems to unlock the best out of players and his passionate approach could see high success in the near future.
A repeat of last year's finals might very well be on the cards this year as both finalists from last year looked skilful and played very good football. Chennayin FC face FC Goa next while Bengaluru FC face Tim Cahill's Jamshedpur FC.
#5 Bengaluru FC's strong defensive performance
Bengaluru FC is often a team that is seen to have amazing attacking prowess but a susceptible defence. A disappointing defensive performance in the AFC cup against Altyn Asyr raised many doubts over their chances to win matches.
Rino Anto who was one of the poor players in the Altyn Asyr game was on the bench this game as Albert Sérran made his debut for the club. The 34-year-old had a memorable debut as he was defensively solid, won aerial duels and showed a lot of passion on the pitch.
Chennaiyin FC attacked from the first minute to the last but a sturdy and solid defence meant the club kept their first clean sheet against their local rivals. A few saves from Gurpreet Singh Sandhu also helped the cause.
Overall, the back four was solid and didn't give much space for Chennaiyin FC to attack while they recovered quickly for the few attacks that were produced against them. Bengaluru FC will hope to carry this clean sheet forward in their next game against Jamshedpur FC