What's the story?
Veteran midfielder Mehtab Hossain will retire after the ongoing Calcutta Football League as per a social media post made by him. He is currently playing for Mohun Bagan after a 10-year stint with Kolkata giants East Bengal, winning several trophies with the historic club. Mehtab also played 29 matches for the Indian national football team.
In case you didn't know...
Mehtab Hossain returned to Mohun Bagan after 13 years and played his first match last Tuesday against Rainbow AC. He had an immediate impact on the game, providing two assists in the 3-2 win after they were trailing 0-1 at the end of the first half.
The heart of the matter
Starting his career with Tollygunge Agragami in 2001, he was roped in by Mohun Bagan in 2003 and then joined East Bengal in 2007 after a short spell with ONGC. He was a mainstay at the Maidan based club for nearly a decade winning several Calcutta Leagues titles and also the Federation Cup during his stay.
The post by Mehtab stated, "I am not that active in social media. But I have chosen this medium to announce the most important decision of my life to avoid any misunderstanding. Even before this season had started I had taken a decision that I would retire after playing a handful of matches. The time has come to announce my decision."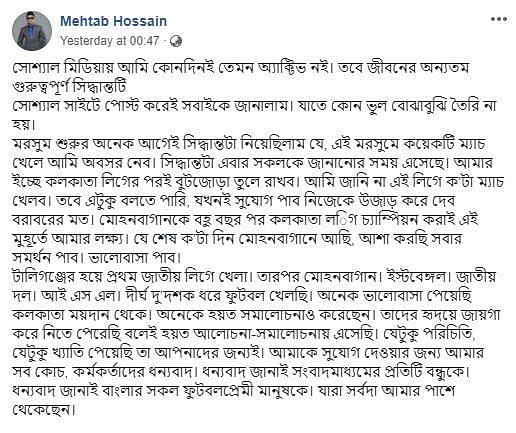 "I intend to hang up my boots after the completion of the ongoing CFL. I don't know in how many matches I will appear. But all I can say is that I will put my best whenever I will get an opportunity. My aim is to crown Mohun Bagan as league champions after many years. I hope that I will get everyone's love and support in the last few days," added the Mohun Bagan player.
What's next?
Mehtab was a regular for Kerala Blasters FC during the first seasons of the Indian Super League and then joined Jamshedpur FC last year before donning the green and maroon jersey again. Mohun Bagan will be up against George Telegraph in their next match and Mehtab is likely to play a part in that game too! Indian football fans will certainly miss the legend as it is an end of an era.