Either there has been a clerical error or somebody is trying to play a sick joke.
Gourav Mukhi, who scored Jamshedpur FC's first equaliser against Bengaluru FC during their Indian Super League match at the Sree Kanteerava Stadium on Sunday, is allegedly 16 years old. Just 16.
Given that Mukhi sports a full-grown moustache and has developed enviable biceps, it is hard to believe that he is 16. Even if one doesn't judge him by looks and goes by the record, there's no way that Mukhi can be 16, the youngest ISL player or even the youngest goalscorer in the ISL.
For, three years ago itself, Mukhi and four others were found to be "considerably overage" by the All India Football Federation (AIFF), the sport's governing body in the country. This pertains to the 2015 Sub-Junior National Football Championship and Mukhi, representing Jharkhand, led his state to the title after thrashing Goa 8-3.
Subsequently, the AIFF stripped Jharkhand of the title after it found credible evidence that the five had submitted false age certificates.
Also read: 'It Was My Dream to Play Chhetri, Score Against Gurpreet' - Jamshedpur's Gourav Mukhi
According to a report published in 2015, the five players - Sayad Bin Abdul Kabir, Ashish Mukhi, Laxman Sardar, Gourav Mukhi, and Vikash Balmuchu - admitted to being overage while playing for Jharkhand in the Coca-Cola Cup 2014-15.
If Mukhi is over the age of 15 in 2015, can he really be 16 three years later?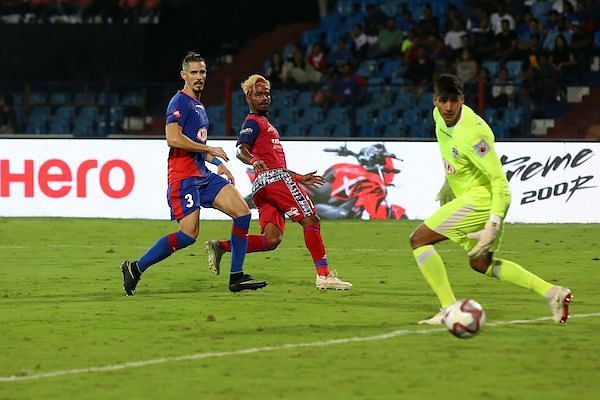 That apart, in an interview with the Telegraph published last month, the author claims Mukhi's age is 28. Sportskeeda has reached out to the author and has requested him to clarify Mukhi's age.
On Sunday, Mukhi came off the bench in the 71st minute for Jerry Mawhmingthanga and 10 minutes later, scored on debut for Jamshedpur FC. He warded off Bengaluru FC's Albert Serran to fire a low-footed shot into the bottom right corner after being sent through by JFC midfielder Mario Arques.
Jamshedpur FC went on to snatch a point off Bengaluru FC in the 2-2 draw but much of the talk after the game has been around the age of Mukhi.
Even the ISL claims Mukhi is only 16, but the actual age of the 16-year-old Gourav Mukhi remains a mystery.