The Anglerfish is a representative of evolution at its most arcane; but its meals, the opposite. The same could be said about those who pick fights with martial artists. It is a singular dumbassery that induces a person to think that they can take a professional fighter head-on.
On the street, size can be a deterrent. However, because of the prerequisite for some fighters to stay light, the absence of the same enticed these bullies into what they thought was going to be an easy kill but ended up backfiring humiliatingly.
Just like those fail montages that make us ponder the heights upto which human moronocity can rise, there are more than a few of these instances. What stretches the jaw further is the fact that on more than one occasion, it was the fighter whose tail was firmly between his legs.
Despite mass perception, fighters are professionals who leave that aspect of their trade behind the cage doors. Most certainly, there are numerous incidents where fighters eschewed confrontation and walked away and they haven't made their way to our eyes and ears. But for now, let's take a look at all those times they decided to do away with diplomacy and unchain their inner beast.
---
#10 Randy Couture and Dan Henderson take out FIVE BOUNCERS!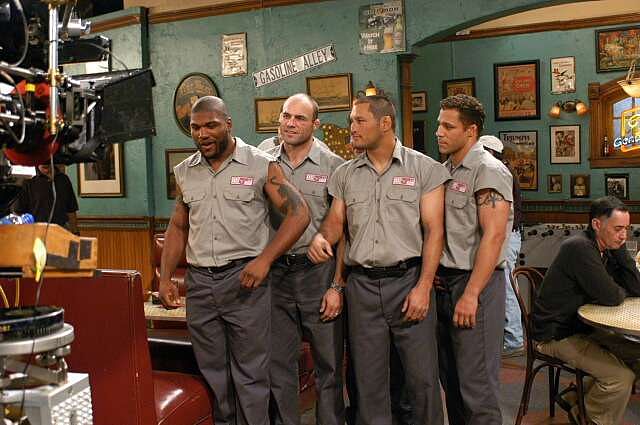 Today, Randy Couture and Dan Henderson are two of the most recognised and distinguished faces in MMA. But one evening in 1995, they were just a couple of guys bar-hopping in Buckhead, Atlanta.
From what we've seen in UFC, both of them are temperate professionals who've never flown off the handle. But threaten them with a baseball bat and see what happens. That's just what one of the bouncers did when he mistook Couture and Hendo for drunks. This is from an episode of the erstwhile show, MMA Weekly Radio, with Frank Trigg and the late Ryan Bennett
Couture chased the man into the bar and ragdolled him over tables and chairs. Hendo, who was still outside, merked two men on his own, one of whom he hunted for a whole block and literally left a trail of blood in his wake.
Their friend and witness to the carnage, Aaron Crecy and another man polished off the last two bouncers. The whole gang, including a girl who was with Hendo, then hightailed it to his car, jumping over fences and walls to elude the police.
#9 Frank Shamrock, the giant killer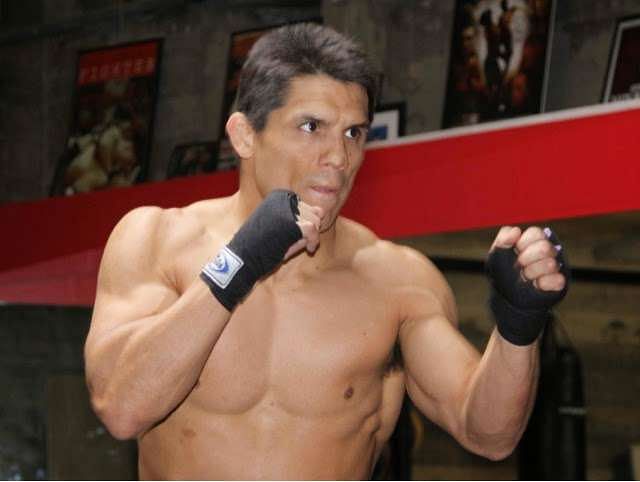 He may be dead to the UFC, but there is no denying that Frank Shamrock has seen it and done it all in the world of MMA. One of the original submission specialists of the sport, the younger of the MMA pioneers was the first fighter to hold titles in UFC, WEC and Strikeforce.
His in-ring ouevre was beyond reproach, but outside, Frank Shamrock always found himself close to controversy and being Ken Shamrock's younger brother had no small role in that. He was fired from Pancrase in revenge after his older brother's acrimonious exit from the company.
Sometime back in the early days of MMA, there was a feud between alpha males Ken Shamrock and Tank Abbott. Both groups were on the road, presumably headed to an event and had a layover in Mobile, Alabama.
One night, both camps were drinking in the same bar and someone threw a hamburger at one of Tank's muscle, 6'8" guy unironically named Big Al. The next night, just as Frank was about to turn in, the piss drunk giant accused him of the offence and bore down on him.
As told to Jonathan Snowden from Bleacher Report, the 5'10", 205-lbs Shamrock started hockey punching Big Al, who was quickly cut down to size. Soccer kicks followed and Big Al quickly collapsed into a small heap, his friends having to haul him away. But the beef ended the next day when Big Al, face stitched up like Frankenstein's monster, apologized to Shamrock. We hope, on behalf of all MMA fans, that Frank Shamrock will soon join his brother in the UFC Hall Of Fame.
#8 Cody Gibson, the peaceful warrior?
What separated the old school UFC fighters from the current crop is that almost all of them are, at their core, fighters. To them, a cage or a ring wasn't a necessity to fight. Backyard, back-alley, bar, everything was fair game.
And then there's Cody Gibson. The Bantamweight rode a six-fight win streak into the UFC, where he debuted (on short notice) against top 10 135-pounder, Aljamain Sterling. The loss was unsurprising and completely pardonable.
Gibson rebounded by knocking out Johny Bedford but was submitted by a soon-to-retire Manny Gamburyan in his next fight. But the worse was yet to come. After the fight, Gibson was in a bar where a bro started spoiling for a fight. The much-smaller Gibson, who was admittedly tipsy, tried to play down the tension until the guy actually punched him! Gibson retaliated by taking him down until onlookers separated the two.
When asked, Gibson said that showing restraint was his utmost priority at that moment, because he did not want to be imprisoned for assault. Jail time would seriously endanger his employment with the UFC and a California high school, where he is a wrestling coach.
Needless to say, Gibson's maturity and presence of mind were extraordinary, but we bet that he was secretly hoping that he would run into the guy alone, later. UFC Featherweight Dennis Bermudez commended Gibson's self-control. Gibson was released from the UFC after his next loss and returned to Tachi Palace Fights, where he recaptured the 135-lbs belt and has scored a successful title defence since.
#7 Kimbo Slice gets cannoned by Sean Gannon
His MMA career might have never taken off, but Sean Gannon can boast what no other man can, at least not officially. In 2004, the hollering crowd at Mat Santos Fight Academy in Cranston, Rhode Island was shocked into silence when the Boston police officer was the last man standing after a bare-knuckle brawl with Kimbo Slice.
The "King of the Web Brawlers" couldn't answer a count of thirty after being punched, kneed and choked by Gannon. The fight took place after Kimbo decided to put to the test Gannon's theory that a trained martial artist could defeat a street fighter.
When videos of the fight surfaced, Gannon's extracurriculars were investigated by the Boston Police, but on the other hand, it opened the cage doors of the UFC. Gannon would lose his lone fight in the company and retire from professional competition. He now works for the Boston Regional Intelligence Center, an elite anti-drug and gang information hub that also handles Homeland Security issues.
#6 Maiquel Falcao and Kaue Mena
The first time Maiquel Falcao assaulted a woman, it cost him his UFC contract. The second time, it possibly cost his teammate, Kaue Mena the rest of his MMA career. One July evening in 2013, at a gas station in Itajai, Santa Catarina, a tipsy Falcao struck a woman after they had a few words.
A few moments later, Falcao and Mena found themselves facing off against a gang of 6-7 men. As seen in the video, their resistance was drowned out. Falcao said that he was robbed and beaten.
But Mena was left fighting for his life after being beaten with a piece of wood. The brutality of the assault is nigh incomprehensible and sickening. The almost undefeated Mena went nearly blind in one eye and doctors had to reattach part of his skull. When interviewed in 2014, he was inching his way to recovery but harrowingly, there is no record of him having fought since.
Falcao, who was in the midst of a career resurgence after challenging for the Bellator Middleweight title, was severed from the promotion. He now fights in Europe.
#5 Roger Huerta turns a football player into a soggy pigskin
Roger Huerta says that being the first MMA fighter to grace the cover of Sports Illustrated isn't "monumental". But, in conjunction with his fairytale success story, six straight UFC wins and the ensuing movie roles, even he'd agree that it gave him a little tailwind.
Having survived a childhood harrowingly reminiscent of Dukie from The Wire, Huerta could have been called a poster boy for the sport, back then. But Hollywood interrupted his quest for a UFC title and Huerta sought gold in nascent Bellator Fighting Championships upon his return to the sport.
Just before his fight with Eddie Alvarez, Huerta shot into the spotlight for a very unexpected reason. In August 2010, a video was circulated showing Huerta beating up a large African-American man purported to be former Texas Longhorn and Atlanta Falcon Rashad Bobino. Both were among the crowd outside a bar in Texas when the man lunged at a woman from behind and flattened her with a punch.
Huerta immediately confronted him, took off his shirt and called him out. The man fled, but Huerta chased and beat his face into a bloody mop. The media was full of mixed reactions, with some calling him a hero but others condemning his "vigilantism". Honest opinion? Bravo, Roger.
#4 Urijah Faber
Urijah Faber was enshrined in the UFC Hall Of Fame this year, but he won over MMA fans long before this coronation. His chilled-out, surfer dude persona and Farrah Fawcett hair were completely at odds with his toughness in the cage (in 2009, he went five rounds against Mike Brown for the WEC Featherweight Championship despite breaking his right hand and left thumb early in the fight).
Regardless of place where he fights, the crowd always erupts on hearing the auto-tune voice that epitomises Faber's love for his native soil.
But if events transpired a little differently on a fateful evening in 2006, the California Kid's greatest years would never have come to be. On a trip to Bali, Faber was in a bar when a local man started giving him trouble.
After trying unsuccessfully to skirt confrontation, Faber called the man out to the parking lot. Predictably, Faber dropped the goon with a right hand, following which he called over some men who were close by and presumably, known to him.
What followed next is straight out of a movie. Listen to Faber narrate the near-fatal gang attack, in the video above. Your respect will only soar for the man who did the lion's share for winning a place on the podium for the lighter weight classes in MMA.
#3 Round four of Nick Diaz vs Joe Riggs....in a hospital!!!
Long before Conor McGregor, Nate Diaz or Cody Garbrandt, there was Nick Diaz. It's hard to believe that the original foul-mouthed anti-hero of MMA is only 33 years old – he made his UFC debut in 2003!
The origins of his toxin-spewing can be traced back to his fight against Diego Sanchez, but that was uncharacteristically PG compared to what came next. Diaz was pitted against Joe Riggs, who was looking for redemption after losing to Matt Hughes. Having taken the title fight on short notice after original challenger Karo Parisyan tore his hamstring, Riggs missed 170 lbs and the belt was subsequently taken out of the pot.
Diaz flicked mud at Riggs throughout the whole press conference and the two nearly preponed their fight to the weigh-ins. The tangle itself was a gritty slugfest, with Riggs doing enough to get the nod from all three judges.
But the fists didn't stop flying after the final bell. Both fighters were taken to the same hospital for post-fight examination, where surprisingly, Riggs zeroed in on Diaz and told him that he should go back to WEC because the UFC were going to cut him after this second consecutive loss. Like he never fails to remind us, Diaz was not amused and he reacted like a shark to a carcass; he let fly a right hand that dropped Riggs (who still had his IV drip attached to his hand) to one knee.
This is where we hit a fork in the road. Fox Sports got both sides of the story from either fighter and they go something like this – Riggs (his iteration) sprung up after the punch and cinched Diaz in a front facelock. He then backed Diaz into a room and started kneeing him in the face, blood pouring out of his hand where the drip had been ripped off. He yelled at silent witness Nate Diaz, to restrain Nick, but the younger Diaz didn't budge. The fracas drew a guard, who pulled them apart.
In Diaz's Straight Outta Stockton version, Riggs tried to take him down, but he snapped double underhooks and tried wrangling him out of the hospital. Both eventually found their way to an office, where Diaz was hammering away at Riggs' head before said security guard ended the brawl. Oh, this edition also had Nate watching while wishing for a tub of popcorn. So that makes two ticks under the "spot the similarities" column.
So, who do you think had a nose like a snooker stick after this?
#2 Bas Rutten – UFC Hall Of Famer, voice of MMA and prison boss
Bas Rutten's nickname, "El Guapo" or "Handsome", is one of those sadistically ironic monikers that are fixtures in Mafia flicks. There was nothing pretty about what the former model did to his opponents when the bell sounded.
The former UFC Heavyweight champion might actually have had more fights outside the cage than inside it. He retired in 2006, unbeaten in his last 22 contests, but does his showdown with six Swedish bouncers go down as a W or an L?
According to Rutten, the one constant in his innumerable bar fights is that it was always the bouncers who sparked things off because they wanted to peacock their machismo in front of him, a proven badass.
In 1996 or 1997, Rutten and a friend were in a club in Sweden, cavorting and striking up conversations with the other patrons, when a bouncer called him aside. He told him to leave because he had "too much energy" and to his astonishment, Rutten agreed. When this thinly veiled excuse to start a fight failed, the bouncer did the one thing that was sure to set Rutten off – he poked a finger in his chest.
Sure enough, all hell broke loose and before he knew it, Rutten found himself fighting six bouncers simultaneously. Long story short (the whole incident is in the video), the fight ended when the cops showed up, though it is debatable to whom's rescue. Rutten's relief turned to shock when he was slapped with a 6-month prison term because one of the bouncers he had pummelled was a policeman!
But the part that Rutten was dreading the most turned out to be the silver lining. The prison guards rolled out the red carpet for Rutten because they were all huge fans. He had his own VIP lounge in a prison that sounds straight out of a movie – TV, VCR, coffee, cookies and unrestricted access to a phone were at his beck and call. Amongst the many takeaways from this anecdote, probably the most important is that if you see yourself landing up behind bars in the future, make sure you've got tons of street cred.
#1 Chris Weidman's brawl at the nightclub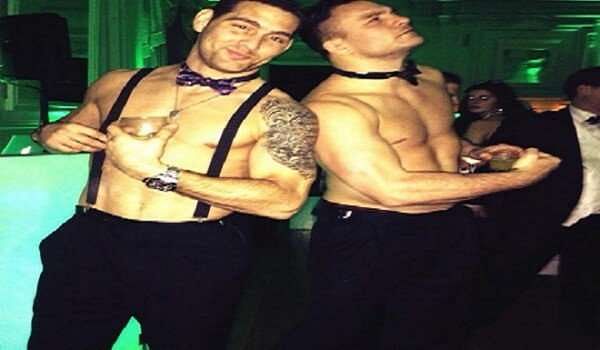 Royce Gracie's decrying of BJJ's effectiveness in a street fight might make you wonder if the same applies to wrestling. It does not. Just ask Chris Weidman. Now, the baby-faced former Middleweight champion might not come across as the type to start a brawl, but he unquestionably can finish one. Anderson Silva, the GOAT, snapped his shin in two on Weidman's leg and let's not forget what happened to (TRT-less) Vitor Belfort.
In February, Weidman penned an article narrating how his good friend and training partner, Gian Villante, mouthed off to some Neanderthals at a club. In Weidman's own words, the 6'4", 270 lbs "wannabe gangsters" were staring down everyone in the joint and Villante, tone shot with sarcasm, told one of them to take it easy.
The saint that he is, Villante followed the heavies out of the club to make sure they took his advice and combustion was imminent. The situation between Villante and the goons was still only at a verbal level until Weidman appeared.
The biggest of the three rushed Weidman and heaved his right hand at him but the star wrestler easily took him down. You'd expect Weidman to proceed to carpet bomb the thug's face, but he did something legendary. Weidman started slapping the horizontal hulk and actually gave him a noogie, laughing in unison with the onlookers.
Red-faced, Weidman's failed assailant stood up and charged at him again, only to be served heaping seconds, topped with a nose-honking. Weidman then strolled to the man's friends, watching immobile from the safety of their car and told them to leave before he decided a real beating was apropos.
Weidman and Villante's nights out on the town have reduced drastically since then.