Mixed Martial Arts (MMA) is a brutal sport involving fisticuffs between the best fighters on the planet. It goes without saying that regardless of the weight class or magnitude of the fight, someone ends up getting hurt.
The Ultimate Fighting Championship (UFC) being the world's premier MMA organisation has been witness to several such matchups, wherein popular MMA superstars undergo unwanted facial transformations (and I don't mean that in a good way!).
The Octagon has seen its fair share of brutal face-punching and some of the grossest facial injuries. Let's take a brief look:
---
#5 Joanna Champion prepares 'Penne pasta' just like she had promised
Joanna Jedrzejczyk (13-0) is a former world Muay Thai champion and current UFC Strawweight champion, with an MMA base of kick boxing and Muay Thai. Jessica Penne (12-4) is a former Invicta FC Atomweight champion with an MMA base of Brazilian Jiu-Jitsu (BJJ) and Judo.
Jedrzejczyk's 1st UFC title defense after destroying former-champ Carla Esparza was against Penne. In the build-up to their SW title matchup in Berlin, Germany, Jedrzejczyk gifted her opponent a packet of 'Penne pasta', promising to destroy her, rendering her limp and lifeless just like the pasta.
When the Octagon door slam shut, the Polish striker did exactly what she had predicted, beating Penne from pillar-to-post, knocking her down in the first round and brutalising her against the fence en-route to a third round TKO victory.
Joanna fed her veteran opponent seemingly never-ending volleys of punches, elbows, knees and kicks; breaking her will and destroying her face. By the time the referee mercifully rescued Penne, her face was a mangled mess.
The Polish striking wizard used her slick elbows and deadly knees to slice-up her opponent's facial skin with as much ease as a monkey peeling a banana.
Joanna Champion was a scary fighter in Muay Thai and now, a scary fighter in MMA. Be scared, very scared!
#4 '5th Round' 'Split-Lip' Lawler
'Ruthless' Robbie Lawler (27-11-1) is a former UFC Welterweight (WW) champion and EliteXC, Superbrawl and ICON Sport Middleweight (MW) champion. His MMA base is boxing and wrestling. Rory 'Red' King Macdonald (18-4) is a former King Of The Cage (KOTC) Lightweight champion (LW) and former UFC top contender, now fighting in Bellator's WW division.
One of the most well-rounded fighters in the sport, Macdonald's MMA base is kick boxing, wrestling and BJJ.
Lawler defended his UFC strap for the first time against Macdonald at UFC 189 in July of 2015, in one of the greatest fights of all time. Having previously out-pointed Macdonald at UFC 167 in 2013, Lawler out-boxed the Canadian star prospect for the better part of three rounds in the rematch as well.
However, Macdonald turned their UFC 189 rematch upside down, by landing a perfect right roundhouse head kick on his 'Ruthless' opponent; putting Lawler on jelly-legs and sending him staggering towards the fence.
Macdonald brutalised Lawler with a flurry of punches, kicks, elbows and knees along the fence, slicing open an obscene cut on his head and splitting the champion's lip. Lawler survived and after a close fourth round, came back to destroy Macdonald's busted-up nose in the fifth, defeating the Canadian by TKO and retaining his title.
During the post-fight interviews, UFC President Dana White stated that Lawler's lip-gash was the grossest thing he had ever seen in his life, a cut that extended from Lawler's upper-lip to his right cheekbone.
Robbie Lawler's split-lip smile is one of the most iconic photographs as well as nastiest facial injuries in Octagon history.
#3 'Skrap pack' 'Scarface' 'Scar (tissue) face pack'
Nate Diaz (19-11) is the TUF 5 (The Ultimate Fighter Season 5) winner and longtime UFC Lightweight contender. His older brother, Nick Diaz (26-9-2), is a former Strikeforce and WEC Welterweight champion and one of the most polarising personalities not only in the UFC organisation, but in all of MMA.
Both brothers have an MMA base of BJJ and boxing. Diego 'Nightmare' Sanchez (27-9) is the TUF Season 1 winner, with an MMA base of submission wrestling.
The Diaz bros, the heart of the 'Skrap pack', also comprising elite fighters such as Jake Shields and Gilbert Melendez, are the poster-boys of 'scar tissue damage'. Whether it's Nate's UFC 196 and UFC 202 fights against Conor McGregor or Nick's UFC 183 matchup against Anderson Silva, despite possessing some of the best pugilism in the UFC; the Diaz bros almost always come out of their fights wearing a blood mask.
Jackson-Wink pupil, Diego Sanchez, is yet another glaring example of a fighter affected by excessive scar tissue-buildup, getting cut by the lightest of grazing strikes, thrown by his opponents. Take his Fight-of-the-Night performance against the aforementioned Melendez, as the most obvious example of Sanchez's sensitive facial skin.
Several elite MMA fighters such as the Diaz bros, Sanchez, Junior Dos Santos, Georges St-Pierre and many others bear mounds of extra facial layers on their faces, owing to previous damage taken over the course of their fighting careers.
Now although most of these UFC stars truck on, in spite of their faces being cut-open quite easily, there have been a few instances where they have been unable to continue, owing to these cuts endangering their vision. The biggest example of the aforementioned cut-stoppages is Nick Diaz's TKO loss to K.J. Noons for the EliteXC Lightweight title in 2007; in the 1st of their 2 fights.
From Nick Diaz's 'Jigsaw' face against K.J. Noons at EliteXC, to JDS' 'Pumpkin' face in his 2nd and 3rd UFC fights against Cain Velasquez; UFC boasts of several resident Scarface heroes.
#2 Matt Mitrione's purple grapefruit-eye
Matt 'Meathead' Mitrione (11-5) is a former TUF contestant, former UFC top contender and current Bellator Heavyweight star; with an MMA base of kick-boxing, wrestling and karate. Travis 'Hapa' Browne (18-5-1) is a former basketball player who made a quick ascent to the UFC top-10, with wins over the likes of Stefan Struve and Alistair Overeem.
His MMA base is BJJ and boxing which he has trained in since 26 years of age. Mitrione faced Browne in what would be his last Octagon appearance before jumping ship to Bellator, at UFC Fight Night: Dillashaw vs Cruz in January of 2017.
After having trouble with Mitrione's speed and in-and-out karate-styled movement, Browne eye-raked his opponent multiple times throughout their three-round affair, starting with a first-round eye poke, after which Mitrione's right eye began developing a horrific swelling.
After suffering a Browne thumb to his right eye, Mitrione slowed down drastically, presenting his opponent a stationary target; getting taken down in the third round, en route to a TKO loss. Amidst a wave of boos from the Boston crowd, Browne was declared the winner whilst the ringside doctors tended to 'Meathead's' terribly disfigured right eye socket.
Mitrione's right eye was swollen shut and had turned equal shades of purple, red and black, with a subtle stream of blood trickling down his face.
Matt Mitrione's eye injury is without a doubt one of the more gnarly images in Octagon history.
#1Rory Macdonald's Voldemort nose ties with recent Bellator-retiree Evangelista 'Cyborg' Santos' cracked skull
FC Fight Night Blaydes v Ngannou 2
Rory 'Red King' Macdonald (18-4) is a Canadian MMA Superstar, formerly in the UFC, now in Bellator; mentored by legendary coach Firas Zahabi and MMA legend Georges St-Pierre. 'Ruthless' Robbie Lawler (27-11-1) is one of the most violent fighters in the history of our sport, having beaten Macdonald by split-decision at UFC 167 and by TKO at UFC 189.
Lawler's split-lip made the fourth spot on our list but was nothing in comparison to Macdonald's obliterated nose courtesy of...You guessed it right- 5th Round Lawler! After a back-and-forth 5 round war at UFC 189, Lawler targeted his opponent's already fractured nose, with a steady volley of straight lefts, disguised behind his stinging Southpaw-jab; leaving the Canadian star an unrecognisable, mangled mess.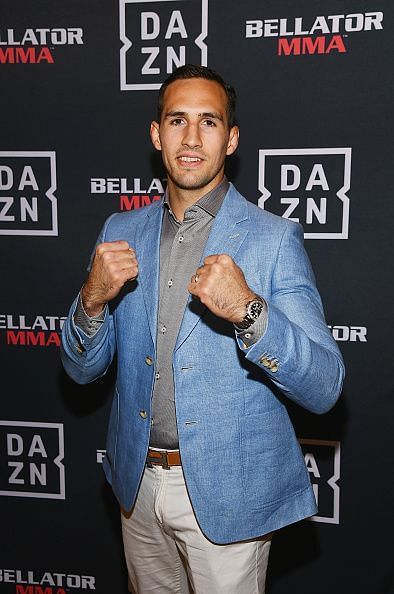 Evangelista 'Cyborg' Santos (21-18) is a retired MMA veteran of notable organisations such as Pride FC, Strikeforce and Bellator, Muay Thai, Luta Livre and BJJ. Michael 'Venom' Page (12-0) is a British striker and Bellator MMA's most notorious star. Page has an MMA background of Freestyle kick boxing (Point-fighting) and Sport Karate.
'Cyborg' faced Page in 'Venom's' home turf of London, England, at Bellator 158, in July of 2016. After toying around with his veteran opponent for the better part of two rounds, Page landed a spectacular flying knee, to Santos' forehead, knocking him out instantly.
Page's post-fight Pokemon Go-inspired celebration went viral on the internet, and so did Santos' fractured skull. Cyborg suffered a depressed frontal sinus fracture and mind you, this was a genuine case of...Ahem... 'Cracked skull', unlike Tito Ortiz's laundry list of imaginary injuries.
Now although Santos' injury occurred outside the UFC, it would be criminal to exclude him from an MMA list that's focused on nasty facial destruction.
Macdonald's UFC 'Voldemort Nose' ties with 'Cyborg's' Bellator 'Cracked Skull' topping our list of most gruesome facial injuries.
Joanna Champion prepares Penne pasta with the 'Art of 8 limbs', while Macdonald bestows Lawler with an extended smile; the UFC's scar-tissue kings are no match for Mitrione's giant hematoma. Macdonald's non-existent nose coupled with Evangelista Santos' cracked skull, top our list of worst facial injuries.
As always, keeping up with our tradition, chime in with fighters that you feel, should have made our list.
Keep training and steer clear of Penne pasta, split-lips, scar-tissue, hematomas, spooky noses and cracked skulls!
---
Send us news tips at [email protected]