MMA in the UK has come a long way over the past few years. The UFC first came to London back in 2002, but it's over the last decade that the popularity of the sport has really exploded, and in that period we've seen many British fighters attempt to succeed inside the Octagon.
Some have made it all the way to the top, while others have fallen by the wayside even after showing flashes of potential. But who's the best of the best from the British Isles? Here are my top five.
---
HONOURABLE MENTIONS
Ian Freeman – 'The Machine' was the UK's first proper world-class MMA fighter and he made his UFC debut all the way back in what was known as the 'Dark Ages' at UFC 24 in 2000. Freeman was a ground-and-pound monster in his prime, but he doesn't make this list because despite being a pioneer (and holding a win over Frank Mir) he only appeared in the UFC a paltry five times.
Lee Murray – On potential talent, 'Lightning Lee' probably makes this list, as he easily dispatched of Jorge Rivera in his lone UFC debut and the likes of Pat Miletich and Matt Hughes raved about his skills in the cage. Outside of the cage, however, Murray was a colourful character and his criminal record prevented his UFC career from really progressing. He's now serving time due to his role in the infamous Securitas robbery.
Alistair Overeem – Overeem was born in Hounslow, England, and his nationality is represented by the flag of the UK on the UFC's 'Tale of the Tape' graphic. But he's always identified himself as a Dutch fighter as he grew up in the Netherlands, so it wouldn't be right to consider him for this list.
Joanne Calderwood – 'JoJo' is one of the most popular fighters in the UFC's Strawweight division and has been a staple of the top ten since she debuted in the UFC in 2014. But she's only ever shown flashes of brilliance and has been somewhat inconsistent in her UFC tenure, although you could probably argue she's the best MMA fighter ever produced by Scotland.
#5 Jimi Manuwa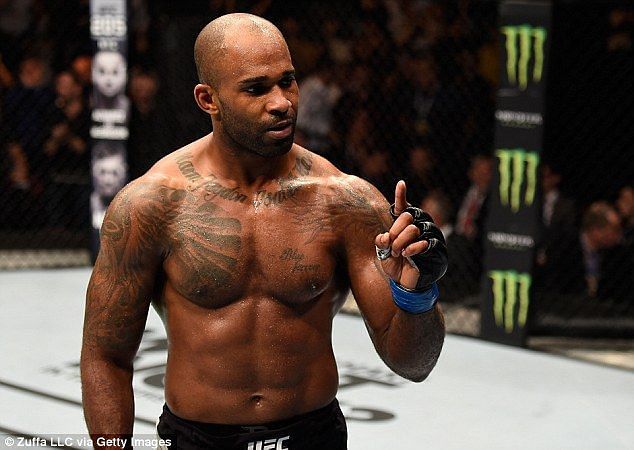 Detractors would argue that Manuwa has only made it to the top five of his division in the UFC due to the current thin status of Light-Heavyweight, but hey, he's made it there and plenty of others haven't. A former burglar in his youth, Manuwa used MMA to put his life on the right track, and he clearly made the right decision as he's a fantastic fighter these days despite pushing 40-years-old now.
Debuting in the UFC back in 2012 at their lone Nottingham show, Manuwa destroyed Kyle Kingsbury with a Muay Thai assault that left Kingsbury looking like he'd been hit by a baseball bat. The fight was called in favour of Manuwa after the doctor judged Kingsbury couldn't see due to swelling caused by a likely broken orbital bone. It was the beginning of a three-fight run for Manuwa that saw all three fights end in doctor stoppages, an odd statistic for sure.
Although his attempts at securing a shot at the Light-Heavyweight title have been curtailed by knockout losses to Alexander Gustafsson, Anthony Johnson and Volkan Oezdemir, Manuwa remains a staple of the UFC's top five at 205lbs and his super-impressive wins over Corey Anderson and Ovince St. Preux remain two of the best victories by any British fighter in the UFC. 'Poster Boy' could yet find himself in line for a title shot in the near future.
#4 Ross Pearson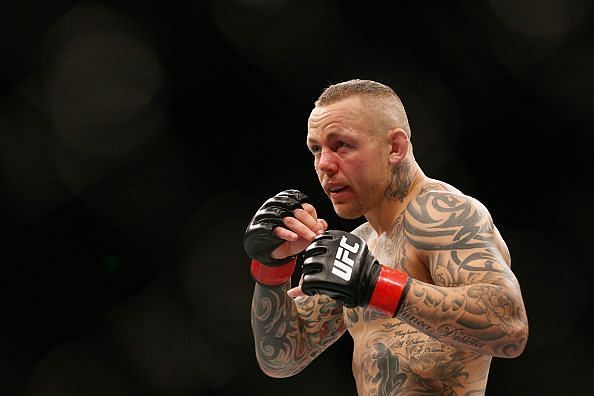 One-half of two British winners of season 9 of the Ultimate Fighter, big things weren't really expected of 'The Real Deal' as he won the finale with Andre Winner by a hair after a largely dull fight. Subsequent wins over Aaron Riley and Dennis Siver – both solid contenders – put that idea to bed, though, and Pearson has gone on to become one of the UFC's most consistent fighters at 155lbs.
Despite never picking up quite enough traction to make it into the top five at Lightweight, Pearson's list of opponents reads like a who's who of UFC Lightweights in the past decade. Spencer Fisher, Edson Barboza, Gray Maynard, Diego Sanchez, Francisco Trinaldo and Al Iaquinta have all faced off with the Sunderland-based fighter at some point. He even coached a season of TUF himself – opposing Australian George Sotiropoulos in 2012's 'The Smashes' and beating Sotiropoulos at the finale by knockout.
Pearson has recently been on a bit of a slide – he's lost his last four fights as his career seems to be winding down – but due to his longevity – he's had 23 fights in the UFC which is more than most fighters manage, and at 11 wins and 11 losses (with one No Contest) he certainly belongs on this list. At his peak, he was a tough out for even the very best at 155lbs.
#3 Brad Pickett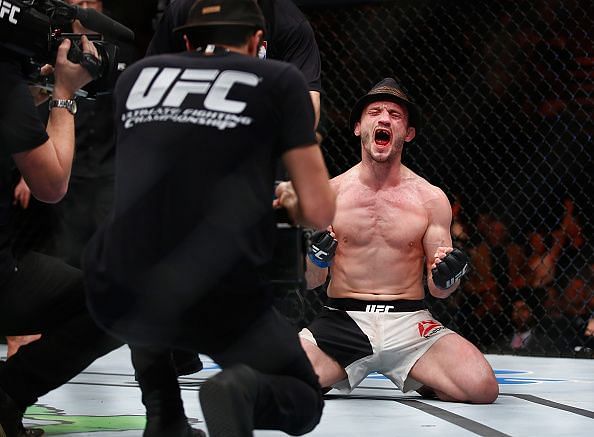 With his nickname of 'One Punch' and an entrance that involved him dressing like Brad Pitt's character from Snatch while reading a newspaper and walking out to a Chas & Dave track, Brad Pickett was always destined to be one of the UK's most recognisable fighters. It turned out he was also one of the most skilled too, as a move to train with American Top Team in 2006 turned him from a power striker into a well-rounded fighter who could wrestle and grapple with the best of them.
Pickett debuted in the UFC in 2011 after a successful run at 135lbs in the WEC, a run that saw him go 3-1 and even pick up a victory over future legend Demetrious Johnson – he remains one of just two men to defeat 'Mighty Mouse'. His UFC debut didn't go so well as he was choked out by Renan Barao, but Pickett then went on to carve out his own spot in the top ten, with wins over the likes of Mike Easton, Damacio Page and Yves Jabouin.
A 2014 drop to 125lbs – chasing a title fight with Johnson, basically – didn't serve Pickett quite so well as he only went 1-2 in his time there, and once he moved back to 135lbs his skills had started to wane. Pickett retired in March after losing four of his last five bouts, but he was always a tough gatekeeper for anyone wanting to break into the elite level, even as he aged. Not only was he one of the most skilled fighters from the UK, but he was also one of the most exciting.
#2 Dan Hardy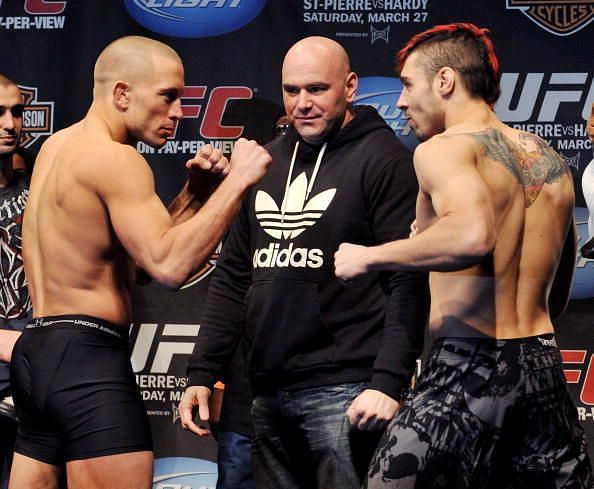 The history books will always tell you that Dan 'The Outlaw' Hardy was the first British fighter to receive a UFC title shot, and while he lost his title match in one-sided fashion to Georges St-Pierre, it's hardly something to be ashamed about – GSP will probably go down as the best fighter ever and Hardy was able to last the distance with him. In retirement since 2012, it's telling of Hardy's skills that he's still at #2 on this list.
The Nottingham native made his UFC debut in 2008 after an impressive run on the smaller circuit and was faced with a tough opponent in PRIDE veteran Akihiro Gono. Hardy did enough to outpoint the veteran, and with his red Mohawk and bandana hiding his face, he showed enough charisma to receive quite a push from the UFC brass, too. Impressive wins over Rory Markham and Marcus Davis followed, and a win over top contender Mike Swick was enough to net him a title shot in just his fifth UFC fight.
After Hardy's loss to GSP, his career took somewhat of a tumble, with losses to top contenders Carlos Condit, Anthony Johnson and Chris Lytle following. But Hardy took some time off and then returned in 2012 with wins over Duane Ludwig and Amir Sadollah before his career was curtailed due to the discovery of a congenital heart defect. Today Hardy remains massively respected, this time as a commentator for the UFC's European shows.
#1 Michael Bisping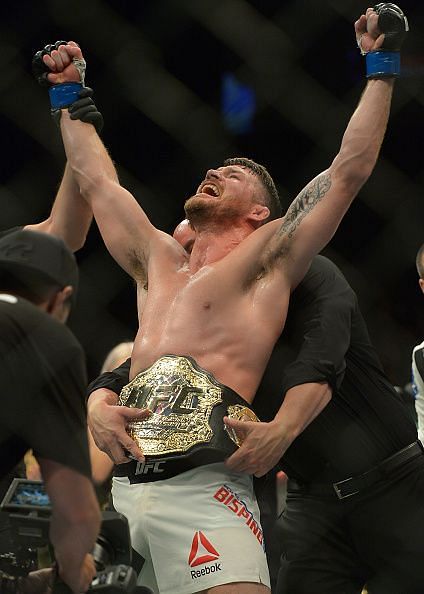 Like it could've been anyone else. 'The Count' is not only the first and only UFC champion produced by the United Kingdom, but he's also one of the most recognisable UFC fighters on the planet today and one of the longest-tenured too, with an incredible 28 UFC fights since his debut in 2006 and the 29th to come in just a couple of weeks time. Simply put, Bisping has become a UFC legend, and despite what his naysayers would claim, it's down to his fighting skill and not just his penchant for brilliant trash talk.
Bisping won the third season of the Ultimate Fighter at 205lbs, but it was his 2008 drop to 185lbs that really got his career going, as he beat the likes of Chris Leben, Denis Kang, Dan Miller, Yoshihiro Akiyama, Brian Stann and Alan Belcher to carve out a seemingly permanent spot in the top ten. Losses to the likes of Dan Henderson, Vitor Belfort and Wanderlei Silva always blighted his record though and prevented him from gaining a title shot.
By 2014 it seemed like Bisping's career was on the wane, as he spent a year on the shelf due to a persistent eye injury and then lost to Tim Kennedy and Luke Rockhold in one-sided fashion. But true to character, he kept plugging away, picked up a couple more wins and found himself facing Anderson Silva in early 2016. An incredibly gutsy showing took him past the Brazilian legend and that appeared to be his career peak.
Just months later though he stepped in on late notice to fight Luke Rockhold – a man who'd already beaten him – for the Middleweight title, and just three minutes later, thanks to an astonishing knockout, the UK finally had its first champion. It was a testament to the incredible heart and work ethic of 'The Count' over a career dating back to 2004. Bisping has since lost the belt to Georges St-Pierre, but he remains one of the UFC's most popular stars and is clearly the best fighter ever produced by the UK.
---
Send us news tips at [email protected]