There's an old saying in MMA when it comes to submissions – "tap or snap". Essentially, it's advice for a fighter who might be caught in a tight hold from a grappling expert – it's better to give up and fight another day than suffer a serious injury by refusing to submit.
Unfortunately, the saying only works if the fighter applying the hold is willing to release it when they feel that tap – and on more than one occasion in the UFC, we've seen submission experts who are more than willing to keep on cranking for longer than is needed.
Here are 5 UFC fighters who held onto submissions for way too long.
#1 Royce Gracie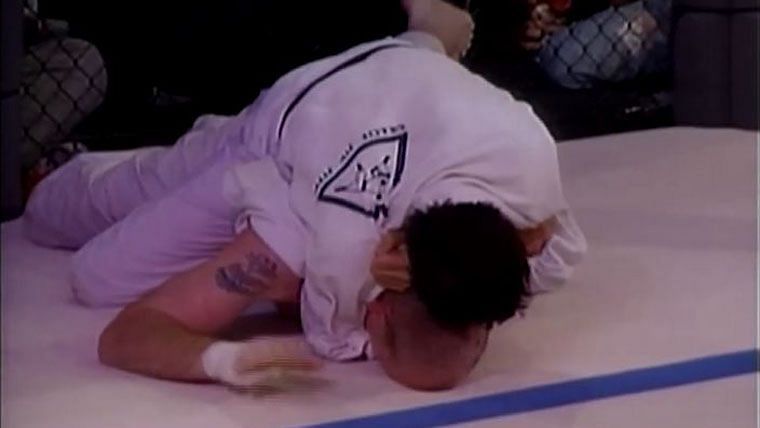 The first ever UFC event – way back on November 12th, 1993 – saw grappling ace Royce Gracie introduce the art of Brazilian Jiu-Jitsu to the world by submitting three opponents en route to his victory in the promotion's inaugural tournament, but while the fighting style is commonly nicknamed 'the gentle art', Gracie certainly wasn't gentle with final opponent Gerard Gordeau.
Gordeau, a Dutch kickboxer, had beaten his two previous opponents in the tournament by TKO, but was clearly up against someone much trickier in Gracie. And so when the Brazilian took him down, the Dutchman – clearly operating within the tournament's "there are no rules" remit – bit his ear in an intentional foul.
Royce's response? He slapped on a rear naked choke – and despite Gordeau tapping out quickly, he kept on tightening it up until the referee stepped in. The overly long choke was widely ignored at the time, but has been scrutinized since – largely because the story of the bite, which Gordeau himself confirmed, made its way into MMA folklore.
Thankfully, there were no hard feelings between the two; Gordeau admitted Gracie had been the better fighter, and in 2012, the Brazilian visited the Dutchman's gym in Den Haag to train with him, nearly 20 years after their legendary fight.
#2 Renato 'Babalu' Sobral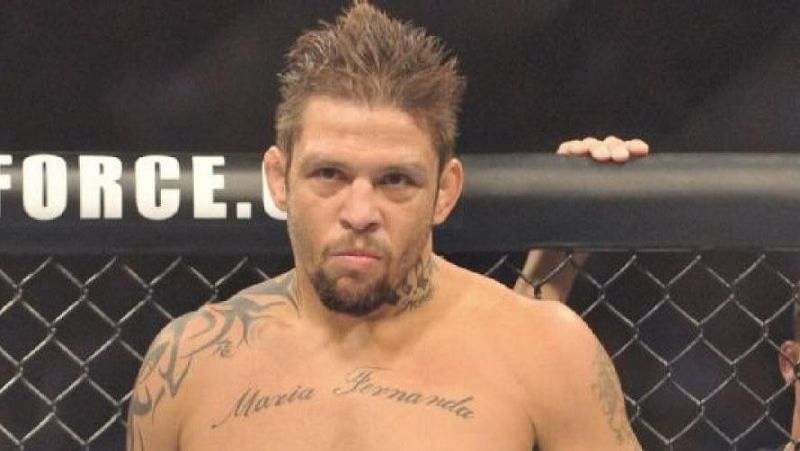 Thanks to his intense personality and exciting fighting style, Renato 'Babalu' Sobral was established as a firm fan favorite in the UFC during the mid 2000's. And although he came up short in a Light-Heavyweight title fight with Chuck Liddell in 2006, the Brazilian was still widely recognized as one of the best 205 lbers on the planet, and a long UFC career was fully expected for him.
Surprisingly though, just a year after his loss to Liddell, Sobral found himself released from the promotion. The reason? His shocking submission of David Heath at UFC 74 in a fight that became way too personal for essentially no good reason.
'Babalu' came into the fight looking angry – more on that later – and beat Heath bloody during the first round, and when Heath attempted to shoot for a takedown early in the second round, the Brazilian sprawled back and locked on a tight anaconda choke. Seconds later, covered in his own blood, Heath tapped out – but it wasn't good enough for Sobral, who ignored referee Steve Mazzagatti and continued to squeeze until his opponent fell unconscious.
Even the crowd in attendance were horrified, booing Sobral mercilessly, but the Brazilian had no remorse, stating that Heath had called him a "mother******" at the weigh-in and needed to learn respect.
Considering the usual trash-talk UFC fighters throw at one another, to say this was an over-reaction from 'Babalu' would be an understatement – and it came as no surprise when he was cut from the promotion for what UFC President Dana White described as a "completely unacceptable" action.
#3 BJ Penn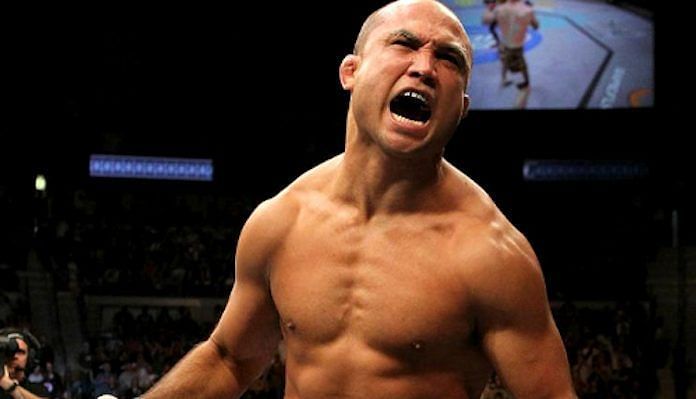 Hawaiian legend BJ Penn was involved in some of the UFC's most storied and intense feuds during his near-two decade career with the UFC, and his rivalries with Georges St-Pierre, Matt Hughes and Sean Sherk are still well-recalled by longtime MMA fans today. But perhaps his most bitter feud came against Jens 'Lil' Evil' Pulver.
'The Prodigy' had challenged Pulver for the UFC Lightweight title in January 2002, but despite coming in as the betting favourite, came up short thanks to the champion's submission defense, takedown defense, and superior boxing skills. After the fight, 'Lil' Evil' had stated that he felt disrespected by the amount of people who had counted him out – and evidently, that didn't sit well with Penn.
Six years later, the UFC decided to give the Lightweight division a bigger showcase by devoting a season of The Ultimate Fighter to it, and named Penn and Pulver as the coaches for the season – with the two veterans booked to face off against one another at the finale show.
The rivalry was instantly brought to the forefront, with the two men clashing on the TUF set and Pulver promising to knock Penn's teeth out in the fight. 'The Prodigy' in turn told Pulver he'd break his left shoulder.
But although Penn dominated the fight, he broke his promise; he never went for his rival's arm, instead locking in a second round rear naked choke to force the former champion to submit. And to send a message to Pulver, 'The Prodigy' kept the choke locked in for way too long – even when the referee attempted to separate the fighters.
Surprisingly, the infraction went largely ignored, perhaps because Pulver remained conscious when the hold was released. And evidently, the veteran held no grudge against Penn – instead stating that the feud was over in a post-fight interview and stating that he'd love to train with 'The Prodigy' instead.
#4 George Sotiropoulos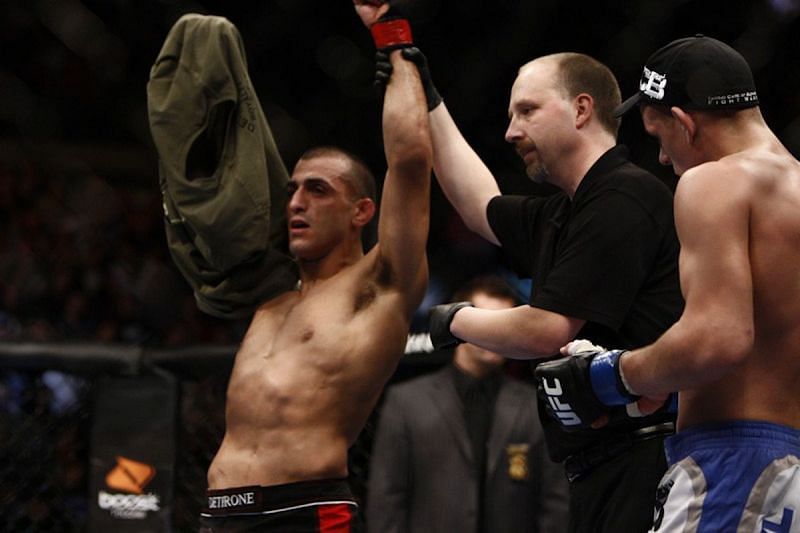 Renowned as one of MMA's "nice guys", George Sotiropoulos never intended to hurt Joe Lauzon at UFC 123 when he locked in a second round kimura to force 'J-Lau' to tap out, but through no fault of his own, he was almost forced to do it anyway. In this instance, the submission wasn't held too long through malice, but through the incompetence of a referee.
After a back-and-forth first round, Sotiropoulos was able to gain a dominant position on Lauzon, and utilising his Brazilian Jiu-Jitsu black belt, the Australian fighter locked up a kimura onto the left arm of 'J-Lau'. Lauzon tapped out almost immediately – but inexperienced referee Marc Fennel was way out of position and missed the tap.
The result of this gaffe was that Sotiropoulos had to continue to crank the arm, clearly concerned that if he released his opponent, the referee might let the fight continue. Fennel finally spotted the submission a moment later and stepped in to stop the fight, but both Sotiropoulos and Lauzon were furious with him, berating the official for his poor positioning.
Thankfully, Lauzon was not badly injured by the hold, but this was a lesson learned for every prospective MMA referee; you have to be in position and be ready to step in at any time, otherwise someone could get seriously hurt.
#5 Rousimar Palhares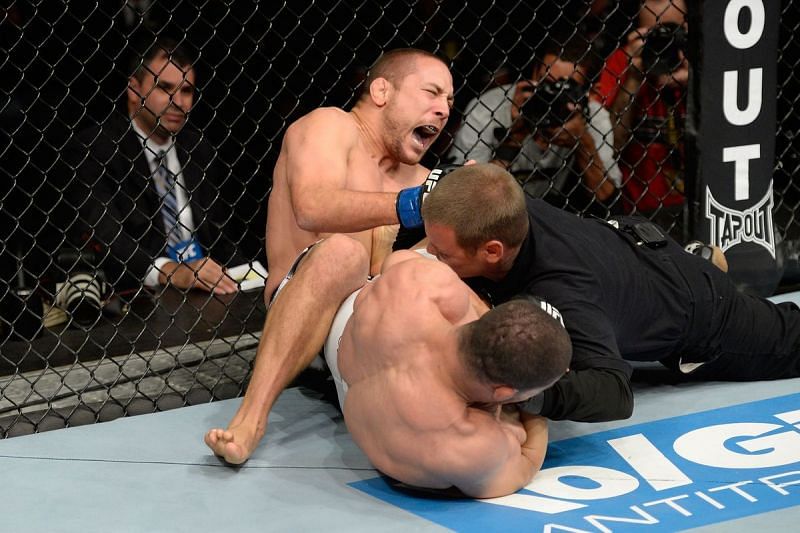 All of the previous fighters on this list held a submission for too long on just one occasion, and all four of them had their reasons for doing so, however sketchy those reasons might've been. Brazilian leglock expert Rousimar Palhares, on the other hand, became notorious for cranking on his submission holds for far too long, and even found himself released from two promotions for it.
'Toquinho' came into the UFC in 2008 with the reputation as one of the world's most dangerous submission fighters, with the dangerous heel hook – a move which can destroy an opponent's knee joint – being his speciality. The Brazilian quickly put together a record of 3-1 in the Octagon – with one trademark heel hook to his name – before getting into hot water during a 2010 clash with Tomasz Drwal.
Palhares again locked up a heel hook on his foe, but despite the Polish fighter clearly tapping out, 'Toquinho' chose to ignore both the tap and referee Kevin Mulhull's attempts to stop the fight. Drwal was badly injured by the hold, and after the fight, Palhares was suspended by the New Jersey State Athletic Commission for his actions.
3 years later, this nasty habit reared its head again; this time Palhares – who had dropped to 170lbs – faced Mike Pierce, and after locking in another heel hook, he again refused to release the submission despite Pierce tapping and the referee attempting to break the hold. Following this incident, the UFC decided to wash their hands of the Brazilian, and promptly released him from his contract.
'Toquinho' resurfaced in 2014 in the World Series of Fighting promotion, but controversy continued to follow him. After submitting Steve Carl and Jon Fitch – and again being accused of holding his submissions, this time an inverted heel hook and a kneebar, for too long – he faced Jake Shields, and after eye-gouging the veteran early in the fight, he submitted him with a kimura.
Again, Palhares was up to his old tricks, holding onto the kimura for far too long despite Shields tapping. The Nevada State Athletic Commission slapped him with another suspension – and WSOF quickly released the Brazilian from his contract.
Nearly a decade on, 'Toquinho' remains perhaps the most notorious submission fighter in MMA history, and despite plenty of attempts to explain his questionable behaviour, the truth is that we'll probably never know the reason for his bad habit.