Max Holloway: The climb before the fall?
169 //
06 Dec 2018, 02:35 IST
This Saturday sees the UFC hit Toronto, Ontario for UFC 231. The show doesn't have nearly as much hype as October's UFC 229, which featured the much-anticipated clash between Khabib Nurmagomedov and Conor McGregor, but for many fans, the Featherweight title headliner between champion Max Holloway and challenger Brian Ortega is perhaps the best fight – on paper at least – put together by the world's biggest MMA promotion in 2018.
A great deal of this intrigue comes from the presence of Ortega. The challenger is 7-0 in the UFC and has never gone the distance in the Octagon; he's finished the likes of Frankie Edgar, Cub Swanson and Renato Moicano despite seemingly falling behind to them during the fight. In terms of finishing instincts, 'T-City' has few equals.
But in the form of Holloway, he'll be facing a man who not only represents his toughest test to date, but he's also facing a highly unique fighter. The state of Hawaii has only had one UFC champion before Holloway – the legendary BJ Penn – but outside of their state of birth, Penn and Holloway couldn't be much more different.
Penn earned his nickname 'The Prodigy' with good reason. The Hawaiian earned his black belt in Brazilian Jiu-Jitsu faster than any other practitioner, and then became the first non-Brazilian to win the black belt division of the World Jiu-Jitsu Championships. His rise in the UFC, once he arrived, was equally meteoric.
UFC 31 marked Penn's debut – it was his debut in professional MMA too, a rarity in the modern era – and he shellacked wrestler Joey Gilbert inside the first round. Two more wins followed and suddenly, Penn was fighting for the UFC Lightweight title at just 23 years old and 3-0 in the cage. He lost that first opportunity, but 5 fights later, he upset Matt Hughes to claim the UFC Welterweight title. It was just the beginning of a legendary career.
Holloway debuted in the UFC at an even earlier age than Penn – just 20 – although he at least had 4 professional fights by that stage. But in terms of their early career in the UFC, things couldn't have gone much differently. Holloway lost his debut against Dustin Poirier, and then after 3 straight wins, he lost twice in a row, and appeared to be a busted prospect at the age of just 22.
That wasn't the case, though. 'Blessed' started off low on the totem pole, taking out Will Chope, and then slowly worked his way up. Every fighter he faced seemed to be a step up – like an old-school video game of sorts – as he went from Cole Miller to Cub Swanson to Charles Oliveira to Jeremy Stephens to Ricardo Lamas, and finally Anthony Pettis and Jose Aldo.
Somehow, every test that Holloway faced, he passed with flying colours. Once a largely one-dimensional striker, by the Swanson fight Holloway was demonstrating some tremendous grappling, choking out the jiu-jitsu black belt with a guillotine choke. And his striking game, which had always been good, was developing into something scary; based around a long reach, an insane amount of pressure, and a willingness to take a shot to give three or four back.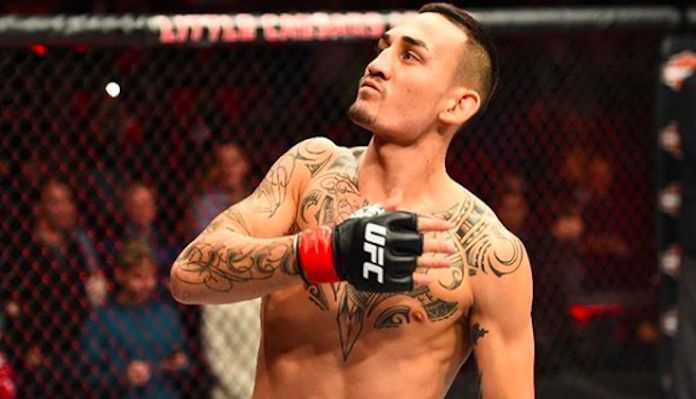 Holloway's two fights with Aldo last year – fights that allowed him to capture the UFC Featherweight title – felt like a watershed moment in the division. Conor McGregor knocked Aldo out with one punch and stole away his title, but he never stuck around to defend it, and when Aldo claimed the title back with a win over Frankie Edgar, it felt like things had been reset back to normal.
Holloway though didn't just knock Aldo out. He destroyed him, twice, taking the Brazilian's best shots with aplomb and using his striking arsenal – heavily reliant on body shots – to break 'Scarface' down, both mentally and physically. Aldo, who had reigned over the division for years, simply didn't appear to be in the same league as 'Blessed'.
Which brings us back to those BJ Penn comparisons. Where Penn first challenged for UFC gold at just 3-0, won his first title two years later, and was already considered a legend after 4 years in the sport, Holloway's rise was a slow-burner, taking almost 6 years for him to get to the top. And where Penn leapt up the ladder, Holloway climbed slowly, rung-by-rung, until he reached the summit.
Two Hawaiian fighters, both reaching the peak of the UFC, albeit taking very different paths to the top. It's a fascinating story and indeed, Holloway may yet reach the same legendary status afforded to Penn. But there's one more comparison to be made, and it's somewhat of a cautionary one.
Penn essentially peaked in 2009, when he ruled the Lightweight division with an iron fist and turned back the challenges of Kenny Florian and Diego Sanchez, two highly rated and hugely skilled challengers. And yet just 4 months after that Sanchez victory – arguably Penn's greatest ever UFC performance – he lost his title in a surprising upset to Frankie Edgar, then failed to reclaim it in a rematch.
And from there, at the age of just 32, Penn was essentially finished. 'The Prodigy' picked up one more win – against a close-to-retirement Matt Hughes – and went on to retire himself after a loss to Nick Diaz. And since then he's returned a further two times and is now on a 5-fight slide, with most fans calling for him to hang it up for good.
Holloway is still just 27 years old. That makes him currently the youngest male UFC champion, and yet here's where the Hawaiian is such a conundrum; despite being younger than his peers, Holloway is also the most experienced champion in the promotion with 18 fights in the Octagon. And with a style of fighting that sees him soak up tremendous punishment, how long can he sustain this run before he veers into Penn circa 2010 territory?
We've already seen a strange incident this year that saw 'Blessed' have to withdraw from the original booking against Ortega due to "concussion-like symptoms" that left him slurring his words and looking half-asleep during a televised interview on UFC Tonight. Holloway is apparently healthy again now, but can you really recover properly from something like that? How healthy is it to take another punch from a guy like Ortega?
Saturday's main event is fascinating and Ortega's reckless finishing style adds a lot of that intrigue. But it's a far deeper question that the presence of Holloway – and how he looks in the cage – asks. The Hawaiian might well pull out another classic performance and destroy Ortega just as he did Aldo, but that question will still end up being asked; how much longer can Holloway stay at the summit? And will he fall as suddenly as his fellow Hawaiian Penn did?
At UFC 231, we might find out.