International Health Sports & Fitness Festival 2017 saw a lot of celebrity and sports personalities present, and it had various events under the same roof. One of the eye catching events was Yoddha fighting championship, which showcased MMA and it had a lot of prominent guest lists from the MMA world too, including Arjan Singh Bhullar (the first UFC fighter from India), Sushil Kumar and Vijender Singh amongst others.
The scheduled fights for the card were 15 amateur fights and 4 Pro bouts. Some of the prominent Amateur MMA fighters were featured in the card.
Here are some of the best fights surely which got lot of attention.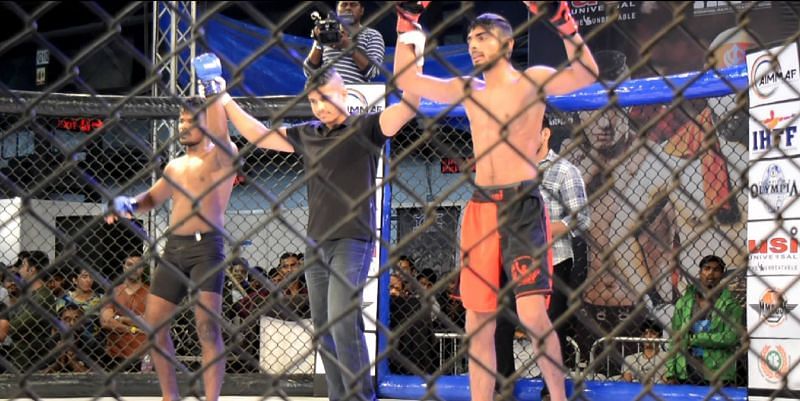 Gajendra kharatmol VS Mahmood Shariff
This fight was one which none of us expected to go for a draw. Gajendra a wrestler by background and Mahmood Shariff, a kickboxer. Gajendra used his wrestling to keep Shariff on the fence and was trying to avoid much of a striking game with him.
Gajendra was successful in taking down Shariff twice but he managed to come back on his feet and deliver punches which visibly wobbled Gajendra. The fight turned out to be a classic contest between a striker and a grappler. At the end of the 3 rounds, the fight was declared a draw.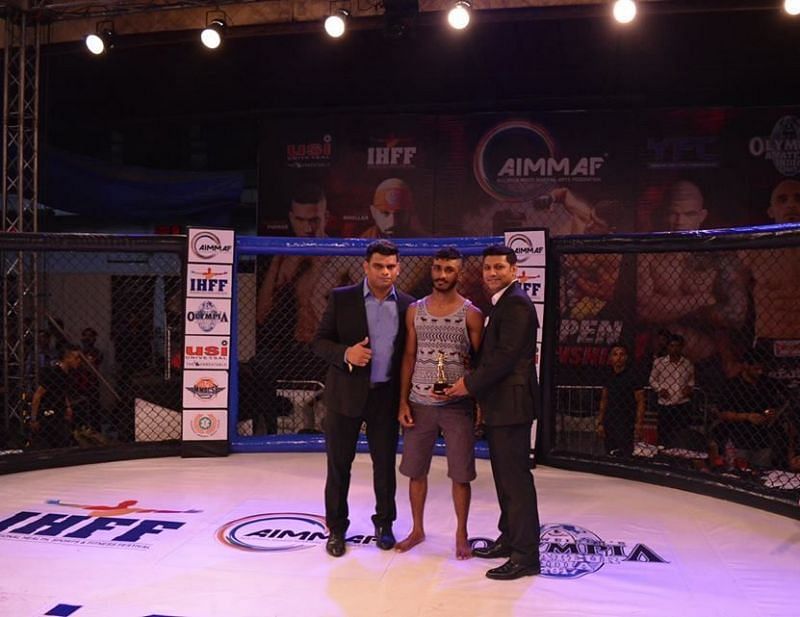 Clinton Dcruz VS Kapil kumar
This was one of the exciting pro event on the paper as kapil Kumar has fought in couple of big leagues including SFL and was coming strong after his win on Rohit Pundeer with an Achilles Lock and had an impressive record of 5-3. The Bangalore Boy, Clinton Dcruz on other hand was undefeated in his Amateur Record and had won every possible title in Brazilian jiu jitsu in the country, including the national championship for the last two years and with an impressive 12-0 undefeated kickboxing record.
Right in the first round, Clinton directly employed his fight strategy perfectly, taking down his experienced opponent within a few seconds. Showcasing what good grappling looks like, Clinton was able to submit Kapil, with his signature Triangle choke within 3 minutes of the very first round.
Clinton is still undefeated and has his eye on the SFL belt, which he believes he can win from the current champion with a knockout in the first round itself.
Shyamanand VS Vishal Nimbalkar
This was easily the best fight of the night, It was a debut fight for Shyamanand and against an experienced and skilled fighter in Vishal Nimbalkar. Vishal recently fought in a very prestigious World Mixed Martial Arts Championship and he was all ready for this bout. Shyamanand, on other hand is a wrestler converted to a stand up fighter, he calls Indian Combat Sports Acadamy (ICSA) based out of Bangalore his home. ICSA has produced some of the top grapplers and strikers in the country and is a home to some of the best undefeated fighters in the country.
The fight started with Vishal trying to take Shyam down with his explosive takedowns but ultimately being unsuccessful because of precise defense from Shyam. He kept the fight standing and forced Vishal to strike with him. Vishal did not have any answer for Shyamanand's top quality striking but he had managed to connect with an over hand right in the second round, and the first blood was drawn.
Vishal was then hit with a left hook and went down. Shyamand was trying to finish him but the referee had to interfere to stop the fight to check on Shyamanand's broken nose. After the doctor's clearance, the fight was continued and Shyamanand again managed to keep the fight standing and already had done enough damage to win the fight. The fight was won by unanimous decision.
After the fight, Shyamanand was seen asking for the amateur belt fight against the current YFC champion. His closing words were, "Please ask those fake paper champions to stop fighting meat fights and face me already. You can run, but you can't hide."