#1 Conor McGregor (Featherweight Champion 2015-16, Lightweight Champion 2016-17)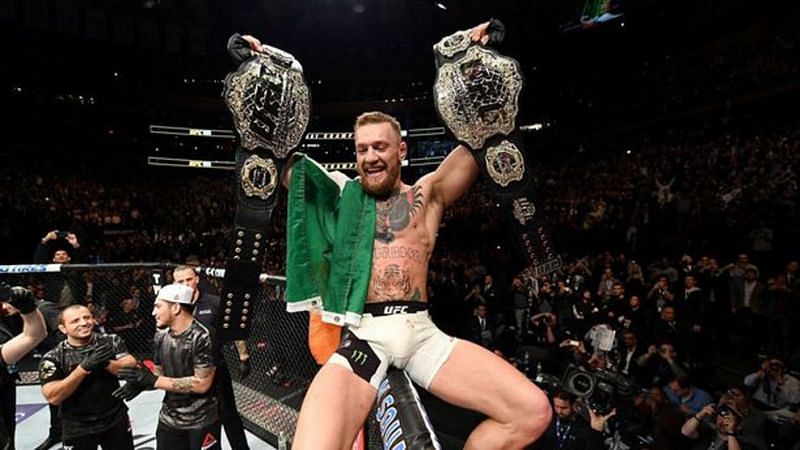 7 million Twitter followers says it all. "Notorious" Conor McGregor is the most popular MMA fighter of them all. He is one of few athletes who transcend their sport into the mainstream.
Everybody knows who McGregor is and what he is all about.
The fact that McGregor has been one half of the main event in four of the five highest drawing UFC cards in history says it all.
His now infamous UFC 229 headline bout with Lightweight Champion, Khabib Nurmagomedov pulled an astronomical 2.4 million orders; by far the largest number in UFC history. McGregor has pulled over a million buys at four other UFC events as well.
His boxing match with the despised, Floyd Mayweather Jr pulled an eye-watering 4.3 million pay per view buys and is the second highest pay per view number in any sport, ever, behind the "Fight of the Century" between Mayweather and Pacquiao back in May 2015 and was a pop culture sensation.
Even a criminal conviction hasn't turned the public against him after "Notorious" recklessly threw a metal dolly at the UFC bus in which several fighters and other UFC personnel were on board.
Khabib was the target, but it was UFC combatants Ray Borg and Michael Chiesa who were injured by shattered glass as the window smashed. Both fighters were pulled from the subsequent UFC 223 card in which they were booked.
It was a major headache for UFC and a deeply regrettable incident which saw McGregor convicted on a count of disorderly conduct after originally being charged far more serious charges such as assault.
However, as far as a majority of MMA fans are concerned, McGregor can do little wrong and is, and will likely be for some considerable time, the most popular act the UFC have to offer.