Light-Heavyweight Champion, Jon Jones main evented UFC 152 versus Light-Heavyweight legend, Vitor Belfort with his belt on the line. Jones had been scheduled to fight Dan Henderson at UFC 151 instead, three weeks earlier but "Hendo" was forced to withdraw due to injury and Jones refused to fight replacement, Chael Sonnen. Therefore, UFC 151 as an event was cancelled altogether and Jones was moved to this card after he did agree to compete against Belfort.
Despite the controversy, this was a bout where Jones's credentials as the man at Light-Heavyweight were confirmed. The champion completely destroyed his challenger.
Belfort came close to an armbar in the early going but aside from that, fought the fight on the defensive and was beaten and beaten badly by Jones until being forced to submit in the fourth round due to Americana.
UFC crowned their first ever Flyweight Champion, when Demetrius Johnson bested Joseph Benavidez in a tight split decision which in truth could have really gone either way. The fight went the distance without really threatening to have a finish. The action was not warmly received by fans and Johnson's win had a slight air of Bas Rutten's at UFC 20 in which he won because that was the desired result, regardless of whether he deserved to win or not. The fact that one judge scored the fight 49-46 in favour of Johnson was a joke. However, given that Johnson remained champion for six years after this victory and defeated Benavidez decisively the following year, makes the controversial win more palatable.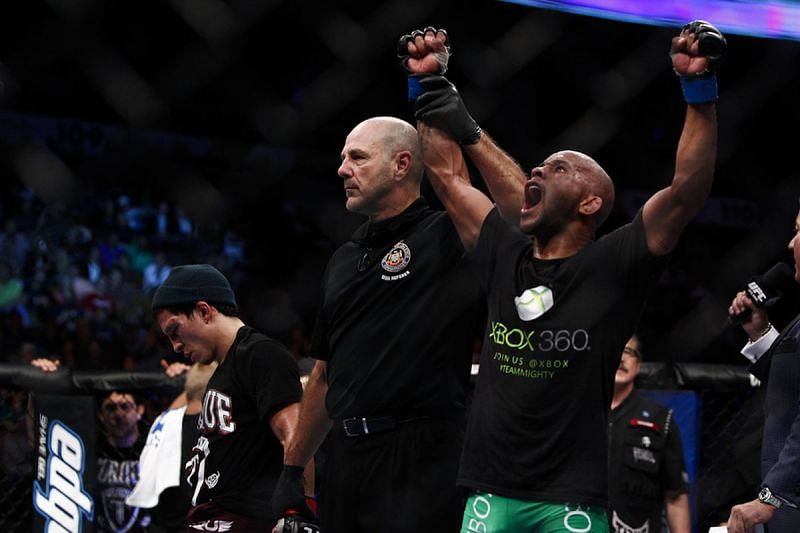 UK star, Michael Bisping bounced back from his defeat to Chael Sonnen in his last bout with a decision win over Brian Stann. It was not a great fight and did not come close to a finish. Bisping's superior striking earned him the win in this one.
Matt Hamill came out of retirement to fight Roger Hollett but most fans wished he would have stayed out of the Octagon. This fight was atrocious and had no place on UFC pay per view as both men circled for three rounds and largely did nothing.
Cub Swanson beat Charles Oliveira with a massive Knockout punch that caught Oliveira clean in the temple and had a delayed reaction as Oliveira crumpled to the mat. Brutal ending to the bout.
UFC 152 was a largely indifferent show but drew a strong 450,000 buys on pay per view.