After a week without a UFC show in sight, the biggest MMA promotion in the world returns to its packed schedule this weekend with UFC 236 from Atlanta, Georgia. The show – to be broadcast on pay-per-view in the US – marks the first show under the new PPV deal with ESPN, and it also marks the first time the UFC has been in Atlanta since 2016's UFC 201.
The show is headlined by a pair of interim title fights; Dustin Poirier faces Max Holloway with the interim UFC Lightweight title on the line, while Kelvin Gastelum and Israel Adesanya face off with the interim UFC Middleweight title up for grabs. Overall, it's a show that looks like a lot of fun on paper.
Here are the predicted outcomes for UFC 236: Holloway vs. Poirier 2.
#1 Max Holloway vs. Dustin Poirier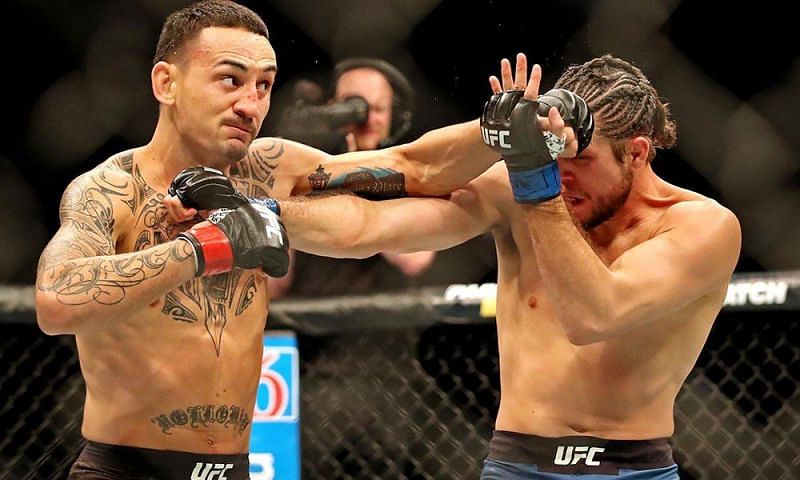 Fans have been critical of the number of interim title fights that the UFC have put on recently, but to an extent at least, both of the interim title matches on this show are justified. Firstly, the interim Lightweight title fight – current champion Khabib Nurmagomedov obviously claimed the title last April and then defended against Conor McGregor in October, but due to the various circumstances around that fight, a return date for him is yet to be announced.
The UFC clearly wants to move the division along, and so it makes sense to introduce an interim title, if nothing else than to try to force Khabib's hand when it comes to deciding his next opponent. And it's quite clear how Poirier got here – 'The Diamond' hasn't lost since 2016 and stopped Eddie Alvarez and Justin Gaethje last year.
For Holloway, it's a bit trickier to justify. Sure, the other top contender (Tony Ferguson) is out indefinitely right now, and 'Blessed' has been on an absolute tear as the champion at 145lbs, but in reality he hasn't truly cleaned that division out yet and hasn't earned a shot at the 155lbs title, not over and above the likes of Gaethje, Al Iaquinta and Donald Cerrone.
With that said, it's a known fact that the Hawaiian struggles to make the 145lbs limit at this point, and assuming – should he win – the UFC doesn't let him hold up both weight classes ala McGregor, then it's hard to think of a more exciting fight that the UFC could make right now.
The show is subtitled 'Holloway vs. Poirier 2', reminding us that they've already fought once previously, but that fight is almost completely irrelevant when looking at this weekend's match. It took place in February 2012 and was Holloway's UFC debut.
'Blessed' was just 4-0 at that stage, massively inexperienced even compared to Poirier, who was 11-1 with 3 wins in the UFC, and it came as no surprise when Poirier submitted him with a triangle choke in the first round.
Since then both men have changed their games dramatically; Holloway has improved in all areas beyond belief and is now one of the nastiest strikers in MMA, throwing pressure combinations and seemingly able to soak up an insane amount of punishment, while Poirier has become what I'd almost call a "technical brawler", in that he's happy to draw opponents into wild trades before surprising them with superior technique in his strikes from there.
Despite submission losses for both men earlier in their careers, both Poirier and Holloway have come along leaps and bounds on the ground, but it seems unlikely that either man will be shooting for a takedown on Saturday, unless they've been hurt or stunned.
And as neither is the best offensive wrestler, it's just hard to see a takedown from either happening. That means this fight should be decided on the feet, and that makes it quite a tricky one to pick.
For Holloway, I'd presume he'd look to impose his usual game on Poirier, just as he's done to the past 13 victims he's faced during one of MMA's most impressive streaks. Not only is the Hawaiian a truly fantastic striker, but what sets him apart from others is his awareness in the cage.
He seems to understand exactly when to turn up the heat on an opponent, even if they don't necessarily seem hurt, and we saw an amazing example of this against Brian Ortega in December, a fight that saw Holloway call his own finish in the 4th round.
He also predicted Jose Aldo was about to break in their fight in December 2017, and sure enough, that's exactly what happened.
Last time I broke down a Holloway fight I made mention of the health issues that surrounded him and kept him out of action for most of 2018, but then he made me look pretty silly by showing zero ill effects against Ortega, as he took his fair share of punishment and seemed absolutely fine. I just can't see his health being an issue against Poirier, not when he hasn't got to cut to 145lbs.
Poirier is an interesting opponent in that where Holloway has thrived by causing chaos for his opponent in the form of ridiculous volume, pressure and toughness, 'The Diamond' has instead thrived by allowing his opponents to cause chaos and then embracing it.
Rather than using his chin and toughness to wade through shots – he's been knocked out before, remember – Poirier has been perfectly willing to brawl, but has always been the more technical man in those brawls. And when he's got an opponent hurt, he's relentless.
For me, this should come down to how Poirier reacts to facing off with a striker who's probably better technically than he is, and who can come at him with the same pressure than Alvarez and Gaethje did, but with an ability to throw much more varied combinations.
Poirier didn't wilt against those two men, but then they don't hammer to the body and attack in the same way that the Hawaiian does.
I'm envisioning a tremendous fight for as long as it lasts in this one, but overall I can't look past Holloway's toughness; his chin should be good enough to soak up any punishment that Poirier can put on him, and I'm unsure of that working the opposite way when you consider that Holloway's never been stopped by strikes before while Poirier has on numerous occasions.
I think Holloway will pour the pressure onto his opponent and while Poirier will be happy to oblige, this time he won't be able to survive and fire back with the cleaner shots – you don't get any cleaner striker than Max Holloway in the UFC.
Poirier might last until around the midway point of the fight, but at some stage Holloway will hurt him and he won't be able to survive the barrage that follows.
The Pick: Holloway via third round TKO
#2 Kelvin Gastelum vs. Israel Adesanya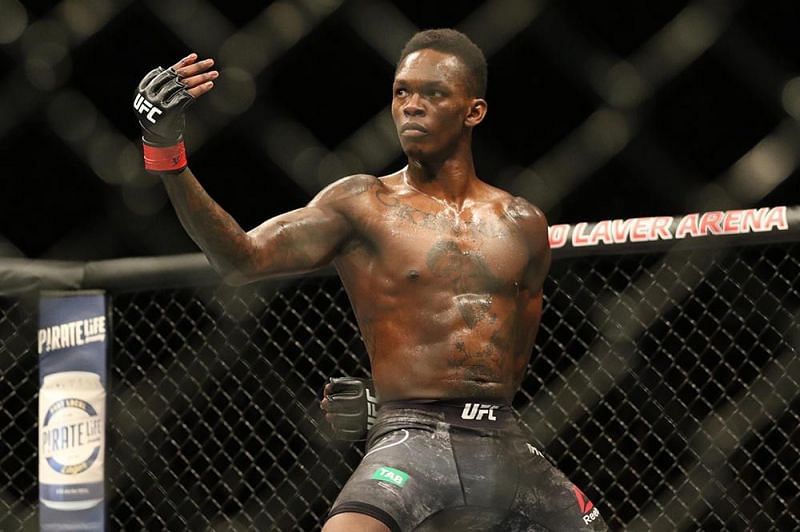 Like the other interim title fight on the card, there's logic behind this one too. After defeating former champ Michael Bisping and top contender Ronaldo Souza, Gastelum was all set to face champion Robert Whittaker for the Middleweight crown in February, only for Whittaker to be sidelined with a major health issue – a ruptured bowel and hernia.
On the same night, meanwhile, Adesanya fought legendary former champ Anderson Silva and beat him to earn a title shot of his own.
With Whittaker still on the shelf then, it makes perfect sense to match Gastelum and Adesanya for an interim title, with the winner facing 'The Reaper' when he's ready to return.
And this is a truly fascinating fight, too – how will Gastelum's mix of wrestling, boxing and pressure-fighting deal with a man who's clearly one of the best counter-strikers in MMA, but is also relatively inexperienced at the top level?
For his part, Adesanya has been perfect in 5 UFC fights thus far. He's a wildly unorthodox striker, using his movement, angles and pinpoint accurate shots to take out opponents with punches, knees and kicks. Like Anderson Silva, it's very tricky to work out what exactly he's going to do, and that makes him far trickier to work out that it initially seems.
In terms of how he's done thus far, he was always going to beat Rob Wilkinson, his debut opponent, and realistically Silva was always a good match for him stylistically too, given his deterioration and similar style to 'The Last Stylebender'. It's far more interesting to look at his other three opponents.
Adesanya struggled against the takedowns and clinch of Marvin Vettori, doing just about enough to outpoint the Italian. He was far better in picking apart the veteran Brad Tavares, and then put on his best showing to date by knocking out Derek Brunson in the first round. I'd still suggest however that he hasn't been properly tested by a top wrestler.
Tavares is more of a jack-of-all-trades type – someone that a specialist like Adesanya would always give difficulties to – while Brunson never got his wrestling going as he was simply too overzealous, just as he had been in his past fight with Robert Whittaker. So can Gastelum be the wrestler to really test Adesanya on the ground?
I'm not convinced, to be honest. Sure, his wrestling was the area that brought him his initial success – it was his nasty top game and submissions that won him the 17th season of TUF back in 2013 – but he's never been the type to shoot blast double legs like a Yoel Romero, and more recently he's gotten more success from his striking – it was that game that got him past Bisping and Jacare and almost allowed him to defeat Chris Weidman in 2017.
I admit I could be very much overlooking Gastelum's overall game here; he's excellent in all areas and his cardio allows him to be relentless and push a horrendously tough pace for his opponents to keep up with, but I worry about how he'll deal with the unorthodox movement, angles and striking of Adesanya.
I also worry that he'll be too aggressive for his own good in this fight, coming forward and playing right into Adesanya's hands.
I'm going with the Stylebender here; I think he'll come undone once he faces off with a more cerebral fighter like Whittaker, or a more physically imposing wrestler like Romero, but I don't see Gastelum being quite good enough on any level to deal with that flashy striking style.
Sure, he'll give it a good go, but in the end I think he'll walk into something nasty and Adesanya will finish him off from there.
The Pick: Adesanya via second-round TKO
#3 Eryk Anders vs. Khalil Rountree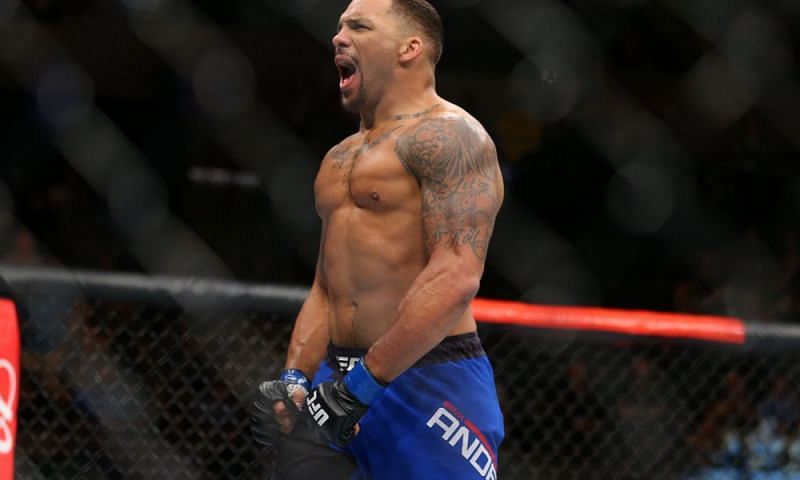 Third from the top, we've got a fight at 205lbs between a pair of very heavy hitters. Anders – a natural 185lber – moved up to 205lbs for the first time in 2018 but struggled against Thiago Santos, largely due to a lack of stamina more than anything else, probably due to taking the fight on such late notice.
He then moved back to 185lbs and came up short against the underrated Elias Theodorou before moving back to 205lbs for this fight.
Rountree meanwhile is one of the best 'glass cannons' in the 205lbs division. An insanely heavy hitter, we saw him turn off the lights on noted K-1 veteran Gokhan Saki last year with a single punch, but in his next fight he was taken out in less than a minute by the vicious elbows of Johnny Walker.
Throw in a horribly porous ground game, and you've got a fighter who's both unbelievably dangerous, but highly beatable too. If nothing else, he always guarantees excitement.
For me, this should come down to whether Anders can take a big shot from Rountree and survive. If he can do that, then I think this could be his fight. In my opinion, he's a better natural athlete than Rountree, and while his ground game is still rudimentary, his takedowns are decent enough and there's every chance he could muscle Rountree to the ground and beat him up or even submit him there.
The issue for him though comes in the fact that he's the naturally smaller man and with that, he's also at a reach disadvantage. That might not bode well given he struggled massively with the range of Tim Williams – more known as a grappler than a striker – when they fought last summer, and while he did eventually knock Williams out, obviously Williams doesn't hit anywhere near as hard as Rountree.
I see this fight as a bit of a toss-up. Rountree could definitely take out Anders early on; Anders has an excellent chin but I'd argue Rountree hits even harder than Thiago Santos, and he's got the kind of power that could take out anyone in the division.
However, Anders also hits very hard, and if he can get inside 'The War Horse' then I think he can either land something nasty, or muscle him to the ground and finish things off there.
I'm leaning towards Anders I think as I just can't trust Rountree against someone who isn't notably slower and more plodding than he is.
Anders isn't a super-quick fighter by any measure but he's an explosive athlete with the ability to get inside, and I just don't trust that Rountree can survive a barrage from him.
The Pick: Anders via second-round TKO
#4 Alan Jouban vs. Dwight Grant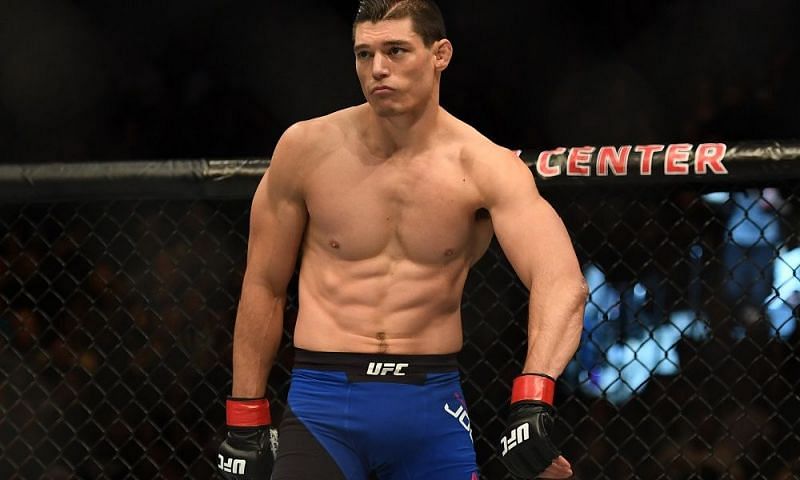 I'm honestly unsure how this one has made the main card of a UFC pay-per-view; Jouban while entertaining hasn't fought since February 2018, and Grant is just one fight off a split decision loss to the underwhelming Zak Ottow, even if he did knock out Carlo Pedersoli a couple of months ago in impressive fashion. The card isn't that deep admittedly, but still, this is a disappointing choice.
At best then, I'm hoping for a fun fight between the two. Jouban almost always delivers on that front; a flashy striker content to land nasty shots from all areas, he was last seen knocking out Ben Saunders.
7-4 in the UFC, he isn't a perfect fighter by any means – he gets too wild at times and that leaves him open, as we saw when he lost to Niko Price and Gunnar Nelson. But he does hit very hard, he's an excellent athlete and he's aggressive to a fault.
Grant meanwhile clearly hits hard; he turned Pedersoli's lights out quite violently and it was a super-nasty knockout that earned him his slot in the UFC during an appearance on Dana White's Contender Series. He's clearly a good natural athlete, but it's hard to forget the fact that we're only 4 months removed from his loss to Ottow.
Sure, most online analysts thought Grant deserved the nod in that fight, but realistically it was still a slow-paced fight, and Ottow managed to lull Grant into his own plodding style and didn't allow him to open up with anything special on his feet. And if that can happen to him against Zak Ottow, I just can't see him having any success against Jouban.
I wouldn't count Grant out here simply because Jouban's been hurt and stopped before, and he has been on the shelf for a long time with injuries. But at his best, I just don't see that a fighter like 'The Body Snatcher' offers a lot against a striker as varied and experienced as Jouban, and I can see 'Brahma' picking him apart, just as he did to the likes of Mike Perry and Matt Dwyer.
The Pick: Jouban via unanimous decision
#5 Ovince St. Preux vs. Nikita Krylov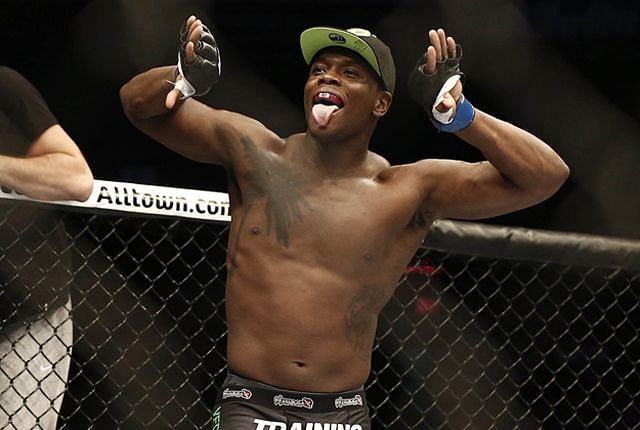 This one is a rematch of a 2014 fight that saw St. Preux finish Krylov pretty early on with his patented Von Flue Choke – a hold that could probably be re-christened the Von Preux given the amount of times 'OSP' has used it in the UFC now.
It's an interesting fight because while OSP remains pretty much the same fighter he was back then – an excellent athlete, solid in all areas but definitely beatable – Krylov has developed his own skills immensely.
Sure, he was beaten relatively easily by Jan Blachowicz when he returned to the UFC last September, demonstrating that his submission defense is still somewhat porous, but he's a far better striker than he was in 2014 and most notably, he's a more dangerous grappler when it comes to offense.
In fact, 'The Miner' physically looks like a different guy to the one who fought OSP at UFC 171, meaning this could well look like a different fight.
OSP's issue has always been that despite his great athleticism, he's just not that dynamic of a fighter. He looks like he ought to be capable of moving much quicker than he actually can, and while he's a decent striker with some good wrestling, takedowns and ground skills, it always feels like his opponent can hurt him badly at any stage of the fight.
That pretty much led to him being picked apart on the feet by Jimi Manuwa and more recently by Dominick Reyes, and it also led to him being hurt and then choked out by Ilir Latifi last year.
Krylov himself appears to still be somewhat of a glass cannon, which makes this a difficult fight to pick; essentially either man could probably screw up at any time and end up making a mistake leading to them losing the fight.
The smart money has to be on OSP really as he's more proven against top-level opposition and obviously he beat Krylov before, but 'The Miner' could easily catch OSP with something big and put him away too.
I'm going with the safe pick and taking OSP, but with the caveat that Krylov winning would be my preferred outcome as he'd provide a fresher challenge for the upper echelon of the division. I also cannot see this fight going the distance – and I'd be surprised if it went out of the first round to be quite honest.
The Pick: St. Preux via first round submission
#6 The Prelims: ESPN card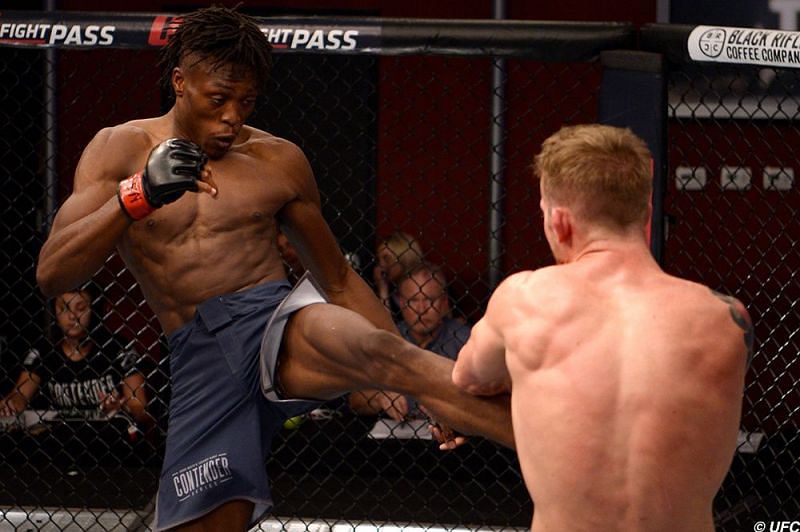 The top half of the prelim card for this show will be shown on ESPN – which could bode well for the overall buyrate. Headlining will be a Lightweight tilt between Jalin Turner and Matt Frevola.
Last time we saw Turner – a remarkably lanky 155lber who stands at 6'3" – he was knocking out Callan Potter, while Frevola's last fight saw him draw with Lando Vannata. I'm going with Turner here I think; from what I know of Frevola he's more of a grappler and I seriously worry about how he'll deal with Turner's range and length. 'The Tarantula' via first-round TKO is my pick.
At Flyweight, it's a battle of grapplers as Wilson Reis takes on Alexandre Pantoja. Quite what this fight will mean in the long run is anyone's guess given the questions around the future of Flyweight, but I'm taking Pantoja.
Reis has traditionally struggled with opponents he's been unable to easily outgrapple, and Pantoja is an excellent jiu-jitsu artist who is 4-1 in the UFC and should be able to push the pace on the stockier Reis. I'll go with Pantoja via close decision.
Max Griffin returns at 170lbs to take on unbeaten newcomer Zelim Imadaev in what could be an interesting fight. Griffin looked excellent in picking apart Mike Perry, but was then picked apart himself by Curtis Millender and even lost to the ageing Thiago Alves.
Imadaev – fighting out of Chechnya – is short on experience, but he looks like he's a truly vicious striker judging on his highlight reel. Griffin could be in trouble here and I think Imadaev takes him out violently with strikes. Expect some hype on this guy after the weekend.
Finally at Bantamweight, Boston Salmon faces Germany's Khalid Taha in the latter's second UFC fight and the former's official debut. I like Salmon here – he looked excellent in his DWTNCS fight while Taha didn't show a lot in his UFC debut. Salmon by decision is my pick.
#7 The Prelims: UFC Fight Pass card
Finally, we have four fights on UFC Fight Pass, one of which is a surprisingly high-profile Welterweight bout between Belal Muhammad and Curtis Millender. Millender, of course, is only about a month removed from his disappointing loss to Elizeu Zaleski dos Santos, and I worry for him here – Muhammad is a passable striker but he's a decent wrestler and Millender looked terrible on the bottom against Zaleski.
That may be because the Brazilian is an excellent fighter, but I'm willing to risk a bet that Muhammad can outgrapple Millender for a decision.
At Bantamweight, Montel Jackson takes on Andre Soukhamthath in a tricky test for Jackson, who looked excellent in his previous fight with Brian Kelleher. I'm going with Jackson here, Soukhamthath is a talented fighter but he's very much open to brainfart moments that can cost him a fight, and I think Jackson's the type of fighter who can capitalise on that. Jackson by submission is my pick.
At Flyweight, Poliana Botelho returns to face Lauren Mueller, in the Brazilian's first fight at 125lbs following a run at Strawweight. I like Botelho here, she looked excellent prior to her loss to Cynthia Calvillo and really, there's no shame in a loss to Calvillo as she's a top-ranked fighter right now. Botelho via submission is my pick.
Finally, Randy Costa debuts at 135lbs to take on the always-tough Brandon Davis. Costa's highlight reel looks good but he's just 4-0 in professional MMA and his opponents had terrible records prior to fighting him. Davis meanwhile is 1-3 in the UFC, but is far more experienced so I can see him outworking the newcomer for a decision.