The fans at the State Farm Arena in Atlanta, Georgia witnessed two of the greatest title fights in UFC history at UFC 236. One of those two was easily the fight of the year thus far.
With that being said, I won't waste any more time. Let's jump right into the results and highlights of the show:
---
UFC 236 Results - Prelims and Early Prelims
* Matt Frevola def. Jalin Turner via unanimous decision (30-27, 30-27, 30-27)
* Alexandre Pantoja def. Wilson Reis via TKO (Punches) (2:58, Round One)
* Max Griffin def. Zelim Imadaev via majority decision (29-27, 29-27, 28-28)
* Khalid Taha def. Boston Salmon via TKO (Punches) (0:25, Round One)
* Belal Muhammad def. Curtis Millender via unanimous decision (29-27, 29-27, 30-26)
* Montel Jackson def. Andre Soukhamthath via unanimous decision (30-26, 30-27, 29-27)
* Poliana Botelho def. Lauren Mueller via unanimous decision (29-28, 29-28, 29-28)
* Brandon Davis def. Randy Costa via submission (Rear Naked Choke) (1:12, Round Two)
Let's get to the main card the, shall we?
---
UFC 236 Results - Main Card
---
#1. Ovince Saint Preux (23-12) vs. Nikita Krylov (24-6) (Light Heavyweight)
OSP was coming off a loss against Dominick Reyes at UFC 229 in October 2018, while Krylov lost in his last outing against Jan Blackhowich in September 2018.
OSP and Krylov last faced each other at UFC 171, in which Preux picked up a Performance of the Night bonus win with a Von Flue choke in the first round. Did OSP make it 2-0 against his Ukranian opponent?
Round 1: The two men measured each other, to begin with, as Krylov drew first blood with body and straight kicks.
OSP took Krylov down and pinned him into the fence. Krylov got back up to his feet but was taken down again within a minute using a good-old trip. Krylov got right back up and attempted a takedown himself, however, OSP countered and forced him into the guard.
OSP got into the mount position and unleashed a few solid elbows, but Krylov tried to finish with a better standing on the scorecard with body kicks.
An attempted head kick by Krylov marked the end of the first round.
Round 2: Krylov came in busy as he shot the kicks, counterstrikes, a 1-2 and a head kick. OSP felt the heat and immediately went for the takedown, however, he got tagged with elbows while working for a single leg takedown.
After successfully defending OSP's takedown, Krylov turned the tables and took OSP down to the mat. Krylov went into mount quickly, got hold of OSP's back and locked in the Rare Naked Choke. He got his arms under OSP's chin and forced a tap instantaneously.
Result: Nikita Krylov def. Ovince Saint Preux via Submission (Rare Naked Choke) (2:30, Round 2)
Krylov's 7th UFC win has finally taken 'The Miner' into the top 15 rankings of the 205lbs division.
#2. Alan Jouban (16-6) vs. Dwight Grant (9-2) (Welterweight)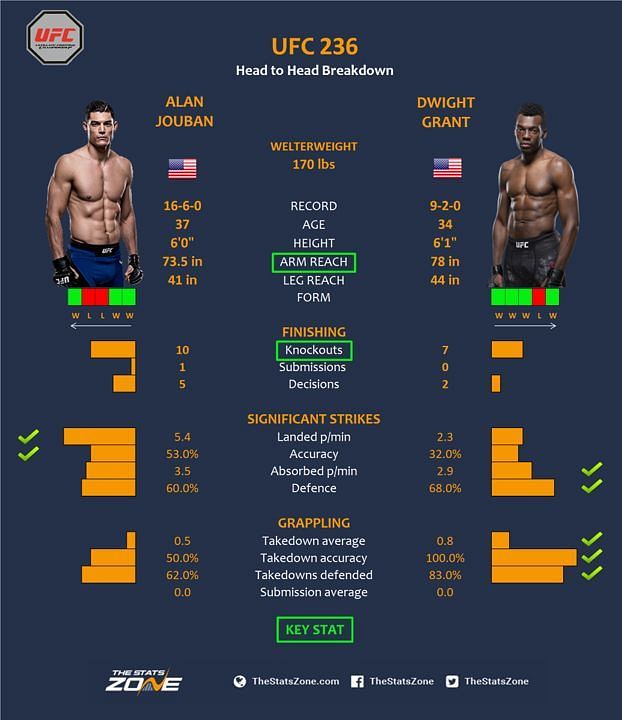 Dwight Grant notched up a win in his last fight in February 2019, against Carlo Pedersoli Jr., while Alan Jouban was coming off a Fight of the Night knockout finish against Ben Saunders from February 2018.
Round 1: Jouban was in southpaw and Grant in orthodox as the usual range-finding kicked off the fight. Jouban went for a straight left and tied up with Grant near the fence. Surprisingly enough, Jouban tripped Grant and scored a takedown.
He couldn't keep him down for long as Grant popped back up. Grant tagged Jouban with a few strikes, while Jouban almost landed a head kick that could have potentially finished off the fight.
Grant hurt Jouban with a strong left hook that grazed the chin followed by a strong right to the side of the head after Jouban came in rushing after a series of fakes and feints.
A snappy inside leg kick from Jouban. A nice looping left hook from Grant. Jouban kept pushing forward as Grant wanted to keep the distance, however, he needed to do so without his chin up in the air.
Jouban went for the head kick, but missed, while Grant went for a right, but was blocked. Jouban ended with an inside leg kick.
10-9 Jouban
Round 2: Grant jumped in wildly and hurt Jouban again with an unorthodox combination of strikes. Jouban covered up but somehow survived.
The stats at this point called for Jouban to land more. Grant kept chipping away with inside and outside leg kicks.
Jouban tried to force the issue as he pushed forward and landed a jab. His corner called for a follow-up. Jouban showed great timing to avoid Grant's punches but didn't dish out any punishment in return.
The crowd booed as they expected a stand-up back-and-forth. Instead, what we all were witnessing was a painstakingly tepid affair. Weird round to score!
Round 3: Jouban showed great Octagon control up until this point, but there was not much to show for.
Both men came out for the final round, looking a little more aggressive. The boos worked, maybe?
However, one minute into the final round and it settled as being the same old story. Grant, though, went for a nice head kick that was checked by Jouban.
Jouban seemed to vary of Grant's power by the looks of it. The fight momentarily stopped as Grant accidentally took a strike to his groin.
Two minutes left to go and it was either go hard or go home! Jouban and Grant didn't agree with the mantra and continued to dance around the Octagon as the restless fans continued to jeer the fighters.
Jouban finished off strong as he landed a few strikes and took Grant down in the last 30 seconds of the fight. He looked for an RNC, but Grant scrambled to get on his back. Jouban ended the fight with some good-looking ground and pound.
The judges may have surely liked that considering from Jouban it was such a close fight.
Result: Dwight Grant def. Alan Jouban 30-27, 29-28, 28-29
What an uneventful fight, jeez! Jouban was livid with the outcome as he felt he had done enough to get the win. However, in hindsight, he wasn't convincing enough to claim anything.
Nonetheless, a lackluster win for Grant shouldn't do him any favors either in Dana White's eyes.
#3. Eryk Anders (11-3) vs. Khalil Rountree Jr. (8-3-1) (Light Heavyweight)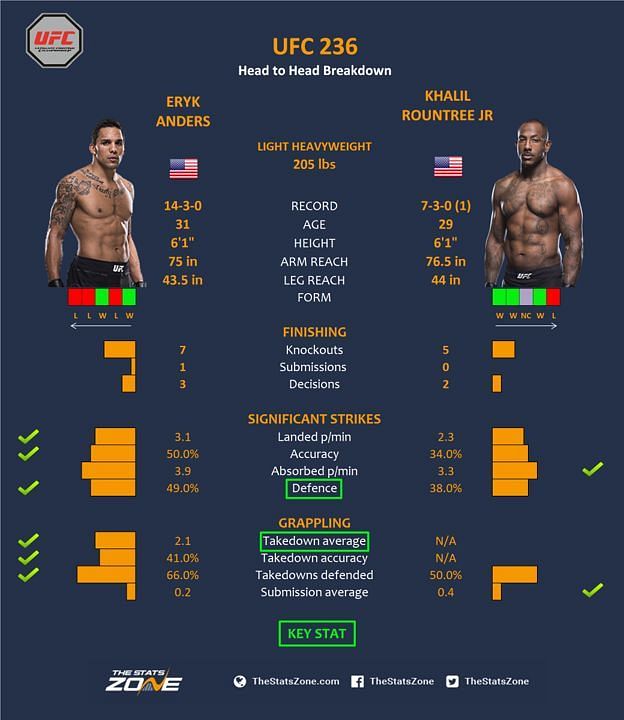 Round 1: Southpaw vs. Southpaw, this should be interesting, Rountree looked bouncy and light on his feet with a traditional Muay Thai stance.
Rountree was on fire. Absolute fire! He kept sending in the kicks from all corners. Inside, outside, body, oblique, head! You name it, Rountree had it. And to make things worse for Anders, Rountree threw them with breathtaking speed and precision.
Anders' right leg looked to have suffered the brunt of the damage and it visibly hampered his movement.
Rountree kept it going though, as the snappy kicks kept going to the right leg of Anders. Rogan and DC couldn't contain themselves in the commentary booth. DC's high-pitched 'oooos' were a constant all night
Rountree aced that one with an incredibly smart low kick strategy. The sound on them kicks though!
10-9 Rountree
Round 2: Rountree had no intention of slowing down as he came in with a striking combination followed by a kick. He stunned Anders with a huge left hand that sent him crashing into the mat. Anders, though was still in it as he recuperated on the ground as Rountree looked for an opening to jump in and finish it off.
He got back up and was sent back down courtesy of another Rountree bomb. Anders survived yet again, even though he was getting starched at this point.
Rountree was relentless as he kept up the pressure. Rountree would land a perfect right hook to score another knockdown. What a striking clinic by Rountree.
Rountree would end the round with 4 knockdowns to his name. Utter dominance.
10-8 Rountree
Round 3: After having being checked on by the doctors, Anders decided to continue the fight. Of course, he would, 'Ya Boi' ain't a quitter! However, he should have called it a day because Rountree looked scary good tonight.
Anders' corner asked him for more combinations, and that's what he tried to string together in the final round. Despite looking slower than usual, Anders tried and mixed it up with a few body shots.
Rountree continued to pepper Anders' legs with the kicks. A better round for Anders though as he, at the very least, avoided getting clobbered even more by Rountree.
Body shot followed by an overhand right for Rountree. Rountree landed a few more kicks to close out the fight with a show-stealing performance.
Result: Khalil Rountree def. Eryk Anders via Unanimous Decision (30-26, 30-26, 30-26)
Check this out for some statistics. Rountree landed 71 significant strikes, 32 leg kicks and scored 4 knockdowns. Anders just landed a mere 19 throughout the fight.
A highly professional display from Rountree, who was as crisp and accurate as they come. A new contender in Jon Jones' division has just announced himself, folks.
#4. Kelvin Gastelum (15-3-1) vs. Israel Adesanya (16-0) (Interim Middleweight Championship)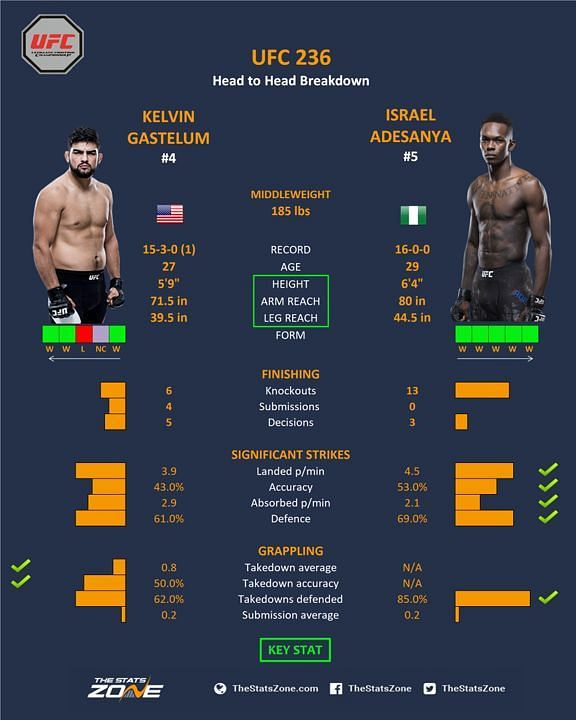 Two first-time title fighter - one a prodigy, another a perennial contender. One was the next big thing in the unorthodox realm of MMA while the other was a crafty striker with a never-say-die attitude.
This was set up to be the fight of the night. It ended up being the fight of the year!
Round 1: Adesanya started off in his unorthodox stance as usual as Gastelum stood in his traditional southpaw stance. Adesanya with a hard kick to Gastelum's body.
Both the title contenders soaked in the pressure and looked relaxed despite the high stakes attached to the fight. Gastelum moved around the Octagon before rushing in and tagging Adesanya with a 1-2 combo. Adesanya wobbled a bit but composed himself in time. As the replays showed, that was a clear knockdown for Gastelum.
Gastelum looked to connect with his powerful left hand and almost did so one a few occasions. Gastelum sent in a feeler with the right that acted as a setup for the left bomb to be unleashed.
Adesanya was careful and constantly moved his head to avoid getting tagged. The first round came to a close. Kelvin looked really good!
10-9 Gastelum
Round 2: Gastelum kept swinging wildly for the left but Adesanya moved well to avoid taking any damage. Gastelum was the aggressor as he took the fight to Adesanya. Gastelum pushed Adesanya onto the fence and landed a left.
Adesanya broke away and got back to the center of the Octagon.
The Last Stylebender knocked Gastelum down with a huge right to Gastelum's chin. Adesanya went in for the kill but Gastelum hung in for dear life.
He popped back up to his feet and Adesanya had finally found his range and rhythm. Adesanya kept connecting with strikes that came from weird angles. He connected with a spinning back elbow and partially dropped Gastelum again.
10-9 Adesanya
Round 3: Gastelum was more cautious in the third round as he opened the door for Adesanya to dictate the fight.
Kelvin kept feinting and moving around as Adesanya shot for a combination of kicks directed to the legs and body of Gastelum.
It was a close fight midway into the third round as Adesanya had 21 head strikes to Gastelum's 19. Adesanya kept it going with a clean straight right followed by a kick to the body.
Good head movement from Gastelum, who landed a short left in the clinch. Gastelum got in a takedown but Adesanya didn't stay grounded for long.
Back to the center of the cage, Gastelum's punched seemed labored and slow as Adesanya's low hands left him open for an incoming shot.
They moved around to take the fight into the championship rounds.
10-9 Gastelum
Round 4: Kelvin picked up the pace in the fourth round as he closed the distance on Adesanya and swung as he did so. They clinched for a few seconds before breaking up in the center.
Good knee to the body by Adesanya. Adesanya connected with a hard right but Kelvin didn't even flinch. Adesanya had 55 significant strikes in comparison with Gastelum's 35.
Gastelum rushed in for another combination but Adesanya showed smooth head movement to avoid getting tagged. They clinched on the fence for a few seconds again.
Kelvin landed a solid left, Adesanya answered with a straight right. Kevin got right back in with a wild left strike. Adesanya didn't back down and came back with a wild swing of hands himself. What a fight! Technical and wild at the same time.
With around 45 seconds to go, Gastelum stunned Adesanya with a well-placed head kick. Adesanya looked rocked and Kelvin went in for the kill. Adesanya got back to his senses and fired a few strikes in return.
The round came to close with Gastelum getting the upper hand in the end.
Round 5: Gastelum sensed a finish and went all in as the fifth round began.
Alright, to be honest, I just couldn't write while watching the fifth round. You ask why? It was jaw-droppingly good.
I'll try and summarize it for you.
To describe it in one sentence - Adesanya rose to the occasion in the fifth round. It was a make-or-break moment for either fighter and the Last Styledender stayed focussed despite the chaotic nature of the final round.
There were furious stand-up exchanges, a frantic scrammble on the ground and Gastelum proving that he is indeed a zombie.
Adesanya almost submitted and knocked Gastelum out on various occasions during the five final minutes, but, Gastelum showed heart and unmatched toughness to get through till the final bell. Kelvin put up a valiant effort, however, Adesanya is, truly, a prodigal talent. And new...
Result: Israel Adesanya def. Kelvin Gastelum via Unanimous Decision (28-26, 28-26, 28-26)
Fight of the year! I won't say much. Just watch this fight right now! NOW!
#5. Max Holloway (20-3) vs. Dustin Poirier (24-5-0-1) (Interim Lightweight Championship)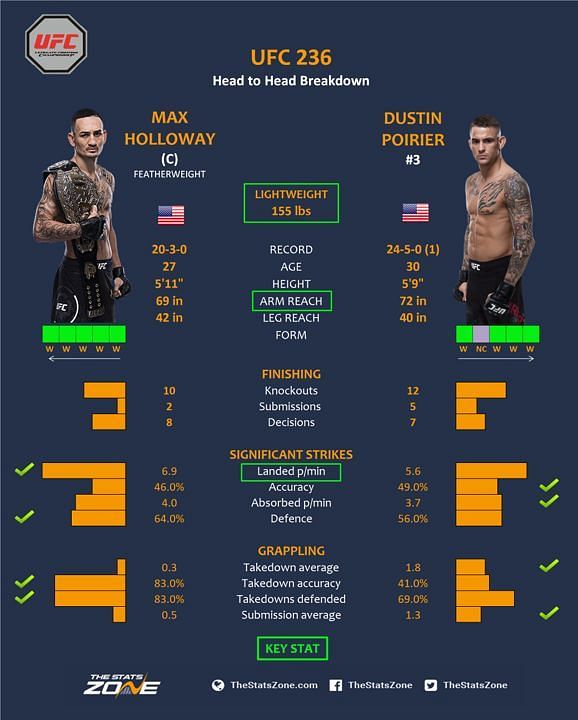 Dustin Poirier holds the distinction of handing Max Holloway his first professional MMA loss. However, that fight happened in 2012 and Holloway has since grown to become one of the best pound-for-pound fighters on the planet.
Holloway was on a 13-fight win streak and looked for retribution. The Diamond was on a 5-fight win streak and had his eyes set on winning the elusive gold. The stage was set for a classic and that is exactly what the fans witnessed.
Round 1: Dustin began with an oblique kick to the body followed by a leg kick. Holloway looked to read Poirier's movements in the early goings of the fight.
Poirier was in no mood to play safe and came in to finish things up early. He rocked Holloway with a straight left hand. The champ was ROCKED!
Dustin took the fight to Holloway. He landed bombs and connected with nearly 50 significant strikes all throughout the round. Holloway displayed some insane resiliency to stay in the fight. He didn't even go down to the mat. Holloway can't be a human being right?
While Holloway did try to assume control with short bursts of energy, it was Dustin all along in the first round.
10-8 Poirier
Round 2: Poirier was more sluggish in the second round as it seemed like he may have emptied his gas tank in the first round.
Holloway did well in the first three minutes of the second round but Dustin pulled it back right at the end. Poirier got in a four-piece combo and Holloway looked stunned again. However, he avoided going to the mat again. The action shifted near the fence as Poirier pushed him back.
Poirier connected with a right hook and sent Holloway to the center of the cage to end the round.
10-9 Poirier
Round 3: Holloway needed to get something significant going for himself as he was lagging on the scorecard.
Holloway strung together a few combinations but it didn't have the same pop as Dustin's. There were no dull moments as both men stood toe-to-toe and matched each other strike-for-strike.
The only difference was that Poirier's strikes had more sting in them while Holloway just kept getting in the volume. It worked for the Featherweight Champion though, as he edged Poirier on the scorecards. He hurt Holloway in the end, which forced Dustin to tie up near the fence.
Holloway looked for a finish with a few combinations followed by a flying knee. However, Dustin caught hold of his legs and held on until the end of the round. Holloway kept himself busy with some nice Travis Browne-inspired elbows.
Holloway had absorbed 125 strikes to the head going into the fourth round.
10-9 Holloway
Round 4: Holloway's cardio came to the fore in the fourth round. Poirier was exhausted but Dustin kept pressing forward. The exhaustion was partly because Dustin spent a good minute trying to assert himself on the ground in the first few minutes of the fourth round.
Holloway pushed Poirier into the cage and got his combinations going. He got the body shots in but Poirier, who had recovered by now, responded with hard rights and a 3-2.
Poirier opened up Holloway with a clean knee in the clinch to his forehead. Holloway wasn't going down though as he pressed forward and tagged Poirier with a combination. Poirier shot for the takedown, Holloway defended and attempted a rolling front choke.
10-9 Holloway
Round 5: Leg kick from Dustin and a nice jab from Holloway to begin the fifth and final round. While the intensity didn't match the previous rounds, it was still a war of attrition between two rivals.
Holloway found his range and landed with straights, jabs and body shots. Poirier shot for the single leg but Holloway defended well and got pushed into the fence. Poirier kept pushing for a takedown as there were just 30 seconds left on the clock.
The fans gave them a standing ovation as the two fatigued warriors stood and threw tiring bombs at each other in the final ten seconds.
Result: Dustin Poirier def. Max Holloway via Unanimous Decision (49-36, 48-46, 49-46)
If there were two men who could have followed up the incredible co-main event, it had to be these two men. Poirier and Holloway put it all on the line in a contest that had a deserved winner at the sound of the final bell.
Poirier was the superior man on the night and is the only man to have beaten Holloway twice, and at two different weight classes.
Most importantly, Poirier is now an interim UFC Champion and will take on Khabib Nurmagomedov for the undisputed Lightweight title. We just can't wait!
As for Holloway, he is still the king of the 145lbs division and looked great despite the loss. He just saw his 13-fight win streak get snapped by a highly motivated Poirier.
Which was your favorite fight of the night? Sound off in the comments section below