As the UFC entered 1996, its fortunes were about to decline. UFC 8 held on February 16, 1996, was the last UFC event for several years to attract a significant number of pay-per-view buys as 300,000 customers ordered the event.
Just prior to the event, Cablevision stated it would not air UFC programming again which was the first of many carriers to do so in 1996.
Senator John McCain picked up on the opposition of Michigan politician, Calvin McCard who took the trouble to travel to Puerto Rico to protest against the event, which had been originally scheduled to take place in New York but fell foul of the state's athletic commission. In fact, UFC would not host an event in New York until November 2016 when UFC 205, which marked a 21-year gap from the last event it hosted, UFC 7.
Somehow, amongst all that chaos, UFC were able to put on a highly entertaining show.
The tagline for the event was: David vs Goliath because the first round pitted four very large men against four smaller athletes.
UFC 8 introduced Don Frye to the MMA world. He smashed through his gargantuan opponent, Thomas Ramirez in seconds with some explosive jabs. The fight was called at eight seconds.
Paul Varelans returned to the Octagon and was unsurprisingly the "Goliath" in his match with Joe Moreira who was a specialist in Brazilian Ju Jitsu. An interesting clash of styles for sure.
Both men landed good strikes but at the 10-minute mark, Varelans won a Judge's decision which was odd as Moreira seemed to land many more of his attempted strikes. The decision was rightly booed by fans.
Lion's Den fighter, Jerry Bohlander took on the mammoth Scott Ferrozzo in the next bout which was an excellent contest which could have gone either way. The massive Ferrozzo used his significant bulk to bully Bohlander into the fence as well as landing significant suplexes. Unbelievably, Bohlander reversed position on a Ferrozzo takedown and locked in a guillotine choke which brought the unlikely but hugely impressive win.
UFC 8 also introduced the world to "Big Daddy" Gary Goodridge who strangely wore a Royce Gracie style gi for this fight. His bout with the much smaller Paul Herrera did not last long as a takedown was countered into a crucifix which allowed Goodridge to hammer Herrera with eight sickeningly brutal elbows. Herrera was unconscious after the first one.
The judges' error in awarding Varelans the victory over Moreira was laid bare when Varelans was too injured to carry on. He was replaced by another beast of a man in Sam Adkins to clash with Frye.
It made no difference to the vicious striker who smacked through the giant in 48 seconds. Two victories in a combined 56 seconds. Frye was certainly well rested for the tournament final.
Earning the right to face Frye was Goodridge who was somewhat more tested in his Semi-Final matchup versus Bohlander.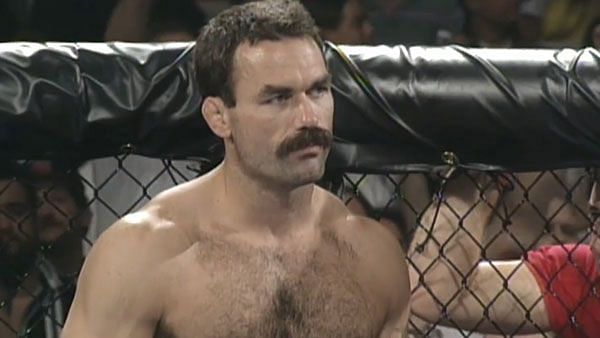 The fight began with some good back and forth grappling before Goodridge smashed his smaller foe with huge right hands as Bohlander attempted a leglock. An entertaining contest which conveniently set up a striker vs striker between a "David" in Frye and "Goliath" in Goodridge.
Before that fight, however, came the "super fight." Reigning champion, Ken Shamrock had a point to prove after his bore fest bouts at UFC 5 and UFC 7 versus Royce Gracie and Oleg Taktarov.
Perhaps inspired by the excellent action that had preceded his fight with Kimo Leopoldo; the man who had demolished Gracie's invincible aura at UFC 3, Shamrock was in far more attacking mode at UFC 8. He immediately shot for Kimo's legs, mounting his larger opponent while he attempted a rear naked choke. Kimo reversed that but left his leg available for Shamrock to lock in the match-winning kneebar to submit the Hawaiian.
Shamrock was still the "Superfight" Champion and had a date set with Dan Severn at UFC 9 in a rematch of their bout at UFC 6.
Finally, the UFC 8 tournament came down to Frye and Goodridge. The smaller Frye was unquestionably the least gassed and it showed versus the larger, "Big Daddy."
This time Goodridge had ditched the gi but succumbed to exhaustion and found himself grounded and pounded by hard shots from Frye.
Frye was tested for the first time but won the entire tournament, spending less than five minutes in the Octagon in doing so.
Both Frye and Goodridge declared they would be back post-fight.
Unquestionably the best UFC event ever at that point, UFC 8 delivered up and down the card. Unfortunately, UFC 9 would not be able to follow it up.