One of those cards which have changed constantly since being announced, UFC Fight Night 137 is finally upon us. The last official UFC card before the eagerly awaited UFC 229: McGregor vs. Khabib Nurmagomedov pay-per-view event, UFC Fight Night 137 has been the victim to lying in its shadow.
The card started off featuring the likes of Glover Teixeira to face Jim Manuwa. This changed quickly when Teixeira had to pull out of the fight due to an injury. He was replaced by Thiago Santos who was a good replacement to fill up the vacant spot which Teixeira had left behind. The fight was then set for Santos to face Manuwa, but this was not to be as well, as Manuwa was also injured, and had to be replaced in what looked like a cursed card.
With the two original fighters gone, Eryk Anders was called in to fight against Santos instead, headlining the now altogether new card. The audience expectations have naturally been lowered since the changes were made to the card, however, they may be in for a surprise if the fighters go all out.
You can check out the preview for the card here.
With that in mind, we are going to take a look at the last minute odds from UFC Fight Night 137.
---
Before heading into the main card for the night, let's take a look at the Prelims that UFC Fight Night 137 has in store for us along with the odds which will help us to gain a sense of who might win.
Sergio Moraes (-300) vs. Ben Saunders (+240) - Favoured winner: Sergio Moraes
Marya Bueno Silva (+138) vs. Gillian Robertson (-162) - Favoured winner: Gillian Robertson
Alex Chambers (+800) vs. Livia Renata Souza (-1400) - Favoured winner: Livia Renata Souza
Thales Leites (-125) vs. Hector Lombard (+100) - Favoured winner: Thales Leites
Elizeu Zaleski dos Santos (-800) vs. Luigi Vendramini (+550) - Favoured winner: Elizeu Zaleski dos Santos
Luis Henrique (+130) vs. Ryan Spann (-160) - Favoured winner: Ryan Spann
Evan Dunham (+175) vs. Francisco Trinaldo (-200) - Favoured winner: Francisco Trinaldo
Augusto Sakai (-220) vs. Chase Sherman (+180) - Favoured winner: Augusto Sakai
Christos Giagos (+300) vs. Charles Oliveira (-400) - Favoured winner: Charles Oliveira
With the UFC Fight Night 137 Prelims odds out of the way, let's have a look at the main card.
#5 Randa Markos vs Marina Rodriguez: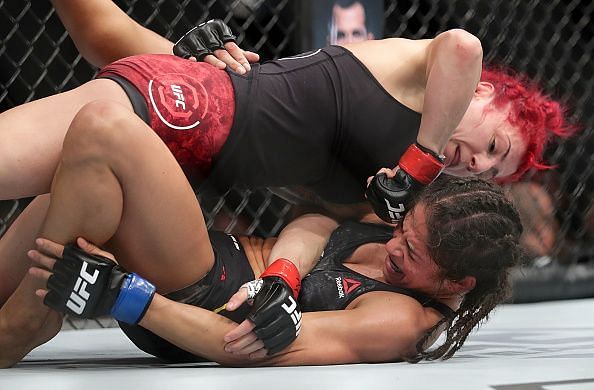 One of those fights where the veteran is the one who has to prove herself, Randa Markos has proved to be severely inconsistent in MMA.
Having lost 3 and won 3 in her last 6 fights, she will have a hard time proving that she can be consistent when push comes to shove. Coming up against the likes of Marina Rodriguez, it is going to be difficult for her to win this bout.
Although making her Octagon debut in the UFC, Marina has a proven track record on the outside, which shows her not to be any kind of a pushover, even for someone like Markos.
Randa Marcos (-125) vs. Marian Rodriguez (+100) - Favoured winner: Randa Markos
#4 Renan Barao vs Andre Ewell:
Renan Barao is in one of those phases of his career, where he cannot for the life of him seem to get out of a slump. He has lost four of his last six fights, whereas he has lost a total of six fights total in his career. If he loses another one now, it would be extremely detrimental for the fighter and his mental condition going into the fight.
Andre Ewell, on the other hand, is making his UFC debut, and he is coming into the fight having won the last four that he took part in. 'Mr Highlight' is no pushover, and he will be looking to get a big debut win against Barao.
Renan Barao (-170) vs Andre Ewell (+140) - Favoured winner: Renan Barao
#3 Sam Alvey vs Rogerio Nogueira: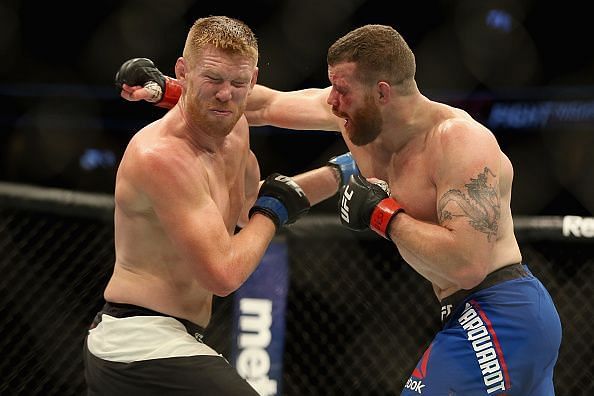 Sam Alvey has won his share of fights but has never gotten the critical win which would see him making his way into the list of those prestigious fighters who can make the difference. This is one of those fights, if he wins, will have a huge impact on his career.
Nogueira is making his way back to the Octagon after two years away from it and is trying to change up his UFC run. His original run did not go at all how he had pictured it, and with this, he will be trying to change things up for himself.
Sam Alvey (-400) vs Rogerio Nogueira(+300) - Favoured winner: Sam Alvey
#2 Alex Oliveira vs Carlo Pedersoli: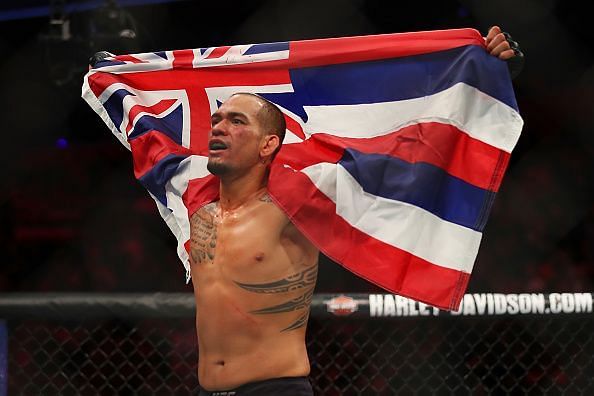 The co-headliner of the night, Alex Oliveira vs. Carlo Pedersoli is one of those fights which is really hard to predict.
Oliveira is coming off a win after April, and Pedersoli is on a good run of form as well, ahead of his 2nd ever Octagon fight. Pedersoli is the one with a lot to prove in this fight, as if he happens to win his second fight in the UFC in a row, he will prove that the first one was not a fluke after all.
Alex Oliveira (-450) vs Carlo Pedersoli (+350) - Favoured winner: Alex Oliveira
#1 Eryk Anders vs Thiago Santos:
Finally coming to the main event of the night, Eryk Anders and Thiago Santos are set to face off in a fight where the victor is anything but assured.
Both men are underprepared given the short notice of the fight, but it is Santos who had the longer notice. He will have needed to change up his tactics completely, however, given the fact that Manuwa's fighting style was radically different from the style of Anders.
Only when they enter the Octagon together, will it be revealed, exactly how the two match up.
Eryk Anders (+150) vs Thiago Santos (-175) - Favoured winner: Thiago Santos