What Formula 1 is to 4-wheeler racing, MotoGP is to motorcycle racing. Over the past 71 years, MotoGP has undergone a series of expansions with races being held in 5 different continents today.
The popularity of the sport can be gauged by the sheer numbers that the event draws - the inaugural edition of the Thailand Grand Prix held in 2018 attracted over 100,000 spectators. It shows how the sport has grown in leaps and bounds so much so that it attracts eyeballs in a country like Thailand which is not known to produce MotoGP riders.
Traditionally, Spanish and Italian riders have dominated the MotoGP and it continues even today. Back in the early days, Britain and United States too produced a fair share of champions but that is not the case today. Hugely popular riders like Valentino Rossi and Casey Stoner have had a significant bearing on the sport's popularity surge.
Since 1949, 26 different riders belonging to 6 different nations have been crowned champions. We take a look at 5 of the best MotoGP riders of all-time in terms of Championships won.
---
#5 Eddie Lawson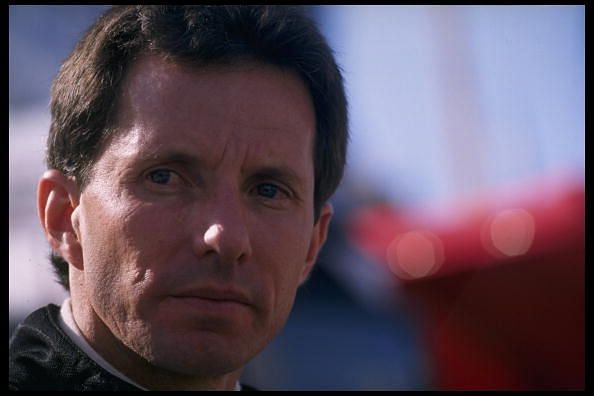 Aptly nicknamed 'Steady Eddie', American Eddie Lawson was the torchbearer of motorcycle racing in the United States for many years.Taking the usual path that most Americans do by starting his career in the AMA Racing Championships, Lawson upgraded to MotoGP in 1983 when he was offered a contract by Team Yamaha to partner his compatriot Kenny Roberts.
Sharing the same garage as someone of Kenny Roberts calibre must have been daunting but Lawson proved otherwise. Lawson rose quickly in the 500cc ranks. In 1984, he won his first World Championship becoming the second American to do so.
Lawson added two more titles in the 500cc class in 1986 and 1988. He created ripples in the MotoGP circuit by ending his partnership with Team Yamaha and moving to Honda. He however would have the last laugh as he became the only rider to win back-to-back World Championships with 2 different teams by winning the title in 1989. He ended his career in 1992 with 4 World titles.
#4 Mike Hailwood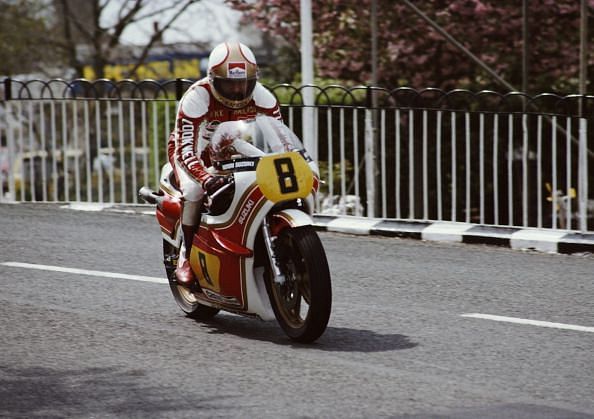 Nicknamed 'Mike the Bike' for his burly frame and adeptness with two wheels, Mike Hailwood was a colossal rider who tasted immense success in the 1960s.
So versatile was Hailwood that he even embarked on a Formula One career just like his compatriot John Surtees. Hailwood's passion for bikes and racing came from his father - a participant of the motorcycle races in the pre-World War 2 era. In 1961, Hailwood etched his name in the history books by winning races across 3 categories ( 125cc, 250cc and 500cc classes) in a single week at the world famous Isle of Man TT races.
In 1962, Hailwood signed up for Team MV Agusta and became the first rider to win 4 successive 500cc World Championships.
---
#4 (t) John Surtees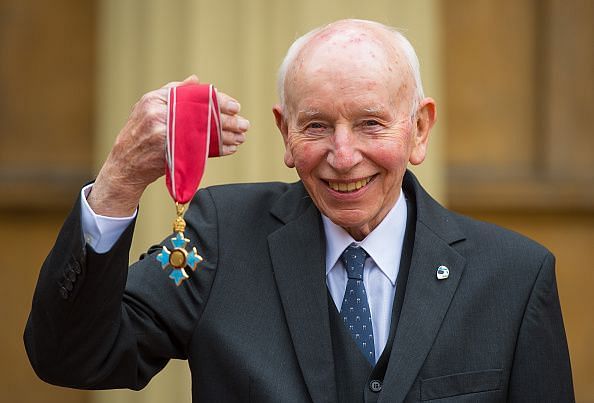 John Surtees shared a special bond with the iconic brand MV Agusta as he was the first champion from the team. So popular was the British rider that he was nicknamed 'iglio del Vento' (meaning son of the wind) by Italian fans.
Surtees was a serial winner across not just different categories of motorcycle racing but also different categories of motorsports itself. From 1956 onward, Surtees went on a winning spree bagging the 500cc Championship in 1956, 1958, 1959 and 1960 giving him a total of 4 Championships in the 500cc class. In the 350cc class, he emerged victorious in 1958, 1959 and 1960.
In 1960, he took a sabbatical from motorcycle racing and wanted to try his hand in Formula 1. Astonishingly in 1964, while as a member of Team Scuderia Ferrari, he won the Formula 1 World Championship. No man to this date has ever accomplished the double crown of winning both the MotoGP Championship and F1 Championship.It is unlikely that any man will possibly achieve this ever again.
---
#4 (t) Geoff Duke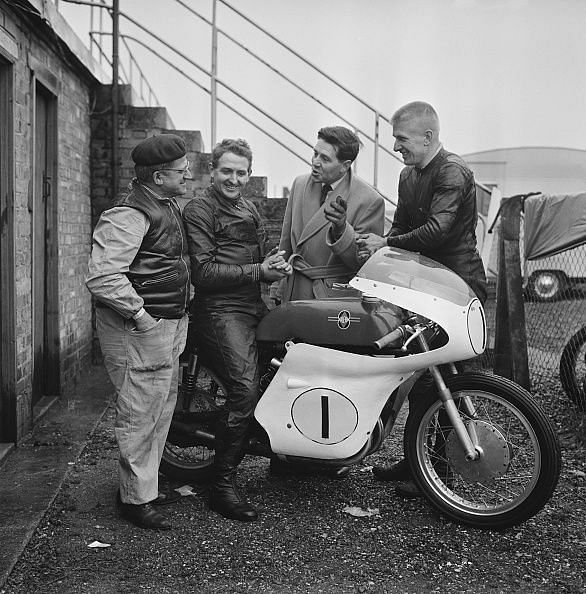 British rider Geoff Duke was a member of the Royal Signals Motorcycle Display Team. The Team was part of the Armed Forces of Great Britain and were required to perform motorcycle stunts and acrobatic stunts for the public.
Racing for Team Gilera (now a wholly owned subsidiary of Italian automobile giant - Piaggio), Duke won consecutive World Championships - 2 in the 350cc class (1951 and 1952), 4 in the 500cc class ( 1951, 1953, 1954 and 1955). Duke also tasted remarkable success in the Isle of Man TT races. Including both Junior TT and Senior TT races.
#3 Marc Marquez
Spaniard Marc Marquez, nicknamed 'The Ant' is undoubtedly the stand out performer in MotoGP over the last 6 years.
Marquez is one of only 3 riders to have won the Championship across all three classes. He made his debut in the 125cc class at the age of 15 in 2008. In 2010, he won the 125cc Championship and moved higher up to the Moto2 class in 2011 and the following year he won the Moto2 Championship in commanding fashion earning a MotoGP Premier Class berth with Team Repsol Honda in 2013.
He carried his winning momentum from Moto2 to MotoGP when he was crowned the youngest ever MotoGP Champion and only the second since Kenny Roberts to win the title in his debut season.
He successfully defended his title in 2014 and was also crowned champion in 2016 and 2017. Marquez won his 5th Riders' Championship crown in 2018. Still only 26, Marquez may well set many new benchmarks and one day emerge as the greatest of all-time.
---
#3 (t) Mick Doohan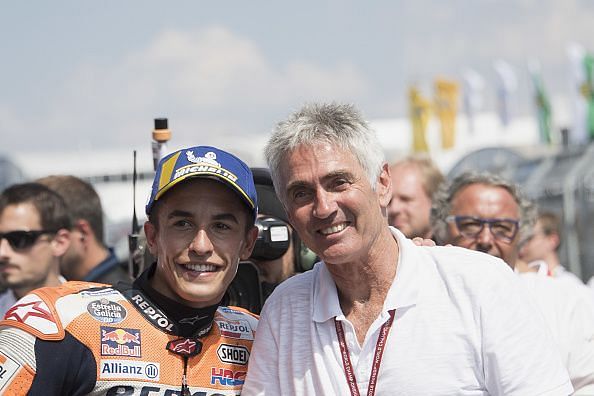 Mick Doohan made his MotoGP debut in the year 1989 riding for Team Honda. In a career spanning a little over a decade, the Australian started 137 races and took the chequered flag 54 times.
Doohan won 5 consecutive MotoGP Riders Championships between 1994 and 1998. In the year 1997, he etched his name in the record books for 4 unique and remarkable feats which haven't been broken by anyone till date - 12 wins, 12 pole position starts, 12 successive pole position starts and most points accrued in a single season - 340.
Following his career-ending crash in Jerez in 1999, Doohan had to endure a slow and frustrating rehabilitation period.
#2 Valentino Rossi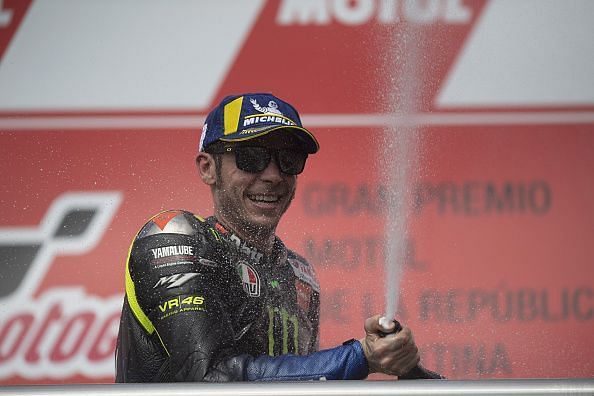 The Doctor' Valentino Rossi - without a doubt the most popular rider to have ever raced a MotoGP race invariably is part of any MotoGP Top 5 records list. Rossi who has been the driving force and mainstay of MotoGP for 2 decades is one of three riders to have won a Championship title across all three classes. He made his premier class MotoGP debut in 2000 and has started more races than any other rider.
Rossi's race win aggregate of 89 is an all-time record. He has stood on the podium a record 198 times till date with a double century insight.
Between 2002 and 2004, Rossi stood on the podium 23 successive times. His points tally of 5092 is also the all-time highest. Rossi has won 3 Championships with Team Repsol Honda in 2001, 2002 and 2003 as well as 4 Championships with Yamaha in 2004, 2005, 2008 and 2009 giving him a total of 7 MotoGP titles. Aged 40 now, Rossi is trying to stop the Marquez juggernaut and grab his first race win since 2017.
#1 Giacomo Agostini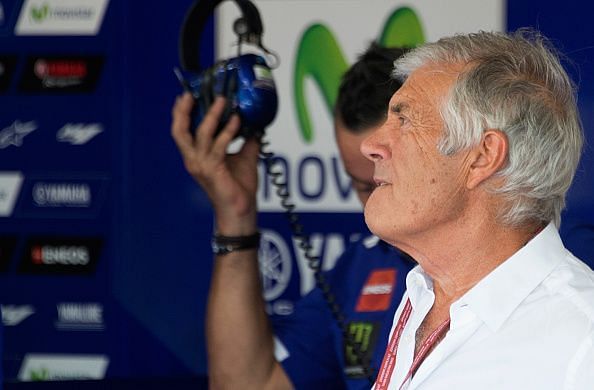 One man hasn't been dislodged from the top of the pedestal since the 1970s and his name is Giacomo Agostini. The legendary Italian nicknamed 'Ago' has the all-time record of 122 Grand Prix wins and 15 World Championship titles in the 350cc and 500cc classes. He lifted 8 Riders Championship titles in the premier 500cc class and won 68 races.
He won a record 7 consecutive Championships in the 500cc class between 1966 and 1972, all with Team MV Agusta. He won his last 500cc title in the year 1975 with Team Yamaha. In the year 1968, Agostini won all the races in the season, setting a new record. During the years 1968 and 1969, Agostini won 20 consecutive races. For 12 consecutive years, he won at least 1 Grand Prix, a record he shares with Spaniard Dani Pedrosa.
Post his racing career, Agostini became the manager of Team Yamaha. During his career as the manager, Agostini has managed many successful riders including Eddie Lawson, Graeme Crosby, and Kenny Roberts helping Lawson and Roberts win world titles.
Edited by Debjyoti Samanta