Britain was at the vanguard of Grand Prix motorcycle racing for close to three decades beginning from 1949. Post the 1970's, their influence on the big stage started to wane and riders from countries like Australia, Italy and Spain took over the mantle.
Much of this can be attributed to the Sport experiencing a dip in popularity overall with the emergence of The British and World Superbike Championships. Another reason could be that most of the top Factory Teams like Honda, Yamaha and Ducati have overlooked British riders.
For the first time in years, Britain will be having only one representative at the Premier Class level in the 2019 season - Cal Crutchlow being the only active British rider.
If we just think of the fact that Britain has had more of its riders win the Premier Class on multiple instances than any other nation, its decline is rather hard to believe. With 17 titles overall won by 6 of its riders, Britain is second only to Italy on the all-time list.
Here, we look at those 5 British riders who were crowned World Champion at the top level:
---
#6 Barry Sheene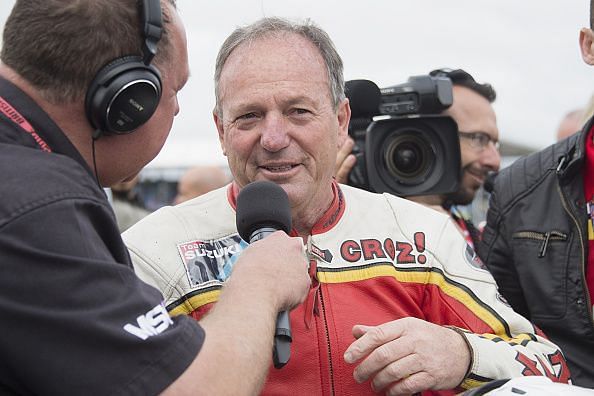 London born Barry Sheene made his debut in the year 1970 as a 20-year old in the 125cc class. In his debut season, he would finish as runner-up.
In 1972 and 1973, Suzuki signed him on for the newly formed Formula 750 Championship - a competition held during the off-season. In 1973, he won the Formula 750 Championship. In 1974, he made the switch to 500cc class and secured his first victory in the 500cc class that year at the Dutch Grand Prix.
In 1976, he won 5 races and took home the Championship title. He would successfully defend his title in 1977 by improving his tally from the previous year with 6 wins in the calendar year. He is the last British rider to win a Premier Class title. He retired in 1984 with 23 wins from 102 starts.
#5 Phil Read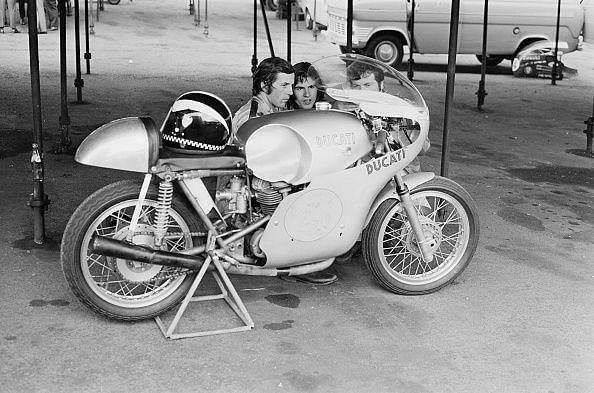 The oldest surviving MotoGP World Champion as of date is Phil Read. A multi-talented personality, Read enjoyed considerable success in Motorcycle Racing as well as Endurance Racing - most notably competing and winning at the Thruxton 500 endurance race in 1962 and 1963. He made his competitive debut at the 350cc level at the Isle of Man TT race in 1961.
In 1964, he won the 250cc World Championship as a rider of Team Yamaha. He would repeat this feat in 1965, 1968 and 1971. In 1968, he would also win the 125cc World Championship.
His crowning moment would come in 1973 when he was a member of Team Agusta MV. By winning the 500cc World Championship, he made history by becoming the first man to win at least 1 Championship across 3 different categories - 125cc, 250cc and 500cc classes.
He would successfully defend his title in 1974. Out of 152 starts, Read won 52 races and stood on the podium a remarkable 121 times.
#4 Leslie Graham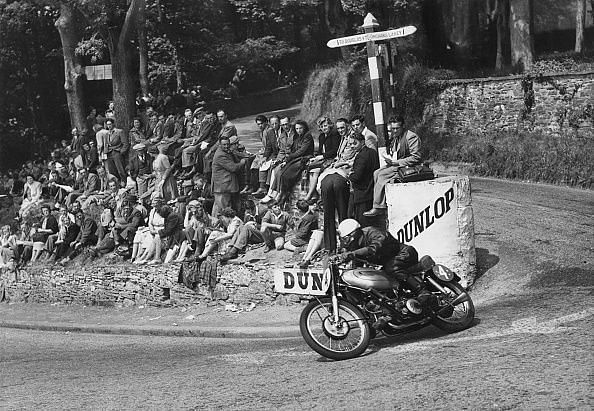 A pilot commissioned in the Royal Air Force of United Kingdom during World War 2, Leslie Graham was passionate about racing from a very young age. During the War, he was promoted to the rank of Flight Lieutenant and was bestowed upon the Distinguished Flying Cross for his bravery during the World War.
Following the war, Leslie Graham started to pursue racing full-time and took part in the Isle of Man TT races. His name would later be etched in the record books as the first ever MotoGP 500 World Champion. A feat he would achieve in the inaugural MotoGP season of 1949.
---
#3 Geoff Duke
Just like Leslie Graham, Geoff Duke too had a connection with the Armed Forces. He was a member of the Royal Signals Motorcycle Display Team (White Helmets) who were required to perform motorcycle stunts and acrobatics for the public.
Not only is Duke a legend in Grand Prix of Motorcycle racing, but he has also attained legendary status in the Isle of Man TT races. Including both Junior TT and Senior TT races, Duke has won a total of 6 Isle of Man TT races.
As a member of Team Gilera (now a wholly owned subsidiary of Piaggio), Duke won successive World Championships - 2 in the 350cc class (1951 and 1952), 4 in the 500cc class ( 1951, 1953, 1954 and 1955). With 33 wins and 50 podium finishes from 89 races, he wound up his motorcycle racing career in 1959.
#2 John Surtees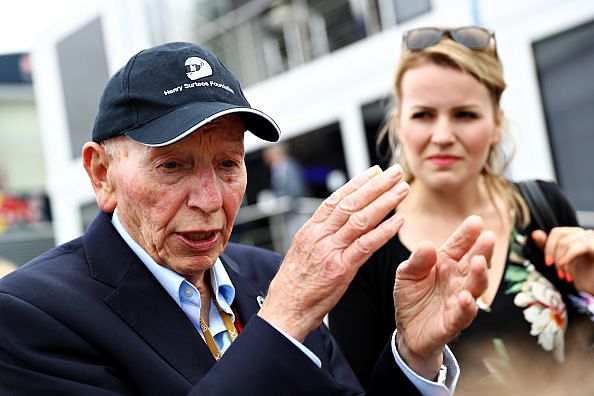 Surrey-born John Surtees' flair for motorbikes and racing were inherited from his father - who owned a motorcycle shop. His father Jack Surtees was also a competitive motorcycle racer.
His name holds a special place for the iconic brand MV Agusta as he was the first champion from the team. He was so much loved in Italy during those days primarily for his resounding success with MV Agusta that he was nicknamed 'iglio del vento' ( meaning son of the wind).
Starting from 1956, Surtees went on a Cup-winning spree winning the 500cc Championship in 1956, 1958, 1959 and 1960. He would also triumph in the 350cc class in 1958, 1959 and 1960.
In 1960, he retired from Motorcycle racing and remarkably made the switch to Formula 1. Remarkably in 1964, while as a member of Team Scuderia Ferrari, he won the Formula 1 World Championship.
To this date, he is the only individual to have won both the MotoGP Premier Class title (called the 500cc Motorcycle Grand Prix Racing Championship at the time) and the Formula 1 Driver's Championship.
#1 Mike Hailwood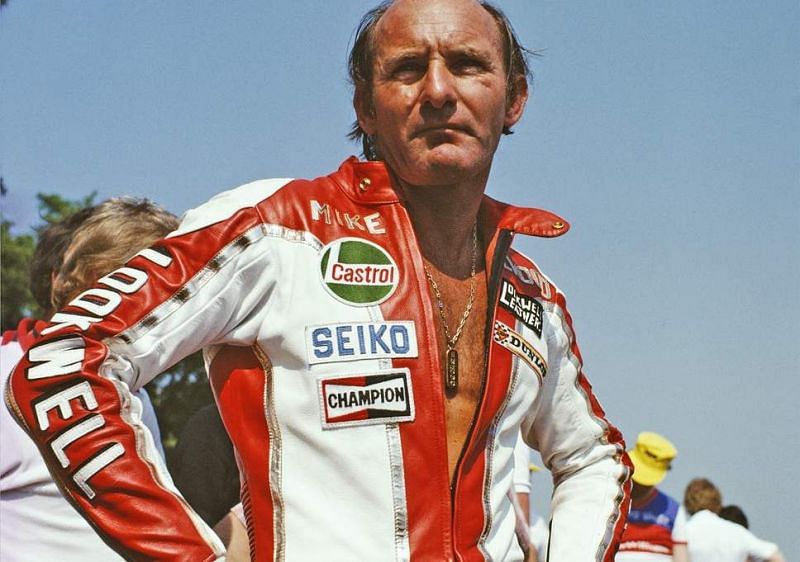 Mike Hailwood, popularly known as 'Mike the Bike' for his ability to seamlessly ride and win races across all categories of engine displacement bikes was a towering force in Grand Prix Motorcycle Racing during the 1960s.
He would later embark on making the switch to four wheels and would participate in Formula One races just like his compatriot John Surtees. And just like Surtees, Hailwood developed a keen interest in bikes and racing from his father - who owned a bike dealership and participated in races pre-World War 2. In 1961, he made history by winning races across 3 categories ( 125cc, 250cc and 500cc classes) in a single week at the Isle of Man TT races.
In 1962, Hailwood signed up for Team MV Agusta and became the first rider to win 4 consecutive 500cc World Championships. He would move to Team Honda and win 4 more Championships (2 each in the 250cc and 350cc classes - in 1966 and 1967).
In 152 starts, he managed 76 wins and 112 podiums. His Isle of Man TT racing career was also exemplary - he won a total of 12 races across categories and finished on top of the podium 19 times.
Edited by Debjyoti Samanta