42 entries for Coffee Day Rally
737 //
19 Nov 2012, 16:51 IST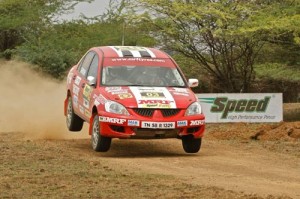 Bangalore – After a two?month break and a cancelled second round last month, the FMSCI Indian National Rally Championship resumes this weekend in Chikmagalur town with the running of the Cafe Coffee Day Rally Nov 23?24.
The 2012 INRC series, following a delayed start due to absence of a promoter, began in September with Bangalore hosting the Karnataka?1000 Rally. A month later, the second round was slated for Kodagu, but was cancelled on account of heavy rains.
Thus, as Lohitt Urs, winner of the K?1000 said at a Media conference here on Monday, the competitors are just itching to get back into action in their Rally?prepared cars with the Coffee Day Rally attracting as many as 42 entries.
"We were obviously disappointed when the Coorg Rally was cancelled last month and obviously, all of us competitors just cannot wait for the Coffee Day Rally.
"The Chikmagalur event has always been our favourite because of the massive crowds that come to watch and also the terrain that makes for exciting driving and viewing," said Urs who along with another experienced driver Rahul Kanthraj will form a two?car PGA Horizon R3A team driving Group N?spec Mitsubishi Lancer Cedia.
The organisers, Chikmagalur Motor Sports Club (CMSC), were forced to reschedule the event on request by the local Police in view of a major political rally on Sunday, Nov 25.
"Due to security concerns and on request by the Police, we have brought forward the running of the Spectator Special Stage originally scheduled for Sunday to Friday afternoon. The Special Stages will be run on Saturday and the prize?distribution on Sunday," said Farooq Ahmed, vice?president of CMSC.
Ahmed also announced that a separate, non?championship class will be run concurrently for the popular Gypsy vehicles, though there are only three entries.
"Although we were hoping for at least six Gypsy vehicles, there are only three entries, but we decided to run the class nevertheless," said Ahmed.
The Coffee Day Rally will have 94 Kms of competitive section of two physical special stages that will be run thrice each about 60 Kms from Chikmagalur and a 2.5 Kms of Spectator Special Stage that will be held at the Amber Valley school grounds. The total distance of the Rally is 367 Kms.