About Le Mans 24 Hours 2019
The 24 hours of Le Mans is the oldest running endurance motor race in the world.
The race takes place at the Circuit De La Sarthe or Circuit Des 24 Heures Du Mans. It is situated a scenic town called Le Mans, Maine, France.
It was built in the year 1923 by Automobile Club de I'Quest, the circuit has been the venue for the main event on the WEC ( World Endurance Championship) calendar with double points being awarded at the end of the race.
The Le Mans is regarded as one of the most prestigious events in motorsport. The Formula One Monaco Grand Prix, the Indianapolis 500 and the Le Mans form the triple crown of Motorsport.
At Le Mans, a team of three drivers must race for 24 hours in a single car, managing all vehicle consumables – fuel, tyres, fluids, whilst they avoid any mechanical issues or damage. Drivers typically race for two hours or more before they pit for a driver change.It is the ultimate test of drivers' skill, endurance and ability.
THE CARS
The Le Mans consists of different classes of cars competing at the same time.
The number of classes in the race have changed over the years, currently it consists of four classes namely Le Mans Prototypes (LMP) which is the premier class - LMP1 & LMP2 divided by power to weight ratio and regulations. The LMP1 cars are the most powerful cars and go on to win the Le Mans on most occasions. The class based on production cars is called Grand Tourer (GT) which features the GT Endurance Pro and GT Endurance AM cars which adhere to the Le Mans Grand Touring Endurance regulations.
The LMP cars are most likely to win the Overall Le Mans while the GT cars have won it on few occasion due to their reliability.
THE CIRCUIT
Circuit De La Sarthe or Circuit Des 24 Heures Du Mans.
Circuit length is 8.469 miles/13.629 km
Location : Le Mans, France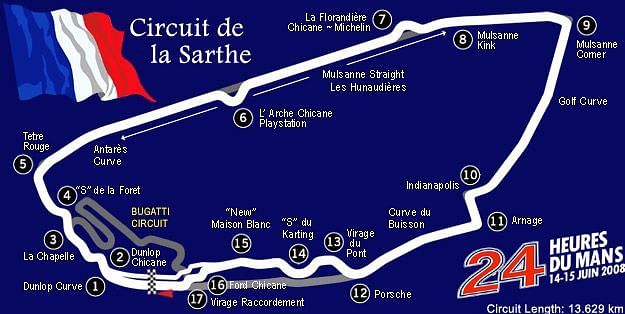 Circuit Guide with Video explaining a lap of Le Mans
The 2018 24 Hours of Le Mans which is the 86th running of the grand race is scheduled to take place on 15th June - 16th June 2019.
Also Read: Top F1 Drivers racing at the 24 Hours of Le Mans 2019
•
Last Modified Jun 11, 2019 07:52 GMT